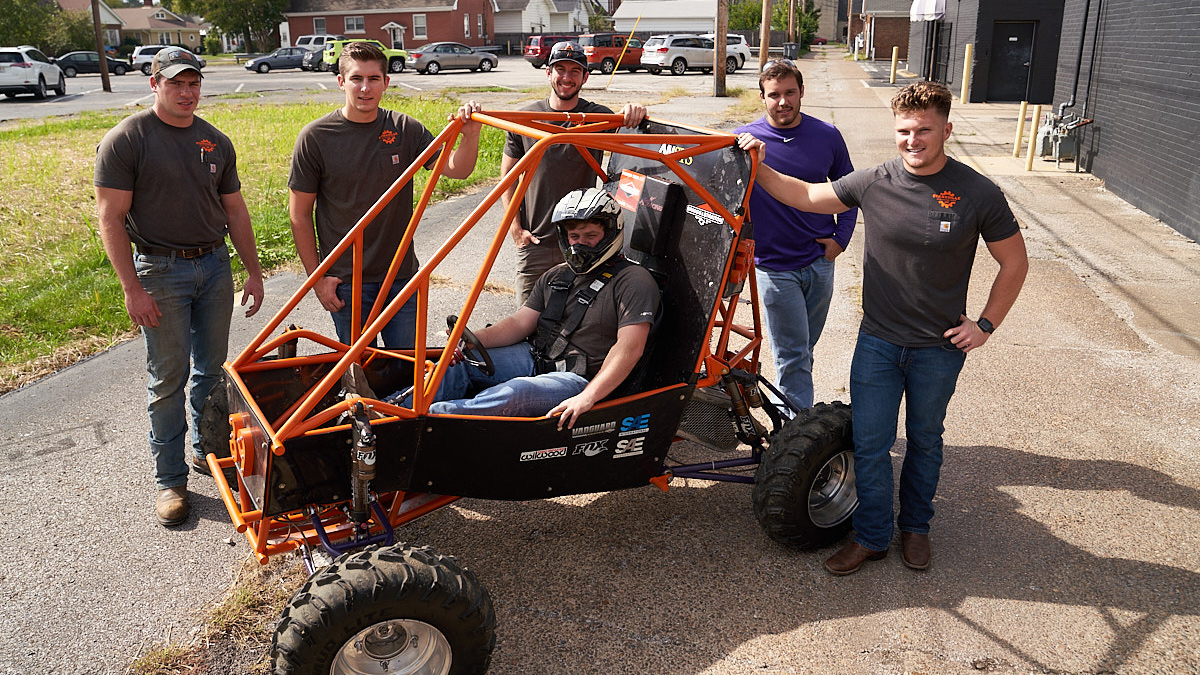 From freshman to senior year, mechanical engineering students at UE are required to participate in an annual design project. These projects have proven to be beneficial when students transition to the workforce, as they develop skills in teamwork and critical thinking.
Freshman Tennis Ball Launcher
The freshman tennis ball launcher project is required for all freshmen taking ENGR101. The students are all given the same pneumatic piston and air compressor with a specified power and capacity. After given this equipment, each team must design and fabricate a working tennis ball launcher (e.g. catapults, slingshots, or trebuchets).
Students are given limits on the size and cost of the launcher – constraints which must be considered in its design. The most challenging part of this project is designing a trigger mechanism that works consistently with the pneumatic power.
The goal of the project is to have the most accurate and most efficient working launcher. At the end of the semester, there is a competition that includes all the freshmen mechanical engineering students. Each team is graded on their design, efficiency, and accuracy.
Baja SAE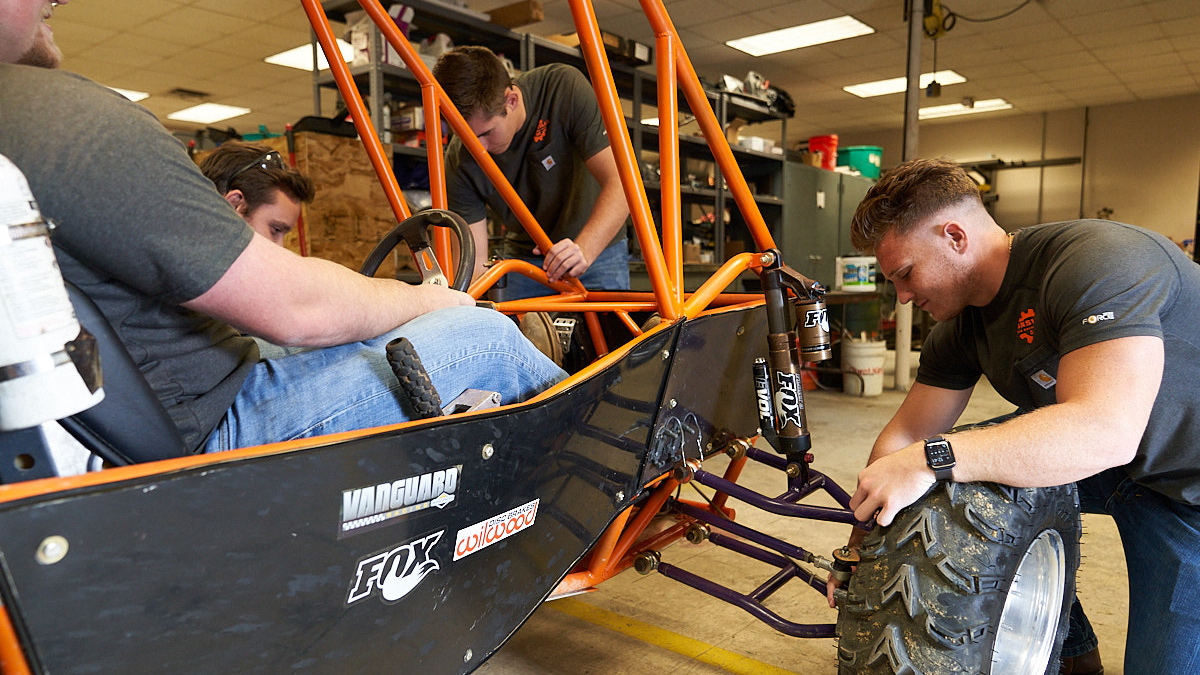 The Baja SAE Student Design competition involves students designing, building, and testing of a single-seat, all-terrain sporting vehicle. There are three annual competitions held across the country. The competition consists of dynamics events and a four-hour endurance race that test key performance areas of the vehicle including acceleration, maneuverability, suspension design, and drivetrain design.
The UE Baja vehicle consists of a student designed frame, suspension system, and 4x4 drivetrain. This project serves as a UE mechanical engineering two-course capstone student experience where students utilize engineering principles and hands-on experiential project work.
NASA Human Exploration Rover Challenge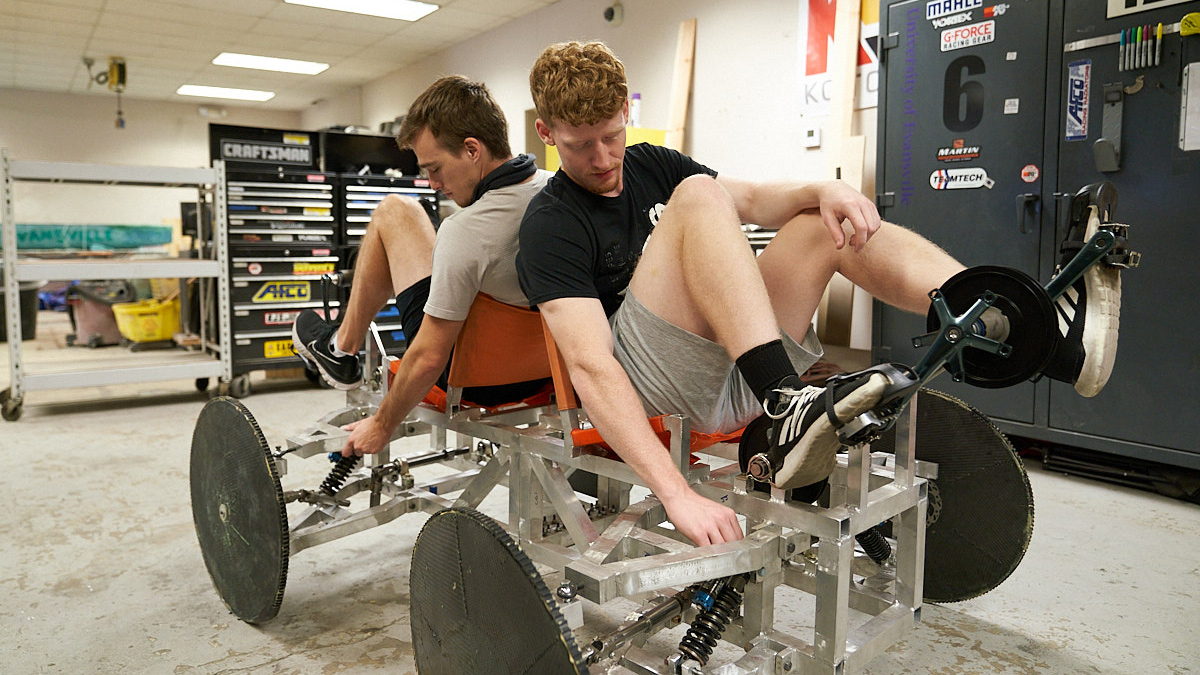 Mechanical engineering students participate in the design, building, and testing of a human-powered vehicle that culminates in the national NASA Human Exploration Rover Challenge. This challenge takes place each year in Huntsville, Alabama.
The student-designed vehicle consists of a collapsible aluminum frame, manual two-speed transmission, and carbon fiber wheels. The project is not only a fun, competitive event, but it also serves as a two-course capstone project for mechanical engineering students. Through this, they utilize engineering principles and hands-on experiential project work.
NASA University Student Launch Initiative (Rocket Team)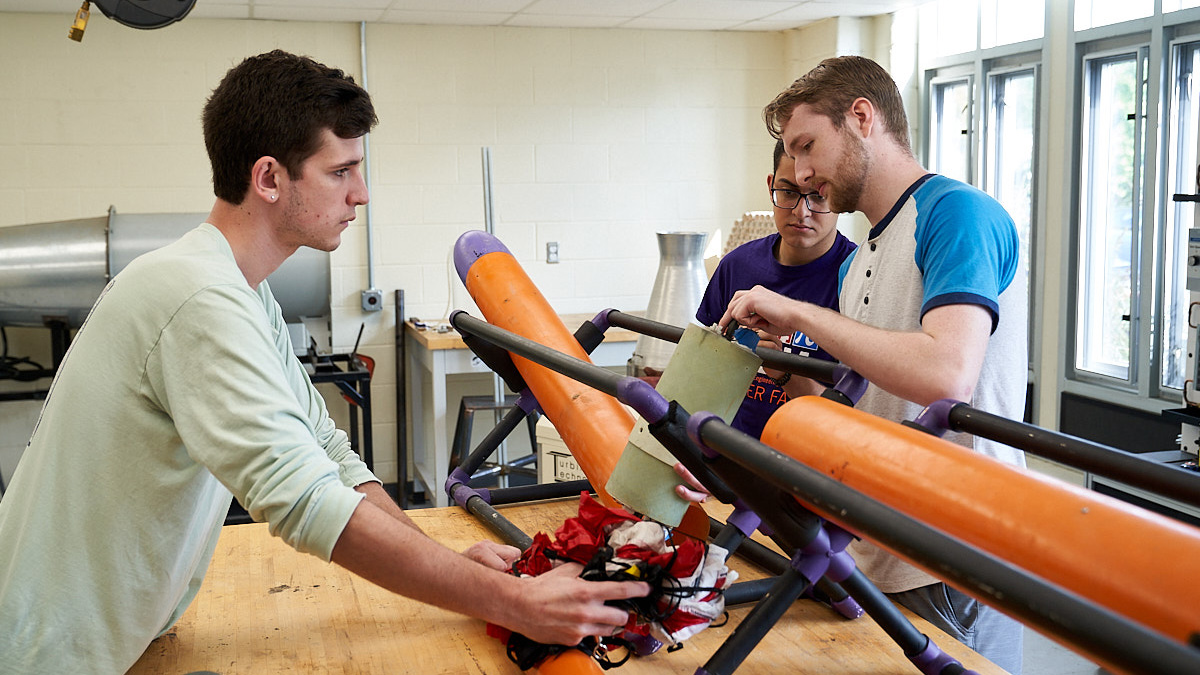 A team of senior engineering students participate in NASA's Student Launch Initiative to design, build, and test a high-powered rocket. This rocket must be designed to safely carry a payload that has been engineered to complete a specific task. The payload tasks are provided by NASA each year and simulate a scientific objective for actual NASA rocket launch missions. The tasks can vary, from landing the rocket upright upon its return, to transporting a fragile object, to deploying a rover to collect a surface specimen.
In addition to the payload design, the rocket must also be designed to reach an altitude of exactly one mile. The student team tests a scaled model of their design to ensure successful operation prior to launching the full-scale rocket. This senior project concludes with NASA's Launch Week at the US Space and Rocket Center in Huntsville, Alabama.
UE mechanical engineering teams have placed in the top 10 and received awards in past competitions.
SAE Formula Car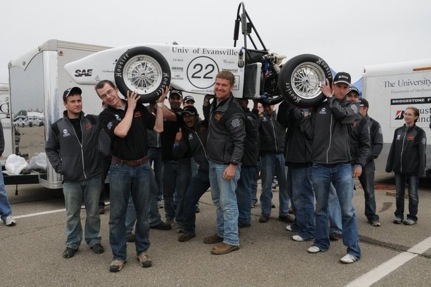 The Formula Car Competition, sponsored by the Society of Automotive Engineers, is a great hands-on experience for engineering students. Most people are fascinated by formula race cars but never have a chance to experience the real thing. The engineering students here at the University of Evansville, however, have the chance to design, fabricate, and compete with small formula-style racing cars. The SAE competition includes over 140 universities participating, with teams from all over the globe.
Thermosiphon Project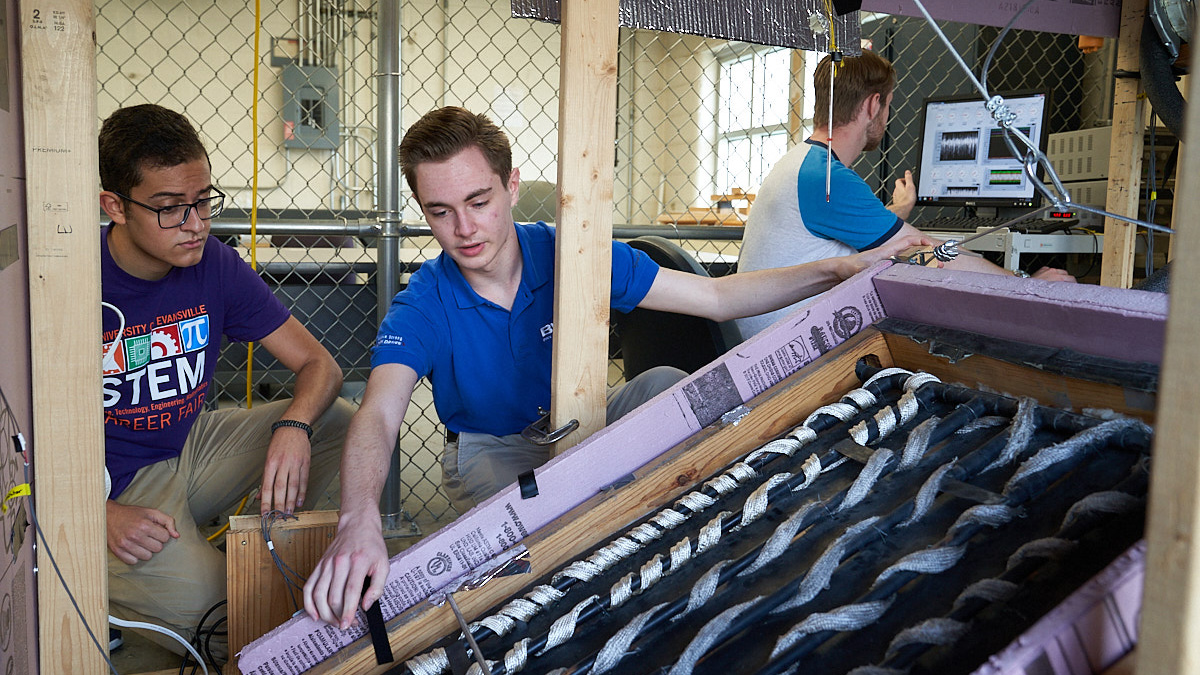 Students in the mechanical engineering program gain experience through the thermosiphon project. A passive thermosiphon is used to collect solar energy and store the energy for use in domestic hot water heating or supplemental home heating. A unique feature is that it contains no moving parts and requires no electrical input, making it a quintessential green energy device. The objective of this research project is to vary system parameters to optimize performance.
Testing is on an indoor thermosiphon with electrical heating to simulate the sun under controlled conditions. An outdoor facility is also available to test application concepts. Experiments have been conducted that vary the hot-leg height (i.e., the gap between the collector and storage tank), the overall hydraulic resistance of the thermosiphon, the input power level (sunny versus cloudy days), ambient temperature, and the collector angle. Experiments are leading to results that will help build an efficient thermosiphon. Such a thermosiphon would be ideal for remote regions that don't have ready access to repair service or those with intermittent power.
Wind Turbine Team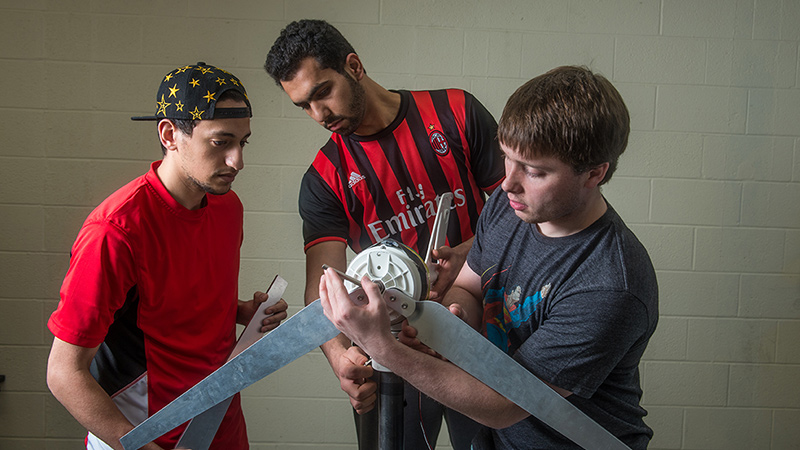 A senior team interested in renewable energy organized their project to design, build, and test a small-scale wind turbine. The team designed the hub, rotors, gearbox, and nacelle housing for a wind turbine that would self-orient the nacelle for the incoming wind.
Students created 3D models of various blade designs for rapid prototyping and scaled testing in the wind tunnel. After identifying an optimized design, the students machined the blade for a full-scale test. This team also evaluated a DIY-friendly blade design to support a cost-benefit analysis.
Office Phone
812-488-2652

Office Email
ta58@evansville.edu

Office Location
Room 268, Koch Center for Engineering and Science