Graduates of the neuroscience program have been accepted to some of the best medical schools, including Indiana University, University of Tennessee, Northwestern University, and Vanderbilt University. Many graduates have gone on to work in fields such as pharmaceuticals, mental health, neuroscience research, and university teaching. Ninety-nine percent of our graduates are accepted to graduate school or find employment in their field.
Alumni Profile:
Rachel Brim
Class of 2007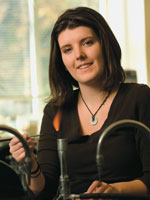 Rachel Brim considers herself an untraditional medical school student. "I began my academic career in a completely different area, but my first neuroscience course fostered my interest in science," she said. "My UE classes helped me lay a foundation to look at the intricate connections between mind, body, health, and socioeconomic status."
While at UE, Rachel was the first student to study abroad in Accra, Ghana. During this experience, she interned in a rural clinic and further developed her interest in health and the environment. "As a second-year medical student at Michigan State University in the College of Human Medicine, I am able to take what I learned during my internship and transfer it to my work with the Leadership in Medicine for the Underserved and Vulnerable (LMUV) program. This program focuses on community involvement and encourages students to work with various social service organizations in Saginaw."
As part of the special LMUV program in the College of Human Medicine, Rachel must work in inner-city Saginaw, Michigan, during her third and fourth clinical years. Additionally, she will have an international rotation in Central or South America, a rotation in rural northern Michigan, and possible experiences working with a Native American population on a reservation. "The program requires that all students develop Spanish fluency to better serve the growing U.S. Hispanic population." With so many interests, Rachel is glad the UE faculty encouraged and pushed her to explore her varied interests. "I felt I could discuss my options with my advisor and that the faculty members were willing to help me make my goals a reality."