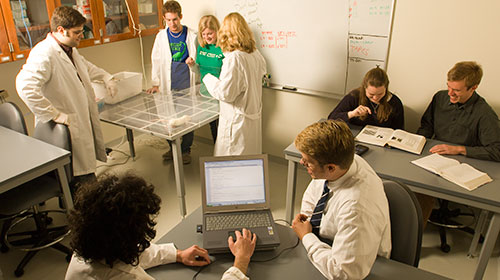 Experience in the Field
Through research and internships, students in UE's neuroscience program have numerous opportunities to work in the field before graduation, making them more prepared for successful careers after graduation.
Research Opportunities
Students have the opportunity to compete for grants from the UExplore Undergraduate Research Program to conduct projects of their own design during either the school year or the summer with the guidance of a faculty member. Summer grants include a stipend, housing, supplies, and materials. The faculty also encourages students to apply for REU positions, which are paid summer research projects at universities around the country.
Students have the option to seek research experiences in many disciplines such as biology, chemistry, cognitive science, mathematics, neuroscience, and psychology. Student researchers have graduated to do research in the pharmaceutical industry or some other aspect of research in medicine. Several have gone on to medical school at places like The Ohio State University, The University of Kentucky, and Indiana University. Still others have entered graduate school to study neuroscience at Northwestern, Vanderbilt, and University of Oregon or attain certification in a related field. To learn more, visit the Behavioral Neuroscience Laboratory.
Students greatly benefit from presenting their research results at mGluRs, the local undergraduate neuroscience conference which gives them the experience needed to present at national conferences such as Society of Neuroscience (SFN), International Behavioral Neuroscience Society (IBNS), and the International Society of Developmental Psychology. Students also publish in research journals. The experience of presenting scientific findings prepares students for graduate school, but also provides them the opportunity to network with potential employers, graduate mentors or medical school professors. Meeting professionals in the field also helps student discover their path – academic, industry or medicine.
CNS Research Group and Nu Rho Psi
The Cognitive and Neural Sciences (CNS) Research Group is a student/faculty organization that is both social and academic in its orientation. Its primary purpose is to foster the cross-fertilization of ideas by providing a forum for sharing details of various research projects around campus and discussing recent developments in the scientific literature. Students performing research projects, university faculty, and members of the scientific community have the opportunity to discuss their work in an interdisciplinary context among interested students and faculty. Previous discussions have stemmed from the following fields: anthropology, art therapy, artificial intelligence, biology, chemistry, linguistics, mathematics, medicine, music, neuroscience, philosophy, psychology, and robotics.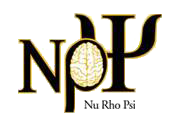 Nu Rho Psi, The Honors Society for Neuroscience, Alpha in Indiana Chapter invites graduate and undergraduate men and women who are making the study of Neuroscience one of their major interests and who meet the other academic qualifications. Nu Rho Psi is also open to qualifying neuroscience faculty and alumni of neuroscience programs. Requirements for membership include:
Major or minor in neuroscience
Completion of at least three semesters of the college course
Completion of at least 9 semester hours of neuroscience-related courses
Undergraduate cumulative GPA of 3.2 and a minimum GPA of 3.5 in neuroscience courses
CNS Research Group and NRP work together to hosts is a trip to a surrounding graduate/medical school during the spring semester and participates in outreach activities with local high school and elementary school students. These groups maintain Facebook and LinkedIn groups where members can communicate on topics of related interest.
Field Experiences and Internships
UE stresses the value of real-world experiences as they help students decide on their educational goals and future career. As an elective course, students have the opportunity to tailor their experience to satisfy their specific goals.
Typical placements have included:
Student Profile
Ibukunoluwa Araoye
Nigeria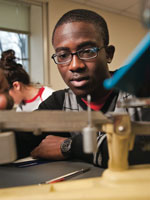 Before leaving Nigeria to come to the University of Evansville, Ibukunoluwa Araoye was often asked, "Why UE?" His response shows the careful thought he puts into all he does. "I wanted a college with an environment that provided personal attention in the classroom as well as opportunities to be involved in outside activities. I made the right decision. My professors know me and my interests, and I am also able to participate in intramural soccer and football, the International Bazaar, and play piano for different events on campus."
Ibukunoluwa's choice of a major reflects his future career goal. "I want to be a neurosurgeon, and I believe that neuroscience will help me in my course work and in my future interaction with patients. The psychology courses required for the neuroscience degree provide a foundation in understanding human nature — personality, behaviors, and reasons people think in certain ways. This will help me be a physician who can present information to my patients in ways that makes them comfortable in asking questions. I want them to understand different treatment options for their diagnosis."
With one internship completed, Ibukunoluwa knows the time commitment and hard work he still has ahead. "I interned at an infectious disease clinic in Columbus, Georgia, and while I was there, I was also able to shadow a neurosurgeon in a clinic and in the operating room. I am looking forward to my next internship where I will gain even more experience. I'm glad I completed my first one early in my studies. I see the challenges, but I also see the end goal."