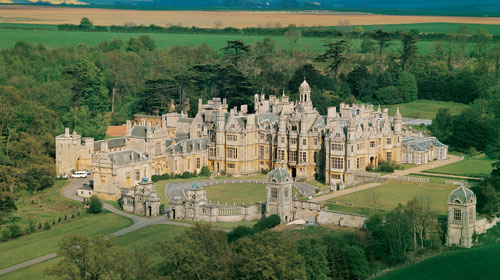 Harlaxton College
Did you study at Harlaxton during your time in college? If so, you are a member of the Harlaxton Society, the alumni association for Harlaxton.
If you attended Harlaxton as a student, faculty member, or staff member, then you are automatically a member of the Harlaxton Society.
Supported by the Office of Alumni and Engagement at UE, the Harlaxton Society is the alumni association for Harlaxton College, and is open to ALL Harlaxton alumni. To become an active member, all you have to do is send us your up-to-date contact information; once you are active, you will receive notices by post and email of all Harlaxton Society events and programs, as well as other publications with updates about Harlaxton.
2021 Harlaxton 50th Anniversary
All Harlaxton Society members and families are invited to celebrate the 50th Anniversary of University of Evansville's Harlaxton adventure! Find more information on the 50th Anniversary section of the Harlaxton website or feel free to contact alumni@evansville.edu with any questions.
Harlaxton Society Endowment Campaign
The Harlaxton Society Board of Directors met its goal of raising $200,000 to endow the Harlaxton Society Scholarships in 2015. To increase the amount of awards made, the board voted to set a new goal of an additional $100,000. Ten awards are made each semester to UE students studying at Harlaxton. The board regularly hears back from the students grateful for the extra help that allowed them to get the full Harlaxton Experience. These gifts do make a difference.
To reach this new goal more donations are needed from Harlaxton Alumni who can make possible this amazing experience for more students. Please consider making a gift. You can give online. Be sure to indicate Harlaxton Society under Gift Designation.
---
Spring 2019 Harlaxton Society Scholarship Recipients and Board Members are pictured below.

Office Phone
812-488-2586

Office Email
alumni@evansville.edu

Office Location
Igleheart Building, 1800 Lincoln Ave