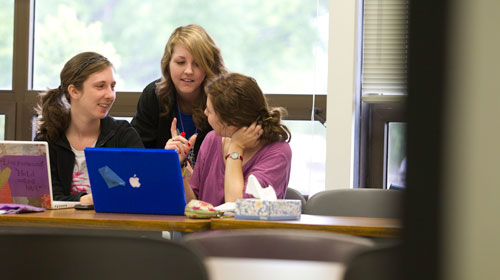 Inspire Students
By connecting UE students with successful alumni and friends of the University, UE aims to establish our students a strong network of professional support before they graduate and enter the workforce.
As an alum, parent or friend of the University, you have the opportunity to mentor and lead many students. Our goal is to directly connect current juniors and seniors with alumni and friends of the University of Evansville, in order to establish a variety of professional support.
Objectives of the Program
Provide insight into career opportunities through students' interaction with alumni
Promote student leadership and encourage experiential education involvement
Offer contacts and networking opportunities in the students' fields of interest
Mentoring Guidelines
During the Kickoff Reception, students will meet their mentors and discuss goals and expectations. Activities and the level of involvement in this program will be mutually agreed upon by both parties.
Students and mentors must sign a Mentorship Agreement and agree to meet at least once a month. The Offices of Alumni and Engagement and Career Services and Cooperative Education will host on-campus luncheons to provide networking opportunities.
After the program concludes, students and mentors will be asked to provide their feedback about their mentoring experience through an electronic survey.
Office Phone
812-488-2586

Office Email
alumni@evansville.edu

Office Location
Igleheart Building, 1800 Lincoln Ave