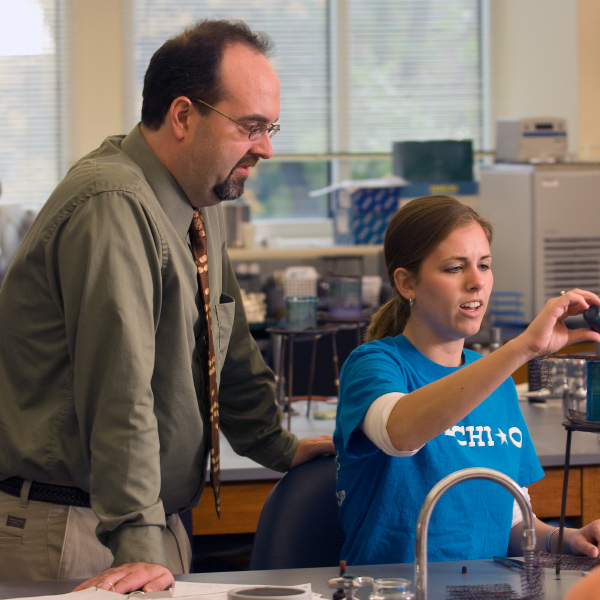 Dr.

Mark Davis

Associate Professor/Biology


Koch Center for Engineering and Science, Room 221
812-488-6423
md7@evansville.edu

Specializations
Microbiology
Biochemistry
Virology
Immunology
Microbial Ecology
Education
B.S. Biology (Education minor), St. Vincent College, Latrobe, PA. 1988.
M.S. Biological Sciences, Duquesne University, Pittsburgh, PA, 1993.

Thesis: Characterization of a Dissimilatory Iron-Reducing Bacterium by 16s rRNA Gene Sequencing. Adviser John Stolz.

M.S. Molecular Microbiology, University of Illinois at Urbana/Champaign, 1995.
Ph.D. Molecular Microbiology, University of Illinois at Urbana/Champaign, 1998.

Thesis: Characterization of Acetyl-CoA Carboxylase from Escherichia coli: A Rate Limiting Enzyme in Fatty Acid Synthesis . Adviser Dr. John Cronan.
Courses Taught
BIOL 100 Fundamentals of Biology
BIOL 110 Clinical Microbiology
BIOL 305 Microbial Ecology
BIOL 399 Virology
BIOL 430 Microbiology
BIOL 442 Immunology
ES 103 Fundamentals of Environmental Science
Research Interests
Lipid Biosynthesis in Bacteria
Biology Education
Development of Adenovirus Detection Assays
Bacteria and Musical Instruments – How many, what types, and how to disinfect properly
Grants and Awards
Explorer Summer Program, University of Evansville, 2010.

Title: Sensitivity Testing of PCR Detection Assays for Adenoviruses 36 and 37. $4950.00.

Deans' Outstanding Teacher Award, College of Arts and Sciences, University of Evansville, 2014.
Outstanding Innovation Award from City of Evansville Celebration of Leadership, 2022

Project: Design, Construction, and Testing of Air Filtration Units for Schools in the COVID Pandemic.
Recent Publications and Presentations
Davis, M.S. 2016. Redefining the Paradigm: Faculty Models to Support Student Learning . Chapter Contributing Author.
Davis, M.S. 2013. Developing Interest in Graduate Students by Increasing Interactions Between Undergraduate Students and Experienced Research Scientists. Presentation. American Society for Microbiology Annual Meeting. Denver, CO.
Lynch, I., Vibbert, J., Groulx, T., & M.S. Davis. 2012. The Identification and Prevention of Bacteria Present in Woodwind Instruments. Poster Presentation. MESCON. University of Evansville.
McNeil, K. & M. S. Davis. 2010. Development of a More Sensitive and Time Efficient Detection Method for Human Adenovirus-36. National Conference for Undergraduate Research. University of Montana, Missoula, MO.
Office Phone
812-488-2024

Office Email
de3@evansville.edu

Office Location
Room 231, Koch Center for Engineering and Science