Vectren Conservation Park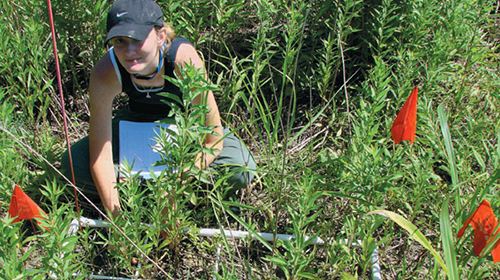 Vectren Conservation Park
Thanks to a generous gift from Vectren Energy Delivery, UE's biology students have the unique opportunity to gain valuable field experience in a location close to home.
In 2007, Vectren gave the University of Evansville a long-term lease on 1,100 acres of bottomland along the Wabash River. This property had been used for agriculture, but is now in a permanent conservation easement and is enrolled in the U.S. Natural Resource Conservation Service's Wetlands Reserve program. Before leasing the property to UE, Vectren planted more than 100,000 native trees and shrubs on the property. In addition, the University is working to develop part of the site into a wetland prairie.
When completed, Vectren Conservation Park will have a diverse set of terrestrial habitats (including riparian forests, floodplain forests, a prairie, as well as meadows colonized by both native and nonnative species) and aquatic habitats (including the Wabash River, seasonal and permanent ponds, and wetlands). This site not only provides opportunities for environmental studies majors to explore a diverse set of Indiana communities, but also acts as a research lab to explore environmental questions, carry out ecological research, and evaluate soil and water chemistry.
Office Phone
812-488-2024

Office Email
de3@evansville.edu

Office Location
Room 231, Koch Center for Engineering and Science