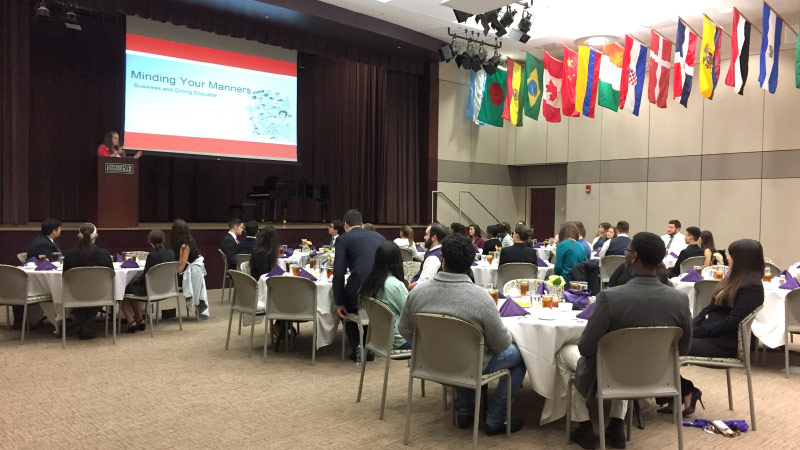 Get connected with accounting firms and leaders in Schroeder's Accounting Club. Accounting Club offers a number of annual events including a young alumni panel, public/private accounting panel, professor panel, and speakers from BKD LLP, SS&C Technologies Inc., Big 4 Accounting firms, and United Way's Volunteer Income Tax Assistance Program (VITA), among others.
Our club has five officer positions that also provide leadership opportunities for students: President, Vice President, Treasurer, Secretary, and Student Government Association Representative.
Upcoming event: The 3rd Annual Accounting and Finance Meet the Firms Event will take place Thursday, September 6, 2018, from 4:00 - 6:00 p.m. in Ridgway University Center's Eykamp Hall.
2017-2018 events
Membership: 50 students
Annual Dues: $15
Events
Kick-off Celebration
2nd Annual Accounting and Finance Meet the Firms Event with 12 companies and 59 students attending
Mock Interview Day
Etiquette Dinner
Game Night
End-of Year/Senior Send-off Celebration
Lunch Meeting Speakers (lunch provided)
Steve Allyn and Michael Huff of SABIC
Lindsey Arnold of Indiana University, Kelley School of Business Graduate Accounting Programs
Kristin Curcuru of Becker Professional Education
Matt Cekander of Doehring, Winders & Co. LLP
Clint Meeks of KPMG
Mac Neel of Alexander Thompson Arnold PLLC