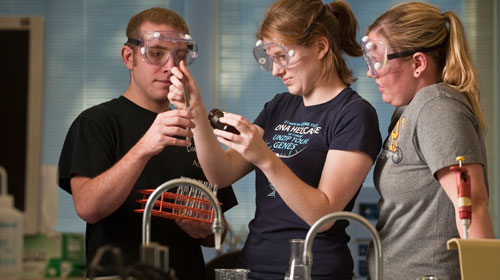 Student Organizations
Through the Chemistry Club, UE chemistry students have the opportunity to further their involvement in their discipline while forming lifelong relationships with their peers.
A student affiliate of the American Chemical Society, UE's Chemistry Club provides an opportunity for students to further their involvement in both the department and the Evansville community.
Along with hosting annual fall and spring picnics, the Chemistry Club participates in a variety of activities such as rock climbing, canoeing, and outreach programs that include performing chemistry demonstrations at local elementary schools.
Chemistry Day, Saturday, April 25, 2020
Fourth and Fifth grade students are invited to join members of the Chemistry Club for a day of chemistry demonstrations and hands-on experiments. Chemistry Day will take place from 10:00 a.m. to 2:30 p.m., with lunch provided. Cost of the event is $30.
Download the Chemistry Day application form.
Please be sure to send in your application with the $30 fee by Saturday, April 4, 2020. Chemistry Day will take place in Koch Center on the UE campus.
Annual Chemistry Club Christmas Party
The Chemistry Club celebrated their annual Christmas Party with food and a gift exchange during Reading and Study Day.

Office Phone
812-488-2035

Office Email
km123@evansville.edu

Office Location
Room 327, Koch Center for Engineering and Science