UE announces investiture of two Chemistry professors
Posted: March 1, 2023
The University of Evansville's (UE) Ridgway College of Arts and Sciences announced the investiture of two Chemistry faculty members during a ceremony on Tuesday.
Dr. Kristy K. Miller was named the Weller Endowed Professor in Chemistry and Dr. Roslyn Lampkins was named the Wargel Endowed Chair in Chemistry.
Weller Endowed Professor in Chemistry
Eloise and Lowell Weller were natives of Ohio, and both graduated with bachelor's degrees from Bowling Green State University. Lowell earned a master's and doctoral degree in Chemistry from Michigan State University. Eloise earned a master's degree from Indiana University and was a teacher in the Evansville-Vanderburgh School Corporation. Lowell was an assistant professor at Michigan State University before joining the faculty of Evansville College in 1957. He was a professor and the chair of the Department of Chemistry until his retirement in 1989, after which the University conferred the status of professor emeritus to him. Lowell was a member of the American Chemical Society and the Royal Society of Chemistry. He was also a World War II veteran and served in the ETO. Eloise and Lowell had two sons, Ronald Weller, MD, of Merion Station, Pennsylvania, and Donald Weller, PhD, of Millersville, Maryland.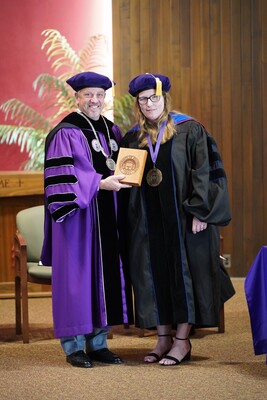 Kristy Miller, PhD, is Professor and Chair of the Robert J. '66 and Judy Decker '66 Wargel Department of Chemistry at the University of Evansville. Miller obtained her Bachelor of Science in Chemistry from Indiana University (Bloomington) in 1999 and PhD in Biochemistry from the University of Louisville in 2004. She began her career in the UE Department of Chemistry in 2004 and has been Chair since 2011. Miller is passionate about teaching and covers both general chemistry and biochemistry. Her research interests include the enzyme regulation of 11-Hydroxysteroid Dehydrogenase Type 1 as well as best practices of assessment of chemical education. Since her appointment, Miller has mentored 20 undergraduate research students and been awarded over $80,000 in external funding from both the MERCK/AAAS Undergraduate Science Research Program and the Jean Dreyfus Boissevain Lectureship for Undergraduate Institutions Program. Miller helped initiate the Baccalaureate to Doctor of Medicine (B/ MD) program at UE and has also served on various committees during her tenure at UE, including the University Judicial Board, the Academic Assessment Committee, the Faculty Appeals Committee, Admission and Standards Committee, as well as several search committees. She received the Sidelle and Sydney Berger Award for University Service and has been a recipient of the Eykamp Prize, an award that acknowledges faculty achievement. Miller was also named to the 20 Under 40 Class of 2012 which recognizes individuals under 40 in the Evansville community who exhibit leadership in various ways. Miller enjoys spending time with her husband, Eric, and their daughters, Erica, 14, and Kate, 12. She also enjoys playing golf and tennis and coaching girls' tennis at Evansville Christian School. A native of Washington, Indiana, she is a 1995 graduate of Washington High School.
Wargel Endowed Chair in Chemistry
Roslyn Lampkins, Ph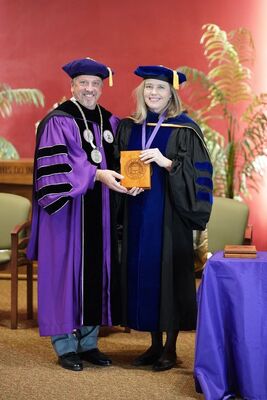 D, joined UE's Department of Chemistry as an Assistant Professor in 2017, and she wasted no time getting her undergraduate research lab up and running. The theme for her research is "supramolecular therapeutics." Lampkins' group uses the principles of supramolecular chemistry (molecular recognition and intermolecular interactions) and computational analysis to design and synthesize purine-based scaffolds that can be used as enzyme inhibitors and DNA minor-groove binders. Lampkins received a Bachelor of Science in Chemistry from Western Kentucky University. During her time at WKU, she had the opportunity to work as an undergraduate researcher studying substrate-assisted ortho-metalation of aromatic molecules in hydrocarbon solvents to improve the synthesis of pharmaceuticals. She also participated in a summer research experience for undergraduates at the University of Tennessee, where she synthesized and investigated polymer-supported dyes to selectively bind and remove toxic metals from aqueous environments. It was these undergraduate research experiences that sparked her interest in chemistry and inspired her to pursue a career path toward becoming an academic scientist and educator. Lampkins received her PhD in Organic Chemistry from the University of Florida. Her graduate training in the Castellano lab involved designing, synthesizing, and characterizing a novel class of purine derivatives and exploring their applications in self-assembly and molecular electronics. After receiving her PhD, she conducted postdoctoral research at the University of Notre Dame in the lab of Professor Paul Bohn, where she worked on integrating microfluidics and electrokinetics to develop early prototypes of novel "lab on a chip" sensor devices. Lampkins has mentored 17 undergraduate researchers since joining UE. These students have delivered presentations of their work at various local, regional, and national conferences. Lampkins enjoys reading, the outdoors, and spending time with her husband, Andy, and their twin sons, Clark and Luke.
Dr. Robert J. '66 and Judy Decker '66 Wargel
The University of Evansville Department of Chemistry is proud to be named after Bob and Judy Wargel, two alumni and friends whose generosity has supported remarkable student experiences, cutting-edge faculty research, and a continuously enhanced academic experience. Bob and Judy were students of UE when it was still known as Evansville College. Through the years, they remained connected to the University where they first met. For Judy, whose mother had graduated from Evansville College, attending UE was a family tradition. For Bob, the decision was financial. He enlisted in the Air Force after high school. Upon his discharge, he returned to Evansville, lived at home, and worked full-time while attending college. They both earned degrees in Chemistry. After graduating from UE in 1966, Bob pursued his PhD from Northwestern University in Illinois, and Judy joined Abbott Laboratories where she worked as an information scientist, a medical writer, and ultimately in regulatory affairs. Upon retirement, the Wargels followed their love of volunteering. One of their passions was improving health and wellness in third-world countries. The UE Department of Chemistry has been a particular recipient of the Wargels' generosity. The couple helped spearhead the Dr. Lowell Weller Chemistry Instrumentation Fund, which led to the purchase of a new 400 MHz Bruker Biospin NMR spectrometer. Bob and Judy gave countless hours to the department by sponsoring summer internships for students and establishing a planned gift to the department.
Thananatthanachon, Lampkins Invested as Wargel Endowed Chairs of Academic Programs
Posted: May 3, 2022
On May 2, 2022, the University of Evansville held an investiture ceremony for two faculty members: Todsapon Thananatthanachon, PhD; and Andrew Lampkins, PharmD, PhD. Both individuals were invested as the Wargel Endowed Chair of their respective programs, which was made possible due to a generous gift from Bob and Judy Wargel.
Thananatthanachon, or known by his colleagues and students as "Dr. Tod," will now serve as the Wargel Endowed Chair in Chemistry for the Wargel Department of Chemistry in the William L. Ridgway College of Arts and Sciences. As an associate professor, he teaches a variety of courses and maintains an active research group in the area of organometallic chemistry, green chemistry, and catalysis. Dr. Tod also serves as a faculty research advisor for the Chemistry Club, and he established an annual Chemistry Club Lecture Series that invites distinguished researchers in all areas of chemistry to present on campus.
Lampkins was invested as the Wargel Endowed Chair in Physician Assistant Science for the Master of Physician Assistant Science program in the College of Education and Health Sciences. After earning his PhD in organic and medical chemistry, he completed a Walther Cancer Institute Postdoctoral Fellowship at the University of Notre Dame. Before he became an associate professor for the physician assistant program, he was an assistant professor and inaugural G. Richard and Rita '59 Eykamp Endowed Chair in Chemistry.
Following the formal ceremony, which was held in UE's Neu Chapel, guests were invited to a reception where UE unveiled the Robert and Judy Decker Wargel Department of Chemistry. The department and its new signage are located on the third floor of Koch Center for Engineering and Science.
Bob and Judy Wargel are two alumni and friends of the University whose generosity has supported remarkable student experiences, cutting edge faculty research, and continuously enhanced academics. They met one another at UE, and both earned degrees in chemistry. After successful careers, the Wargels followed their love of volunteering and passion for improving health and wellness in third-world countries. They also gave countless hours to the Department of Chemistry by sponsoring summer internships for students and establishing a planned gift to the department.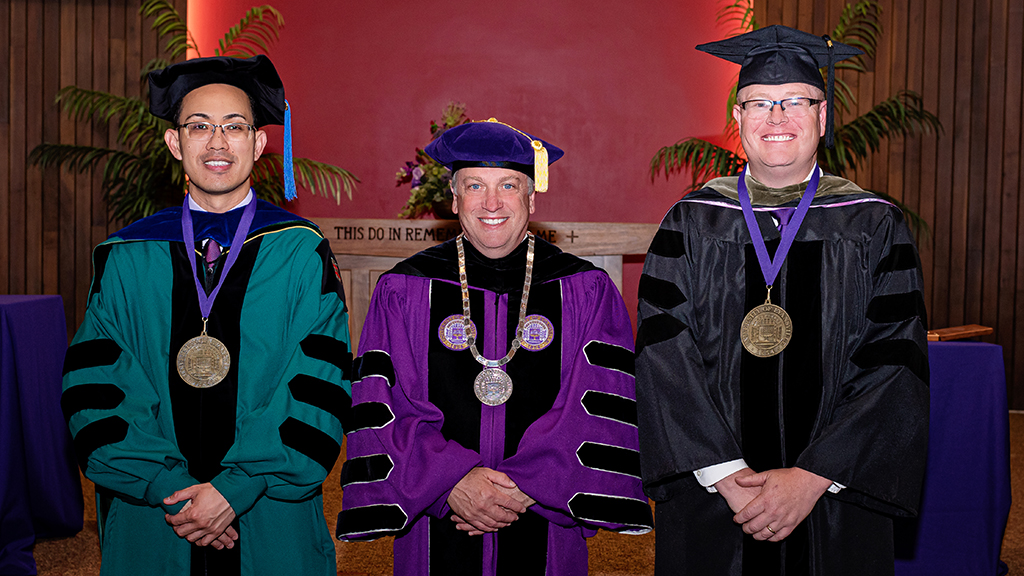 Congratulations to Roslyn Lampkins and Peter Schmidt
Posted: April 29, 2020
Congratulations to Roslyn Lampkins, assistant professor of chemistry, and Peter Schmidt, associate professor of mechanical engineering, on receiving the Class of 1961 Faculty Fellowship Award.
The award was established in May 2010 with gifts and pledges from members of the Class of 1961. It was created to provide support for pre-tenured faculty research projects. Thank you for your contribution to the University through your research endeavors.
University of Evansville Celebrates 161st Commencement Ceremony on May 11
Posted: May 11, 2019
The University of Evansville bestowed 497 degrees upon 475 graduates during the 161st commencement ceremony on Saturday, May 11. President Christopher Pietruszkiewicz presided.
Several awards were given at the ceremony including the Mabel Dillingham Nenneker and Guthrie May Outstanding Senior Award, the Alumni Association's Outstanding Teacher Award, and the Eykamp Prize. Additionally, three honorary degrees were given during the celebration.
Full information on the award recipients is as follows:
2019 Mabel Dillingham Nenneker and Guthrie May Outstanding Senior Award
Each year, a committee of students and faculty selects an award recipient for the most outstanding senior. The selection is based on high academic performance, a commitment to service, outstanding leadership, and involvement in diverse campus activities. The award is named for two of the University's most respected alumni, Mabel Dillingham Nenneker and Guthrie May.
This year's recipient is Chace Avery. He truly embodies the spirit of philanthropy, innovation, and changemaking that are at the heart of the University of Evansville experience.
As a biochemistry student, research led Avery to an internship with the National Institutes of Health where he performed data analysis on a clinical trial focused on patients with severe insulin resistance.
While president of his fraternity, Sigma Phi Epsilon, Avery created a new philanthropy event called the Patriot's Run to benefit the Wounded Warrior Project where participants ran a 5k wearing backpacks, mirroring our US troops who wear heavy backpacks every day.
Avery says the pride and joy of his UE experience has been his involvement in Habitat for Humanity. He served as the President for Habitat for Humanity for two years, during which time he planned and executed the nation's first Habitat for Humanity Barn Blitz. This event brought 200 UE students, faculty, staff, alumni, and community members together to build 30 yard barns to accompany Habitat for Humanity Homes in Evansville. He also worked on the 499th Habitat for Humanity House in Evansville and was part of the inaugural Evansville team to build a Habitat for Humanity House while abroad in Portugal. To bring his involvement full circle, he will be building another home with UE students in Chacala, Mexico after graduation.
Avery also took a ChangeLab class focused on the development of Tiny Homes for the homeless in Evansville and was able to serve at a women's shelter called Ruth's House. He was a part of Student Christian Fellowship, an active Orientation Leader, and was a co-founder for the University's Ballroom Dancing Club.
Avery has done all of the above while still maintaining an outstanding academic record, appearing on the Dean's list every single semester of his UE career.
In August, Avery will attend Indiana University School of Medicine to pursue a medical specialty in Pulmonary and Critical Care Medicine. He says he plans to continue making a difference in the world of medicine through innovative philanthropy, just as he has at UE.
UE Alumni Association Outstanding Teacher Award
Professor Atefeh Yazdanparast was awarded the 2019 UE Alumni Association's Outstanding Teacher Award. Yazdanparast is highly revered by students and colleagues alike. Many say she is the best professor they've ever had and others think the best instructor at UE!
Dean Rawski says she is an exceptional teacher and scholar, and connects well with her students.
Yazdanparast received her Ph.D. in Marketing with a minor in Business Anthropology from the University of North Texas in 2012. Since joining the UE faculty in 2012, she has been the recipient of the 2018 Dean's Teaching Award, the 2018 National Society of Leadership and Success Excellence in Teaching Award, Class of 1961 Faculty Fellowship Award in 2017, Global Scholar Award in 2015, and the Dean's Research Award in both 2014 and 2016.
Recently, Yazdanparast was named the 2019 Master Scholar award recipient by Marketing Management Association as part of an international competition to recognize marketing scholars who have engaged in innovative and impactful research. Following a multi-disciplinary and multi-method approach, Yazdanparast conducts qualitative and quantitative research and collaborates with researchers in other disciplines. Focusing on decision making, a majority of her intellectual contributions fall within the areas of social psychology of consumer behavior and the interplay of consumers and technology and her work has been published in many journals.
Yazdanparast teaches several marketing courses including digital marketing, marketing research, principles of marketing, and consumer behavior. She is committed to providing experiential learning opportunities for her students, and they have incorporated more than 20 marketing projects for local and global businesses.
Eykamp Prize
The 2019 recipient of the Eykamp Prize is professor Kristy Miller.
Since arriving at UE, she received the Sadelle and Sydney Berger Service Award for her involvement with student recruitment; and her efforts have been successful as her department has seen increased enrollments. She was also selected as one of the Evansville Business Journal's 20 under 40, an honor that recognizes young leaders who make a difference in their community.
Miller is chair of the Department of Chemistry and instrumental to recruiting and retaining the best and brightest students to her department. In addition to mentoring Chemistry majors, she maintains contact with alumni and supports them throughout their professional careers. To keep alumni engaged in the life of the University, Dr. Miller hosts engaging events on campus, giving them a reason to return to Evansville.
Miller has also played a key role in fundraising to support her department. Most recently, she received funds to support undergraduate research and a distinguished lecture series from the Jean Dreyfus Lectureship.
Lampkins selected to attend workshop and receives grant
Posted: April 25, 2019
Roslyn Lampkins, University of Evansville assistant professor of chemistry, was selected from a competitive pool of applicants to attend the 2019 American Chemical Society New Faculty Workshop in Pasadena, CA in June.
Lampkins was also recently awarded a $3,000 grant from the Indiana Academy of Science for research involving supramolecular therapeutic chemistry.
UE CiSM Project Receives $1 Million Grant for Scholarships from the NSF S-STEM Program
Posted: February 11, 2019
The University of Evansville's Computers in Science and Math (CiSM) project has been awarded a grant totaling $999,934 to fund scholarships for academically talented students with financial need majoring in biochemistry, biology, chemistry, environmental science, mathematics, physics, or statistics and data science.
The project, funded by the National Science Foundation's (NSF) Scholarships in Science, Technology, Engineering, and Mathematics (S-STEM) program, is led by UE faculty members Joyce Stamm, professor of biology; Angela Reisetter, associate professor of physics; Adam Salminen, associate professor of mathematics; and Sarah Wilson, assistant professor of chemistry.
The CiSM scholarships will be available beginning in the fall 2020 semester and will provide up to $10,000 per year for four years to two cohorts of seven or eight students. These students will be part of an interdisciplinary learning community established through an all-expenses paid bridge course during the summer before the freshman year, and maintained as the students live together in UE's honors residence hall and enroll together in computational problem-solving courses. CiSM students will also receive summer research and conference attendance funds, and CiSM-specific academic advising, career preparation, and mentoring.
"This interdisciplinary cohort approach will prepare our students for a real work setting, where biologists and mathematicians may work alongside chemists and physicists toward a common goal," said Stamm. "The interpersonal skills developed from living and working together are just as, if not more, important than the technical skills gained through coursework. It allows them to learn to speak the same language."
Reisetter added, "Computational problem-solving skills are not currently emphasized in UE's math and science curriculum, so we're particularly excited to develop additional talents in our students, which will translate into broader career opportunities and workplace success upon graduation."
To develop these skills, the project will introduce a scaffolded curriculum with four interdisciplinary computational problem-solving courses. The first three courses will focus on the power of computational and data visualization skills in the sciences, and introduce students to interesting data-centric scientific projects. The fourth course will be part of the UE ChangeLab program and will pair student and faculty teams with local business or nonprofit clients. Students will work with the clients to solve a problem involving experimental design, data collection, and/or data analysis. Because these courses will be open to all math and science majors at UE, the CiSM project will have impact beyond the scholarship recipients.
"The digital revolution has allowed scientists and businesses to collect vast quantities of data," said Salminen. "Marketing firms, educators, and sports teams have gleaned knowledge and insights from this data for application to business techniques for many years. Of particular importance here is the growing need of these skills in the sciences."
Data scientists and statisticians work to develop new statistical approaches and develop new software and techniques of analysis. However, scientist in other areas such as genomics, particle physics, and neuroscience need to use these techniques to unravel the massive amounts of data that they collect. Moving forward, scientists will need to have a better understanding of working with large data, and statisticians and mathematicians, with proper training and interest, can help tackle difficult problems throughout the sciences.
In line with the NSF's mission to improve STEM undergraduate education, another important goal of the project is to determine the impacts of the learning community on CiSM scholars.
"We will assess each of the project's activities using a mixed-methods approach, to examine how involvement in the CiSM community affects students' science and mathematics self-efficacy, sense of community, retention, success, and progression to STEM careers," said Wilson. "We hope that the CiSM project will serve as a model for interdisciplinary STEM education at institutions similar to UE."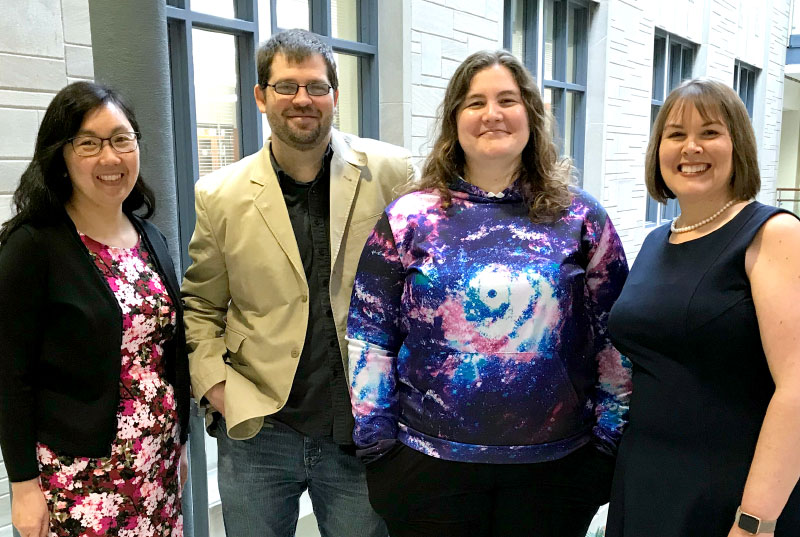 Professor Roslyn Lampkins awarded grant
Posted: February 7, 2019
Roslyn Lampkins, assistant professor in the University of Evansville's Department of Chemistry, has been awarded a $10,000 grant from the PCMNCG (Pittsburgh Conference Memorial National College Grants) Program.
This is a very competitive program in which grants are awarded to small college science departments for the purchase of scientific equipment, audio-visual or other teaching aids, and/or library materials for use in the teaching of science at the undergraduate level.
Wilson has article published in Journal of Chemical Education
Posted: November 7, 2018
Sarah Wilson, University of Evansville assistant professor of chemistry, has had a paper published in the Journal of Chemical Education.
Her paper, "Characterization of First-Semester Organic Chemistry Peer-Led Team Learning and Cyber Peer-Led Team Learning Students Use and Explanation of Electron-Pushing Formalism" (10.1021/acs.jchemed.8b00387), examines how organic chemistry students' utilized electron-pushing mechanisms to solve problems, depending on whether they participated in face-to-face peer-led team learning (PLTL) workshops or a synchronous online version of peer-led team learning workshops. Implications for instructors are suggested, including encouraging students to verbally explain their rationale while drawing mechanisms as well as optimizing graphical collaborative learning activities for online learners.
Chemistry department presents at Eli Lilly and Company
Posted: August 21, 2018
Roslyn Lampkins, University of Evansville assistant professor of chemistry, and rising UE sophomore Phil Wittel presented a poster of their research titled "Purine Scaffolds Toward a New Class of Antibacterial Agents Against Gram-Negative Drug Resistant Bacteria" at the recent 2018 Lilly Undergraduate Research Symposium. UE rising sophomore Timmy Miller was a co-author on this poster.
The symposium serves as a forum for undergraduate institutions across the state of Indiana to share their research with each other and with medicinal and drug discovery scientists at Eli Lilly. Eli Lilly and Company, and UExplore funded this research project.
Professor Arlen Kaufman Invested as UE's G. Richard and Rita Eykamp Endowed Chair in Chemistry
Posted: October 16, 2017
The University of Evansville's William L. Ridgway College of Arts and Sciences Department of Chemistry has announced the investiture of UE professor Arlen Kaufman as the G. Richard and Rita Eykamp Endowed Chair in Chemistry. The investiture ceremony was held Saturday, October 14, on UE's campus.
The G. Richard and Rita Eykamp Endowed Chair in Chemistry was established by the Eykamps to assist in promoting undergraduate teaching excellence in chemistry. This endowed chair is awarded to a faculty member in the William L. Ridgway College of Arts and Sciences who has demonstrated an understanding of the importance of teaching excellence in undergraduate chemistry, and demonstrated teaching excellence in her or his own classroom.
Kaufman, a professor of chemistry, earned his Bachelor of Science degree in chemistry from the University of Kansas and his Doctorate of Philosophy in analytical chemistry from Purdue University, one of the top institutions in the field.
Since arriving at UE, Kaufman has demonstrated his commitment to actively engaging undergraduate students in novel research. The main areas of study in the Kaufman research group include developing analytical techniques for detecting biologically relevant molecules and monitoring chemical pollutants in the local environment. These efforts have resulted in collaborations with colleagues in chemistry and biology at UE and other institutions, and projects have been funded by Naval Surface Warfare and the National Oceanic and Atmospheric Administration. Research students in the Kaufman group are exploring the use of ambient ionization techniques coupled with tandem mass spectrometry to increase speed and reliability of the analysis of secondary plant metabolites. The first stage of this work was published in Analytical Methods and was selected by the editors to be featured in their "Hot" article in Analytical Methods 2015.
Kaufman has taught a variety of courses in chemistry, environmental studies, and general education. His current teaching responsibilities include Principles of Chemistry, Quantitative Analysis, Instrumental Analysis, and Chemistry Senior Seminar. He is a dedicated teacher who has worked tirelessly to engage students in active learning through the use of research projects in his lab-based courses. Kaufman has received the College of Liberal Arts and Science Dean's Teaching Award and in 2010 was voted "Best College Professor" in Evansville by the readers of Evansville Living Magazine.
Elizabeth Nolan to be Speaker at UE's Jean Dreyfus Boissevain Lectures
Posted: November 9, 2016
Elizabeth Nolan, professor of chemistry at MIT, will be the speaker for the Jean Dreyfus Boissevain lectures planned at the University of Evansville this week.
On Thursday, November 10, at 12:15 p.m., Nolan will give a general science lecture titled "Humans and Microbes: Understanding How a Gut Peptide Entraps Bacterial Pathogens." The lecture will be in Room 162 in the Schroeder School of Business Building.
Later that day – at 4:00 p.m. - she will be giving a community outreach lecture at the Koch Family Children's Museum.
Then on Friday, November 11, at 6:00 p.m., Nolan will be giving a talk titled, "Metals and Immunity: Bioinorganic Explorations of the Host-Defense Protein Calprotectin." That lecture will be in Room 101, in Koch Center for Engineering and Science.
These events, which are being sponsored by UE's Department of Chemistry, are all free and open to the public.
Nolan graduated magna cum laude from Smith College in 2000 and earned her PhD in inorganic chemistry from MIT. She pursued her post-doctoral research at Harvard Medical School. She joined the Department of Chemistry at MIT in 2009. Her current research involves synergies between metal ion homeostasis and immunity. Some of Nolan's recent awards include being selected as an Alfred P. Sloan Foundation Fellow in 2013, and a Camille Dreyfus Teacher-Scholar in 2014.
UE Professor Receives Award from Dreyfus Foundation
Posted: August 4, 2016
Kristy Miller, University of Evansville professor and department of chemistry chair, has received a Jean Dreyfus Boissevain Lectureship award from the Camille & Henry Dreyfus Foundation, Inc. The purpose of this prestigious award, which totals $18,500, is to support a lectureship and undergraduate research in the chemical sciences. Nominations for the award are reviewed by distinguished faculty in the chemical sciences.
Some of the funds from the award granted to Miller will be used to bring a leading researcher to the University of Evansville campus to give at least two lectures in the chemical sciences. One lecture will be designed to be accessible to a wide audience. The other lectures may be more technical in nature. The lecturer will spend a few days at UE and interact with students and a broad range of faculty.
Another portion of the award will be used to support two UE undergraduates in summer research as they work with mentors in contemporary chemistry.
Nominations for the Jean Dreyfus Boissevain Lectureship award are reviewed by distinguished faculty in the chemical sciences. Applications are accepted from departments in the chemical sciences at primarily undergraduate institutions in the states, districts, and territories of the United States of America.
Dr. Kimberly Fessel ('06) to present lecture at UE on September 25 at 3:00 PM in Room 100, Koch Center.
Posted: July 9, 2015
Dr. Kimberly Fessel will return to UE to present Playing it by ear - the art of Interdisciplinary STEM as part of the Dr. Guy Banta Distinguished Lecture Series. Dr. Fessel graduated from UE in 2006 with a BS in professional chemistry and applied mathematics.
She earned her MS in applied mathematics in 2009 and a PhD in mathematics in 2013, both from Rensselaer Polytechnic Institute. She is currently a postdoctoral fellow at the Mathematical Bioscience Institute at The Ohio State University in Columbus, OH. She is primarily interested in mathematical biology, asymptotic methods, and combining analytics with numerics to arrive at system solutions. Current areas of research include modeling cancer lineage, analyzing glucose-insulin dynamics, and developing a comprehensive model for the transduction of mammalian cochlea. Her talk will touch on this work and describe her own journey through several branches of STEM. You can find her web page at: http://people.mbi.ohio-state.edu/fessel.6/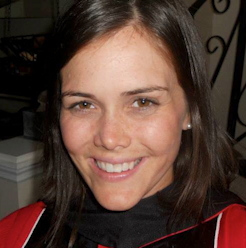 Chemistry student named a 2015 Goldwater Scholar
Posted: April 13, 2015
Abigail Smith, a professional chemistry major at the University of Evansville, has been named a 2015 Goldwater Scholar by the Barry M. Goldwater Scholarship and Excellence in Education Program. Established by the U.S. Congress in 1986 to honor the former senator from Arizona, this nationwide scholarship program was designed to foster and encourage outstanding students to pursue careers in STEM (science, technology, engineering, mathematics) research. The Goldwater Scholarship is the premier undergraduate award of its type in these fields.
Abby conducts research with Dr. Andy Lampkins, assistant professor of chemistry, where she is creating a new paradigm in cancer treatment called "smart" therapeutics. "Abby is developing prototypes that have the potential to target, treat, and detect cancer cells simultaneously," said Lampkins. "This technology would most certainly streamline the way cancer is treated today." Abby presented her research at a meeting of the American Chemical Society this past fall, and has accepted an internship in drug discovery at Eli Lilly and Company this coming summer. In addition to her interests in chemistry, Abby is a member of the Aces women's swimming/diving team. After graduating from UE, Abby plans to enroll in a PhD program studying synthetic organic chemistry before seeking employment in the pharmaceutical industry.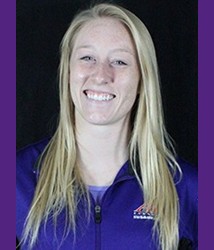 UE Professors Awarded Grant for Science, Math Scholarships
Posted: September 23, 2013
University of Evansville faculty members Joyce Stamm, associate professor of biology, and Adam Salminen, associate professor of mathematics, have secured a five-year, $610,600 grant through the National Science Foundation's S-STEM (Scholarships in Science, Technology, Engineering, and Mathematics) program to assist students in science and mathematics. The grant is one of about 90 awarded from the 436 proposals submitted to the S-STEM program, and is the largest faculty grant in school history.
The award provides funds for financial, academic, and professional support for students majoring in the sciences and mathematics. The majority of the grant, around $528,000, will fund the new UE Science and Math Scholarship (SAMS), which will provide four-year scholarships to approximately 34 academically talented students with financial need who are majoring in biochemistry, biology, chemistry, environmental science, mathematics, or physics.
The grant also provides funds for new support services for science and mathematics majors at UE. These services include an introductory summer course for incoming students, a semester-long course on study skills and time management, monthly career colloquiums, and a science and math-themed living-learning community in a campus residence hall. These activities will be available to all math and science students at UE and will continue after the grant ends in 2018.
"This grant not only represents an incredible opportunity to transform the lives of future students at the University of Evansville, but the National Science Foundation's decision to fund the proposal also demonstrates the University's outstanding track record of preparing students to succeed in math and science careers and graduate programs," said John Mosbo, UE senior vice president for academic affairs. "At UE, students receive a personalized education that equips them to make an impact on the national shortfall of qualified STEM professionals. Dr. Salminen and Dr. Stamm's successful grant application affirms that commitment to teaching."
"Thanks to this grant, we'll be able to help an even greater number of high-achieving students pursue an education at the University of Evansville," said Salminen. "We expect that the SAMS scholarship will increase enrollment of students majoring in math and the sciences."
"The new student success initiatives will also help ease students' transitions from high school to college, and from college to graduate school or the workforce," Stamm added. "We believe this level of personal support will increase retention of students in math and science majors, and ultimately increase the number of qualified professionals in the STEM workforce."
SAMS scholarships will be available starting with UE's entering freshman class of 2014. For selection criteria and application details, interested students may visit the program website.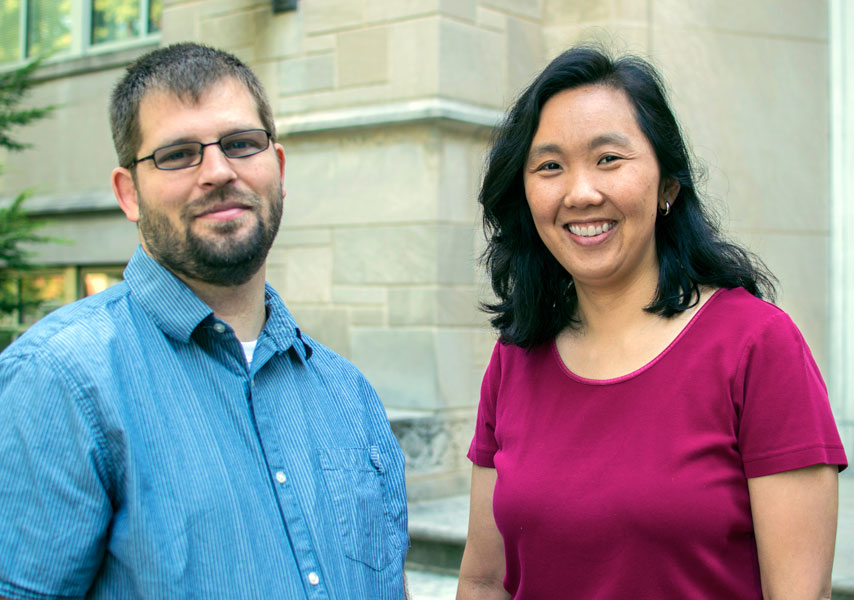 UE Names 2013 Berger Award Winners
Posted: August 20, 2013
David Dwyer, Mark Gruenwald, and Jean Beckman have been named the winners of the 2013 Sydney and Sadelle Berger Awards, presented each year to members of the University of Evansville faculty who demonstrate exceptional scholarly activity and service.
Dwyer, chair of the Department of Mathematics and a professor of mathematics, and Gruenwald, also a professor of mathematics, jointly received the award for scholarship. Beckman, a professor of chemistry, earned the award for service. UE President Tom Kazee presented both awards today at the University's annual Fall Conference for faculty and administrators.
As a team, Dwyer and Gruenwald have made a profound impact on their academic discipline nationwide. They recently received a highly competitive $600,000 grant from the National Science Foundation that will allow them to broaden and continue their Resequencing Calculus project, which builds on work funded by a previous NSF grant in 2009.
For this project, Dwyer and Gruenwald revised the standard three-semester calculus sequence to better meet the needs of students in a variety of STEM disciplines. They also wrote a 700-page textbook to support the first two semesters of this sequence, piloted the sequence at UE, and identified supporters of the redesigned sequence at other institutions.
Dwyer and Gruenwald, both of whom have won the Dean's Teaching Award for UE's College of Arts and Sciences, have also sold more than 30,000 copies of five commercially published mathematics textbooks.
Beckman, who won the award for service, came to the University of Evansville 35 years ago. Since then, she has become widely respected on campus for her fairness, her selfless dedication to the University, and her passion and commitment to teaching.
Beckman chaired the Department of Chemistry from 1989 to 2003. Although her first love is teaching, she has also served the University in numerous administrative roles over the years, including terms as dean and interim dean of the College of Arts and Sciences and interim vice president for academic affairs.
Beckman has served on countless University committees: search committees, numerous Faculty Senate committees, the General Education Revision Subcommittee, the Writing Subcommittee, the Honorary Degree Committee, and the UE United Way Campaign Committee, just to name a few.
The Berger Awards are presented annually in memory of Sadelle and Sydney Berger. Sadelle was a UE graduate and lifelong member of the Academy of Arts and Sciences at UE, while Sydney was a well-known local attorney. Both dedicated their lives to public service. The Berger family established the endowment to give recognition to faculty at the University of Evansville.
Office Phone
812-488-2035

Office Email
km123@evansville.edu

Office Location
Room 327, Koch Center for Engineering and Science