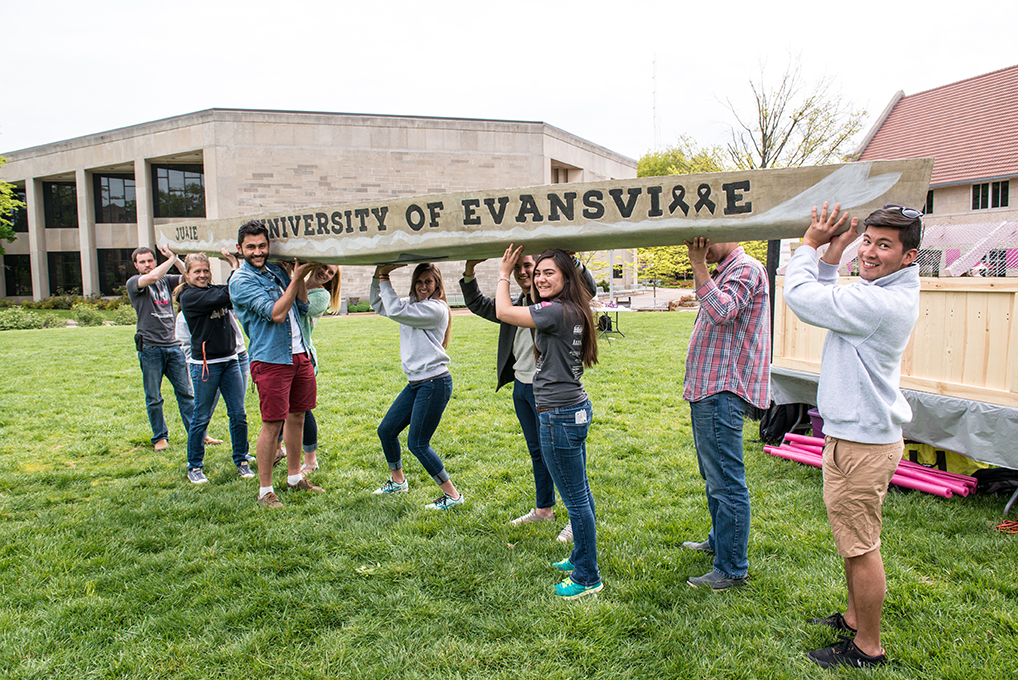 An Innovative Program
Over the years, civil engineering teams have competed in the ASCE Concrete Canoe Competition, and numerous times the UE teams have advanced to the national competition. This event tests students' abilities in design, critical thinking, and innovation.
From freshman to senior year, civil engineering students at UE are required to participate in an annual design project. These projects have proven to be beneficial when students transition to the workforce. According to recent alumni survey results for the civil engineering program, 95% of graduates stated that the design projects prepared them to work on multi-disciplinary teams.
Various senior design projects from civil engineering students are included below.
ASCE Concrete Canoe
The Concrete Canoe Competition, sponsored by the American Society of Civil Engineers (ASCE), requires civil engineering students to design and fabricate a concrete canoe big enough to accommodate four people. Students compete against other universities in a two-day competition which includes men's, women's and co-ed races, a student presentation, evaluation of the student's design report, and final product judging. The event challenges the students' knowledge, creativity, and stamina, while showcasing the versatility and durability of concrete as a building material.
UE has previously been a host for the national competition, at that time setting the record for the smallest school to ever do so.
Walnut Street Streetscape – 2019
In 2018, the City of Evansville announced the Walnut Street Improvement Project, which would affect the intersection on the University of Evansville campus. Senior design team Aces Group completed a design for the Walnut Street Streetscape that would eventually be constructed. After compiling responses from a student survey, the group began working on a design that would serve three main purposes: increase pedestrian safety, increase visibility of the UE campus, and increase overall aesthetics. The design featured five new pedestrian crosswalks, raised speed table crosswalks, upgraded signage, upgraded lighting, and a pedestrian plaza. The design is shown below.
Hall Lake Dam – 2020
Senior design team Crest Engineers chose the Hall Lake Dam in Posey County for their project. This project included designing spillway modifications and an aeration system to improve the water quality in the lake, as well as a fountain system for the dam. Crest Engineers performed an engineering survey, took soil samples, evaluated the erosion potential in the spillway discharge channel, performed a slope stability analysis of the dam, and performed water quality tests.
A new drop-inlet structure and discharge pipe were also designed using HEC-HMS. Soil samples were collected from two borehole locations on the dam and analyzed in the University of Evansville's Geotechnical Laboratory.
Citizens Energy – 2020
In September 2019, Ace Consulting met with Citizen Energy Group (CEG) to discuss converting CEG's eight Indianapolis Metropolitan water facilities to solar energy. Ace Consulting submitted a preliminary engineering report to CEG in December 2019, and a final engineering report was prepared to assist CEG in determining the feasibility of project implementation. Ace Consulting completed a cost analysis for all eight sites to determine system size, percentage of energy provided by the solar panels versus current peak demand, and payback period for each site.
Ace Consulting recommended constructing solar arrays at each of the eight water facilities with a ballasted foundation. These solar arrays will produce a portion of the peak demand for their respective facilities significant enough to justify the initial cost of installing solar power.
Engineering Projects Lab – 2018
Senior design team Connection Engineering designed an engineering projects lab (EPL) for the School of Engineering and Computer Science. The building would connect the north ends of the Koch Center with the Bowen Engineering Laboratories. Students could use this area as a workspace for major-related projects, and visitors and students could walk along a mezzanine to view the area from above.
Taking considerations from CECS faculty members and Friends of the Peters-Margedant House, Connection Engineering designed a steel frame structure using STAAD.Pro.
Office Phone
812-488-2652

Office Email
ta58@evansville.edu

Office Location
Room 268, Koch Center for Engineering and Science