High Schoolers Can Earn College Credit Through UE's Online Health Sciences Certificate
Posted: October 23, 2017
High school juniors and seniors interested in a career in the health professions may earn college credit through the University of Evansville's Health Sciences Certificate program. This online program provides exposure to a variety of health science disciplines giving participants a head start on their future health-related careers.
The Health Sciences Certificate provides required credits for the following University of Evansville majors:
Athletic Training
Clinical Laboratory Science
Exercise and Sport Science
Nursing
Public Health
Additionally, the certificate provides prerequisite course work for the following programs: Physical Therapist Assistant, Physical Therapy, and Physician Assistant Science.
"This certificate provides students with a competitive advantage as they begin their college careers," said Mary Kessler, dean of the College of Education and Health Science at UE. "Courses can be taken to meet a student's personal needs and schedule for a fraction of the cost."
The program provides up to 13 hours of college credit. The certificate includes five core courses and one elective, all taught online for $125 per credit hour, plus a semester-based registration and technology fee of $85.
The Health Sciences Certificate program is limited to high school juniors and seniors. Courses are offered online each fall and spring semester in eight- or 16-week offerings.
More information and online registration can be found at www.evansville.edu/healthcertificate.
UE Physical Therapy students, alumni, and sports residents help high school athletes prevent injuries
Posted: April 14, 2016
UE physical therapy students and sports residents recently performed injury prevention screenings at a local high school.
The screenings benefit athletes at risk of injury and assist them in implementing a program to correct movement dysfunctions and decrease risk of injury.
The team was led by UE PT professors Kyle Kiesel and Bethany Huebner; UE/ProRehab sports residents Sam Callahan and Danielle Honnette, and UE alumni Kyle Matsel, Franny Matsel, Kim Moors, and Paul Gorman; and first year DPT students Jessika Volz, Ben Johnson, and A.J. Herrmann.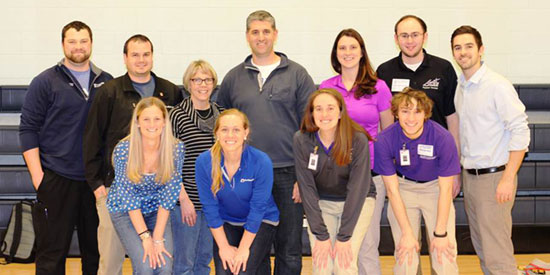 Office Phone:
812-488-2848
Office Email:
exss@evansville.edu
Office Location:
Room 219, Wallace Graves Hall