Mary Kessler Named as a 2019 ATHENA Award Finalist
Posted: December 4, 2018
Mary Kessler, dean of the College of Education and Health Sciences at UE, has been named one of the 2019 ATHENA Award® finalists.
Recipients of the ATHENA Award® are exceptional leaders in the Evansville-area community that have actively and generously assisted others in the attainment of professional excellence and leadership skills.
Those who nominated Kessler for the award cited many personal traits and professional accomplishments:
"From assisting in career decisions, to helping advance careers, Mary encourages women to pursue their full potential and continually helps them along the way."
"While achieving a high level in her own career, Mary serves as a role model to many women, both young and mature. Regardless of her professional demands, Mary is devoted to guiding women in their pursuits through many fields including engineering, law, health and other professions, is an advocate for women in our community, and inspires women to attain the highest level within their careers. Most importantly, Mary promotes work-life balance and the importance of professional women finding time to care for themselves in order to be their personal best at home and work."
"Mary has been the recipient of UE's Global Scholar Award, as well as the Dean's Outstanding Professor Award for her work with students, and the Student's Award for Advisor of the Year. She has mentored physical therapy students in the research process and has had several studies presented at national professional conferences. Mary has also been recognized for her leadership role in bringing the [Stone Family Center for Health Sciences] to completion."
The ATHENA Awards® have been hosted by the Southwest Indiana Chamber annual since the 1990s. The 2019 recipient will be announced at the annual ATHENA Award® Luncheon on February 22, 2019.
Other finalists include: Gina Gibson, executive director at Evansville Christian Life Center; Deena Laska Lewis, founder and choreographer at Children's Center for Dance Education; Millie Marshall, president of Toyota Motor Manufacturing Indiana; Susan Parsons, CFO at Koch Enterprises; and Carrie Roelle, partner at Kahn, Dees, Donovan, & Kahn, LLP.
Chicago-based ATHENA International is a nonprofit organization founded in 1982 by Martha Mertz. In addition to supporting, developing, and honoring women leaders, the organization seeks to create balance in leadership worldwide and inspire women to achieve their full potential. Since the program's inception in 1982, nearly 6,000 leaders in more than 500 communities have received the ATHENA Award®.
High Schoolers Can Earn College Credit Through UE's Online Health Sciences Certificate
Posted: October 23, 2017
High school juniors and seniors interested in a career in the health professions may earn college credit through the University of Evansville's Health Sciences Certificate program. This online program provides exposure to a variety of health science disciplines giving participants a head start on their future health-related careers.
The Health Sciences Certificate provides required credits for the following University of Evansville majors:
Athletic Training
Clinical Laboratory Science
Exercise and Sport Science
Nursing
Public Health
Additionally, the certificate provides prerequisite course work for the following programs: Physical Therapist Assistant, Physical Therapy, and Physician Assistant Science.
"This certificate provides students with a competitive advantage as they begin their college careers," said Mary Kessler, dean of the College of Education and Health Science at UE. "Courses can be taken to meet a student's personal needs and schedule for a fraction of the cost."
The program provides up to 13 hours of college credit. The certificate includes five core courses and one elective, all taught online for $125 per credit hour, plus a semester-based registration and technology fee of $85.
The Health Sciences Certificate program is limited to high school juniors and seniors. Courses are offered online each fall and spring semester in eight- or 16-week offerings.
More information and online registration can be found at www.evansville.edu/healthcertificate.
UE Physical Therapy students, alumni, and sports residents help high school athletes prevent injuries
Posted: April 14, 2016
UE physical therapy students and sports residents recently performed injury prevention screenings at a local high school.
The screenings benefit athletes at risk of injury and assist them in implementing a program to correct movement dysfunctions and decrease risk of injury.
The team was led by UE PT professors Kyle Kiesel and Bethany Huebner; UE/ProRehab sports residents Sam Callahan and Danielle Honnette, and UE alumni Kyle Matsel, Franny Matsel, Kim Moors, and Paul Gorman; and first year DPT students Jessika Volz, Ben Johnson, and A.J. Herrmann.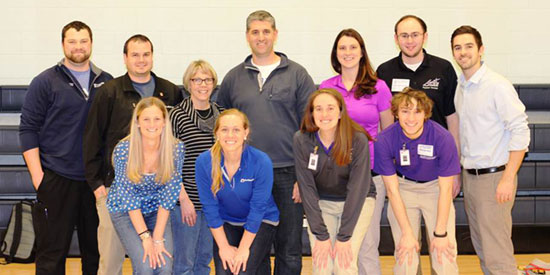 Office Phone
812-488-2848

Office Email
exss@evansville.edu

Office Location
Room 219, Wallace Graves Hall