Frequently Asked Questions
How will my classes transfer?

Once you are admitted, we will send you a transfer credit evaluation that shows how many hours will transfer, how many will apply toward graduation, and how many you need to complete your degree. Most courses in which you have earned at least a "C-" will transfer to UE. For more information on UE's transfer credit policies, see the Office of the Registrar's webpage.

To aid you in determining transfer credits, please see the following resources:

The course equivalency guide provides a list of formerly transferred credits to the University of Evansville. The list is not comprehensive but is representative of course equivalencies at this point.

For quick reference, course equivalency lists are provided for the following colleges:

The course equivalency guide and course equivalency lists do not guarantee credit at the University of Evansville and are subject to change without notice. If you have any questions about credits from other colleges, please contact us at 812-488-2600, or email academicservices@evansville.edu.

If you are interested in learning which of your courses will transfer to UE before you apply for admission, transfer credit estimates are available. Please contact the Office of Admission via email at admission@evansville.edu and provide the following:

Your name and contact information
UE major of interest
College or university name
Course numbers and course titles
Course description for each course (often found on college webpages or in college catalogs found online)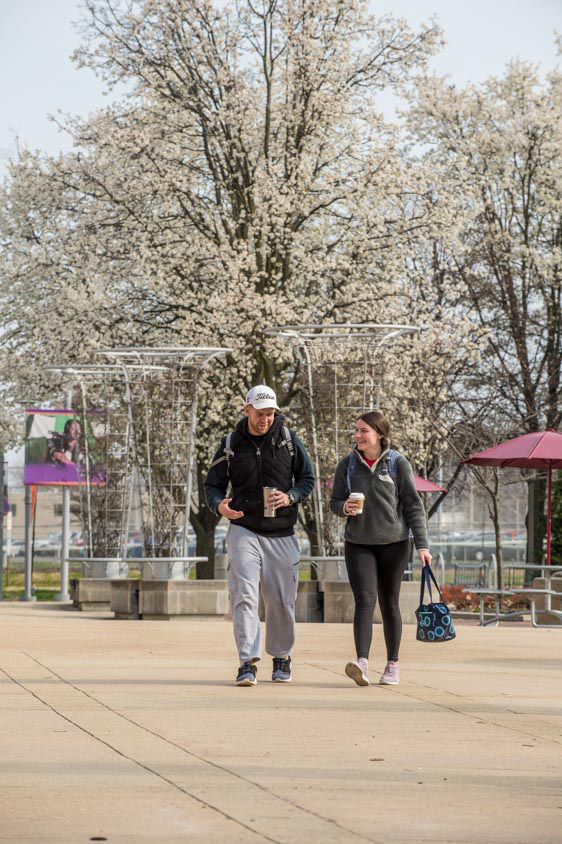 What is the cost to attend UE?

Does UE offer scholarships?

How do I get more information?

How do I arrange a campus visit (in-person or virtually)?
Can I connect with a current student to learn more about UE?
Absolutely! Sometimes it's nice to talk with a student who has been there and done that. Please contact your admission counselor, Cherie Leonhardt, at CL29@evansville.edu to make arrangements for a call or email with a current UE student.
Does UE have articulation agreements?
Yes! To simplify the transfer process, UE has articulation agreements with Ivy Tech Community College and Vincennes University for a variety of programs. View the list of agreements in the Registrar area of our website.
Do UE and Ivy Tech have a Reverse Transfer Agreement?
Yes, we do. The University of Evansville and Ivy Tech Community College have partnered to create a statewide reverse transfer agreement for students who have transferred to UE prior to completing their associate degree at Ivy Tech. Once the student has attained 75 or more total credit hours (including the minimum of 15 from Ivy Tech), they will be notified each semester of their potential eligibility for an Ivy Tech associate degree through reverse transfer until they opt in or opt out.
What is the MyUE/Student Self Service Portal and how do I access it?
Admitted students have access to the MyUE/Student Self-Service portal. It's your entry to many important functions as a UE student. You can accept your financial aid offer, check your bill, register for classes (after your first semester), and apply for housing and meal plans through the portal. If you are having difficulty accessing the portal, please contact your admission counselor, Cherie Leonhardt, at cl29@evansville.edu or 812-488-2141.
When is the first day of classes?
Please see the academic calendar for important dates.
What about parking on campus?
Parking permits are distributed to students who are enrolled full-time at no additional cost. You will need to register your vehicle through the MyUE/Student Self-Service portal. Part-time students (less than 12 hours) may purchase a parking tag for $50 per year. Parking tags are purchased in Student Financial Services within Olmsted Administration Hall, room 105.
How do I get my UE Student ID?
You may get your student ID once you are registered for classes during new student orientation or any time afterward at the UE Office of Public Safety. A UE student ID is required to check out library books, utilize the Student Fitness Center, get complimentary tickets to theatre and sporting events, and more.
What counseling and disability supports are available?
UE Counseling Services is staffed by licensed professionals who provide short-term counseling for a variety of needs ranging from anxiety and depression to relationship issues substance misuse and more. Their confidential services are available free of charge. The Office of Disability Services is committed to providing an accessible and supportive environment for students with disabilities and is committed to treating all individuals in a fair and equitable manner. Please see our Counseling Services webpage and Office of Disability Services webpage for details and contact information.
What academic supports are available?
Your academic and personal success is important to us. At UE, you will find free group tutoring each semester for a host of courses ranging from Accounting to Theatre and more. Academic coaches are available, free of charge, to help guide you to better time management and study skills. The Writing Center is staffed with writing tutors who will advise you on ways to strengthen your writing assignments to help ensure better grades. For more information, see the Academic Advising webpage.
What if I apply but decide to enroll later?
If you apply and decide that you would like to defer your admission to a future semester, we are happy to accommodate one deferment. Please notify the Office of Admission ASAP before the original application-designated semester is scheduled to begin.
Office Phone:
812-488-2141
Office Email:
cl29@evansville.edu
Office Location:
Olmsted Hall, Room 116