Tuition, Fees, and Financial Aid
Tuition and Fees
Visit our Tuition and Direct Costs page for current cost information
Program Fees
Textbooks/instructional material cost approximately $300.00 per semester.
Annual estimated costs for a TB test, flu shot, drug screen, criminal background check, CPR certification, ACLS certification, program associated attire and immunizations are $350-$400.
Board prep review course (if applicable), $300.
PA students must have health insurance.
PA students are responsible for travel costs associated with clinical rotations.
All tuition and refunds are based on the date of official drop, withdrawal, or disenrollment from the University. Please see the University Refund Policy.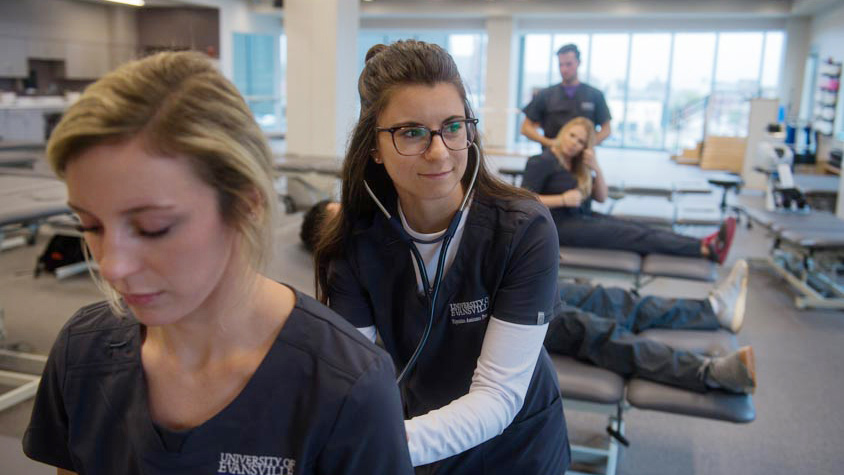 Financial Aid
Students who are in the Master of Physician Assistant Science Program may utilize the Federal Direct Unsubsidized Loan, the Federal Grad PLUS Loan, or a private student loan.
To establish eligibility for graduate-level federal loans, students must submit the Free Application for Federal Student Aid (FAFSA). For assistance with the FAFSA, please view FAFSA Information.
For loan information, please view Educational Loans.
Cost of Attendance
For further assistance, please contact the Office of Student Financial Services at 812-488-2364 or 800-488-8634.
Office Phone
812-488-3400

Office Email
pa@evansville.edu

Office Location
Stone Family Center for Health Sciences, 515 Bob Jones Way, Room 3001, Evansville, IN 47708