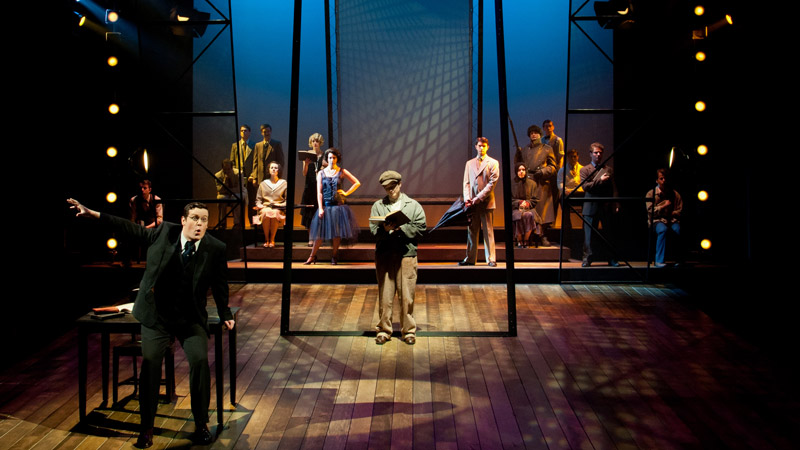 The Farnsworth Invention
By Aaron Sorkin
2010-11 Season
Graduates in all theatre disciplines may choose to obtain graduate degrees, internships or employment with professional theatres, or move directly to New York, Los Angeles, Chicago, or other major cities, to pursue careers in theatre, film, and television.
Recent graduates are working towards or have obtained graduate degrees from New York University, Yale University, American Conservatory Theater, Carnegie Mellon University, California Institute of the Arts, Old Globe Theatre, University of California at Irvine, University of Missouri–Kansas City, Arizona University, University of California at San Diego, The Julliard School, and Harvard University.
Other recent graduates hold full-time employment at professional theatres across the country, including Arena Stage, Roundabout Theatre Company, Playwrights Horizons, Alley Theatre, Actors Theatre of Louisville, Hangar Theatre, Utah Shakespeare Festival, California Shakespeare Theater, Williamstown Theatre Festival, St. Ann's Warehouse, Lark Play Development Center, Barter Theatre, The Juilliard School, Lincoln Center for the Performing Arts, Indiana Repertory Theatre, and American Conservatory Theater.
At any given time, UE theatre alumni can be found working on Broadway, Off-Broadway, in regional theatre, film, and television.
Alumni Profiles
Mary Catherine Garrison
Class of 1996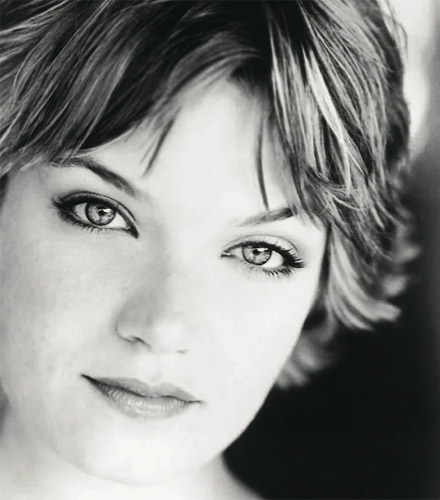 Mary Catherine Garrison has appeared on Broadway as Lynette "Squeaky" Fromme in Stephen Sondheim's Assassins at the Roundabout Theatre's Studio 54, as Izzy in the Pulitzer Prize-winning and Tony Award-winning Rabbit Hole, and in Top Girls and The Man Who Came to Dinner with Nathan Lane. She has appeared Off Broadway in The Foreigner, The Last of the Thorntons, and Crimes of the Heart.
In an interview about her training at the University of Evansville, an enthusiastic Garrison said, "My experience at Evansville provided me with ample opportunities to explore various types of theatre. We did Chekov, Shakespeare, musical theatre, and world premieres of contemporary plays. The best part was that the approach to the work was always based on the real emotion of a character. It was natural. It was human."
When asked what she has carried with her into the professional world, she replied, "I try to remember what I was taught about trusting my natural instincts. We were always encouraged to explore the characters as real people and given the permission to trust and hone our instincts as actors."
Garrison also commented, "Some of my best friends today were roommates I had at Evansville. We just threw a surprise wedding shower for one of them! I think we are friends for life."
She concluded with, "The faculty really care about you as a person. They continue to stay in touch with you on a regular basis. Once you are part of the UE Theatre family, you never really leave. It is always with you."
Rutina Wesley
Class of 2001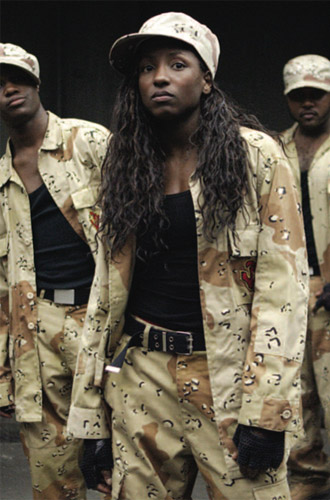 Rutina Wesley debuted on Broadway in The Vertical Hour, with Julianne Moore and Bill Nighy. Her professional theatre credits also include the Public Theater's In Darfur and the Broadway workshop of The Color Purple. She received rave reviews for her starring role in the feature film How She Move. Her current project is a recurring role in Alan Ball's HBO production, True Blood, based on the southern vampire novels by Charlene Harris.
Wesley admits to having suffered culture shock when she came to Evansville from Las Vegas, Nevada, but: "Although, I was scared about coming to the Midwest for college, I was pleasantly surprised by how people were so down-to-earth and open-minded. Evansville is certainly not the boondocks! The hospitality I experienced was amazing."
About the acting lessons at UE she remembers, "I hear my professor's voice in my head pushing me to dig deeper into the character! I learned it is all about how hard you have to work in analyzing the character and the script. John David Lutz's directing class was also really helpful. I am grateful Evansville actors get the opportunity to study directing, because it really is acting training at the same time."
Wesley added, "I appreciate getting my theatre degree from a liberal arts and sciences university. Your brain needs it. You can't just get by with speech class for four years. I may not remember the periodic table, but I am grateful for my education in psychology, biology, philosophy, and history to help me draw from those lessons in doing character development. UE is like having conservatory training within a liberal arts and sciences environment. It is the best of both worlds."
Office Phone
812-488-2744

Office Phone
812-488-2031 (Ticket Office)

Office Email
theatre@evansville.edu

Office Location
Room 109, Hyde Hall