100% of our recent graduates are working in the field of education or are enrolled in graduate school-that's a bright future!
Advantages for UE Education Students
Majoring in education at the University of Evansville prepares students to teach the right way – by doing it. Education students experience the following:
A K-12 classroom placement during freshman year.
A K-12 classroom practicum in a special-needs classroom during sophomore year.
Full Year of Student Teaching Internships in a K-12 classroom typically completed during junior year.
A full 16 weeks of student teaching during senior year.
Easily gain 1,000 hours of classroom experience before graduation.
Opportunities to conduct research with faculty members and participate in community activities, including literacy and reading events and after-school programs.
The University of Evansville School of Education offers programs that lead to a Bachelor of Science degree and preparation for state licensure at all levels, kindergarten through high school. Students may choose from the following teaching areas:
Elementary education (including kindergarten)
Secondary Education

Biology/Life Science
Chemistry
English and Language Arts
Foreign language (Spanish)
History
Mathematics
Physics

Majors available for all grade levels:

Music
Theatre
Visual arts

Minors include:

Elementary Education

Mathematics
Language Arts
Social Studies and Science
Reading
Foreign Language
Visual Arts
Music

Secondary Education

English Language Arts
Foreign Language
Mathematics
Visual Arts
Science (Life Science/Biology, Chemistry, Physics)

Teaching English as a Second Language (TESL)

License Addition for Special Education: UE provides students the opportunity to complete additional course work and add the intense intervention and/or mild intervention license to their teaching major.
Information for Current Students
Learn More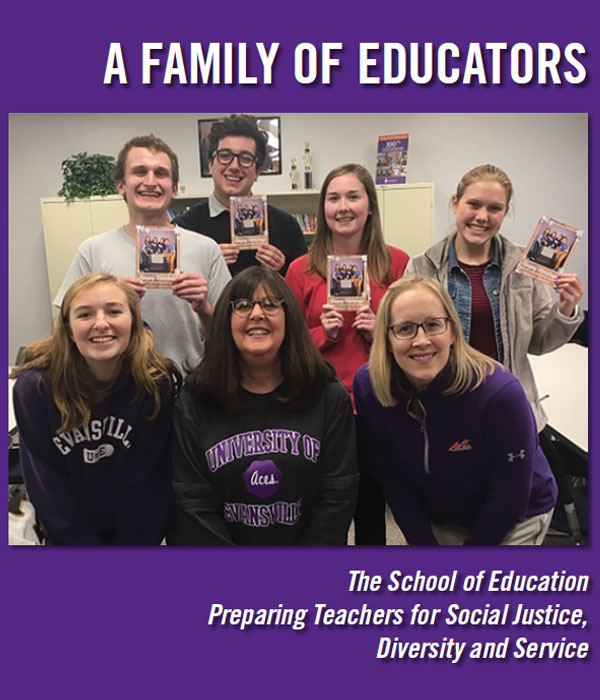 View Our Brochure
New Test-Optional Admission Policy
The University of Evansville became a "test optional" school beginning with the class entering in fall 2018. New applicants to UE will have the choice to opt out of submitting standardized test scores from the SAT and ACT for admission consideration. Education students, however, are required to demonstrate their basic skills competency prior to formal Admission to Teacher Education at UE, typically completed their sophomore year. Education majors can choose to demonstrate this competence with Indiana CORE Academic Skills Assessment (CASA) rather than the ACT or SAT. Those who opt out of submitting ACT or SAT test scores on their application will be required to submit an essay in addition to information about their academic achievements as high school students.
Office Phone:
812-488-2368
Office Fax:
812-488-6998
Office Email:
education@evansville.edu
Office Location:
Room 304, Wallace Graves Hall