McBride and Gieselmann Publish Article
Posted: January 15, 2019
Amy McBride, University of Evansville assistant professor of education, and Sharon Gieselmann, chair of UE's School of Education, published their article "The Ron Clark Academy's Impact on Preservice and First-year Teachers" in the 2018 Volume 85-2 issue of The Delta Kappa Gamma Bulletin.
The Delta Kappa Gamma Society International is a professional honorary society of women educators.
Mary Kessler Named as a 2019 ATHENA Award Finalist
Posted: December 4, 2018
Mary Kessler, dean of the College of Education and Health Sciences at UE, has been named one of the 2019 ATHENA Award® finalists.
Recipients of the ATHENA Award® are exceptional leaders in the Evansville-area community that have actively and generously assisted others in the attainment of professional excellence and leadership skills.
Those who nominated Kessler for the award cited many personal traits and professional accomplishments:
"From assisting in career decisions, to helping advance careers, Mary encourages women to pursue their full potential and continually helps them along the way."
"While achieving a high level in her own career, Mary serves as a role model to many women, both young and mature. Regardless of her professional demands, Mary is devoted to guiding women in their pursuits through many fields including engineering, law, health and other professions, is an advocate for women in our community, and inspires women to attain the highest level within their careers. Most importantly, Mary promotes work-life balance and the importance of professional women finding time to care for themselves in order to be their personal best at home and work."
"Mary has been the recipient of UE's Global Scholar Award, as well as the Dean's Outstanding Professor Award for her work with students, and the Student's Award for Advisor of the Year. She has mentored physical therapy students in the research process and has had several studies presented at national professional conferences. Mary has also been recognized for her leadership role in bringing the [Stone Family Center for Health Sciences] to completion."
The ATHENA Awards® have been hosted by the Southwest Indiana Chamber annual since the 1990s. The 2019 recipient will be announced at the annual ATHENA Award® Luncheon on February 22, 2019.
Other finalists include: Gina Gibson, executive director at Evansville Christian Life Center; Deena Laska Lewis, founder and choreographer at Children's Center for Dance Education; Millie Marshall, president of Toyota Motor Manufacturing Indiana; Susan Parsons, CFO at Koch Enterprises; and Carrie Roelle, partner at Kahn, Dees, Donovan, & Kahn, LLP.
Chicago-based ATHENA International is a nonprofit organization founded in 1982 by Martha Mertz. In addition to supporting, developing, and honoring women leaders, the organization seeks to create balance in leadership worldwide and inspire women to achieve their full potential. Since the program's inception in 1982, nearly 6,000 leaders in more than 500 communities have received the ATHENA Award®.
UE School of Education welcomes the Indiana Teacher of the Year
Posted: October 26, 2018
The University of Evansville's School of Education welcomed the Indiana Teacher of the Year, Jerome "Flew" Flewelling, to the University of Evansville on October 17 and 18.
Flewelling teaches AP physics, mechanics and chemistry at Crown Point High School and has been teaching for more than 20 years. He also serves as their science department chair and as assistant theatre director.
While at UE, his presentations to both student and faculty as well as high school students interested in education or STEM fields included: Courage, Creativity, and Innovation: Crafting the Profession, Finding Your True North, and Stepping into Your Courage.
His messages inspired participants to engage P-12 students in meaningful ways in the classroom and to positively impact the lives of the children in our classrooms.
UE education students recognized at IACTE recognition ceremony
Posted: April 9, 2018
Three School of Education students at the University of Evansville were recognized recently at the Indiana Association of Colleges for Teacher Education (IACTE) luncheon. They were Mackenzie McClarney, special education, Jennifer Riedford, Spanish education, and Bailey Smith, elementary education
These individuals received awards during the organization's Outstanding Future Educators banquet at the Ritz Charles in Carmel, Indiana.
UE Offers Adult Learners Access to Education with Competitive Pricing and Expanded Program Offerings
Posted: April 2, 2018
The University of Evansville offers competitive pricing for adult learners looking to complete their undergraduate and graduate degrees in a variety of areas. The following programs are available at the listed rates, which represent a significant reduction from traditional program pricing:
Undergraduate Degrees: $315 per credit hour
Organizational Leadership
Registered Nurse to Bachelor of Science in Nursing (RN to BSN)
Transition to Teaching
University Studies
Graduate Degrees: $525 per credit hour
Master of Science in Athletic Training
Master of Public Health
Master of Science in Public Service Administration
Students interested in the University Studies degree program can register now for a May 14 start date. Applications are also open for a May start in the Master of Science in Athletic Training. All other programs listed above will begin in fall 2018.
"At UE, we're committed to providing an affordable, accessible education to directly fill needs in our community" said Sharon Gieselman, chair of UE's department of education. "The transition to teaching program in particular is designed to address the teacher shortage, especially in high need areas."
Jerrilee LaMar, chair of UE's nursing department, says the same of the RN to BSN program. "The program focuses on meeting the needs of the adult learner and the working nurse while opening doors for career advancement opportunities that will positively impact the community," says LaMar.
For the adult learner looking to further their education at the graduate level, UE offers programs in several different subject areas. Some of the programs are available in the evening and in accelerated formats. In addition to those listed above, UE offers a Master of Science in Health Services Administration designed for those who want to assume management positions in public and private health service organizations.
"To successfully serve the adult learners with professional and educational growth, it is important to provide flexible options" said Lindsay Roberts, director of UE's adult education. "To provide the student with the opportunity to directly apply what he or she learns in the classroom to the workplace the next day is extremely valuable."
Iber presenting at ASEAN-ELT on March 17
Posted: March 14, 2018
Associate professor of education George Iber will presenting a paper about "Translanguaging" at ASEAN-ELT, in Malaka, Malaysia, on March 17.
UE Education Students Meet Legislators during IACTE Day at Indiana Statehouse
Posted: March 7, 2018
UE education students Sara Cannaday, Megan Hawkins, and Heather Dougan attended IACTE Day at the Indiana Statehouse, today.
They got to speak with Senators Vaneta Becker and Jack Sandlin as well as Representative Ryan Hatfield.
Others from UE along for the trip are UE education chair Sharon Gieselman, faculty member Lisa Hale, and Merrill Harper from UE Admission.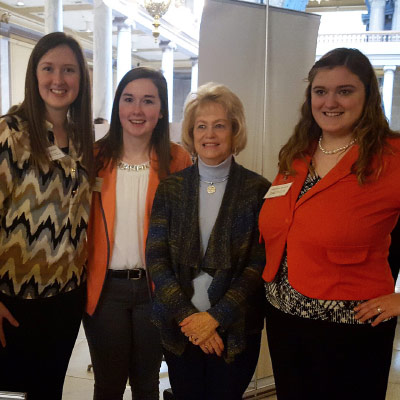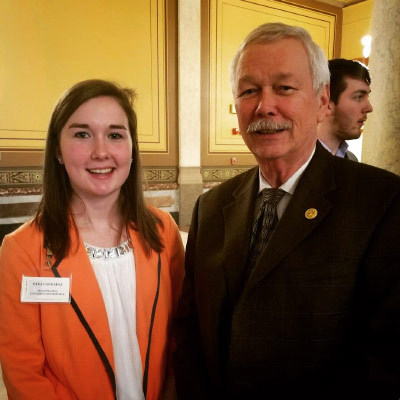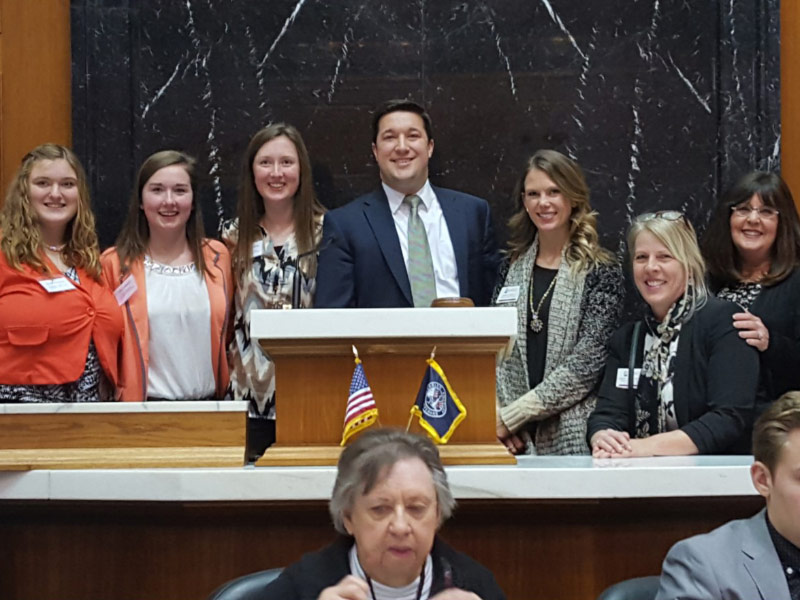 Lombardo-Graves and McBride presenting at annual meeting of ATE
Posted: February 19, 2018
Mary Lombardo-Graves and Amy McBride, both assistant professors in the school of education, will be presenting at the Annual Meeting of the Association of Teacher Educators (ATE) to be held in Las Vegas, Nevada, today.
Their presentation, "Teaching Fellows: Addressing teacher shortage areas through a mentoring continuum" introduces participants to the innovative ways the school of education at UE is responding to the growing need for quality educators particularly in underserved areas.
Milken Award winner visits school of education
Posted: December 14, 2017
Traci Druschke, Milken Award winner, visited the University of Evansville's School of Education recently to speak with Amy McBride's sophomores and juniors in Education 418 and 320. Druschke, a third grade teacher at Oak Hill Elementary School, presented Whole Brain Learning and Memory Models.
Students will incorporate some of her techniques in their internships.
The Milken Award is a prestigious honor for early-to-mid-career educators and is based on educational talent and contributions to the profession.
Award winners strive to take learning beyond the classroom, provide models of excellence within the profession, and motivate novices to achieve excellence.
UE School of Education grad receives Indiana Special Educator of Year Award
Posted: December 12, 2017
Amber Turner Wolf, a graduate of the University of Evansville's School of Education, recently received the Indiana Special Educator Award. This honor is given to a teacher who demonstrates exceptional skill in working with special needs individuals, who goes above and beyond in every aspect of teaching, and helps to motivate colleagues.
Wolf is the autism coordinator in the Bartholomew Consolidated School Corporation. She graduated from UE in 2001 with a special education degree.
Riedford selected for student panel at Be a Teacher, Change the World
Posted: November 30, 2017
University of Evansville student Jennifer Riedford recently served on a student panel at the Be a Teacher, Change the World event in Indianapolis. Riedford, who is majoring in Spanish education, was one of four education majors representing universities from across the state who shared thoughts on the education profession and college life.
Nearly 400 high school juniors and seniors from across Indiana participated in the event.
The University's School of Education was proud of and honored by Jennifer's words of high esteem for the education profession.
Bailey Schnur wins $1000 scholarship essay contest
Posted: November 27, 2017
University of Evansville student Bailey Schnur was recently named the recipient of the Gary E. May Peace Scholarship. Applicants were invited to write about a variety of topics. She chose to address "How do we assess the true cost of war?" This is the second time Schnur has won the award. She is majoring in secondary social studies education at UE.
Lombardo-Graves publishes in issues of Educational Research
Posted: November 14, 2017
Mary Lombardo-Graves, assistant professor of education, has had an article published in Issues of Educational Research. The article outlines the development of a scale, Initial Special Educator Efficacy Scale (SEES-I), to measure the special education teaching self-efficacy of pre-service teachers.
The 2017 Indiana Teacher of Year to Visit UE on October 11-12
Posted: October 10, 2017
Jitka Nelson, 2017 Indiana Teacher of the Year, will visit the University of Evansville campus on Wednesday and Thursday, October 11-12. She will be speaking to students and professors on such topics as strategies and tips for working successfully with ESL students and their families. There will also be an informal Q&A session.
Nelson has been a teacher at Logansport Community High School since 2006. During her career as an educator, she has been an instructional assistant and classroom teacher in the Czech Republic, Canada, and the United States. A graduate of the University of Southern Bohemia, she has a BA in Pedagogy and dual MA in Russian as a Foreign Language and Music.
She has received numerous awards including the 2016 Crystal Berry Award - Logansport District Teacher of the Year Award, the 2015 Woman of Distinction Award - Alpha Epsilon Chapter of Delta Kappa Gamma Society International, and the 2014 Pillar of the Logansport Community School Corporation Award.
The mission of the Indiana Teacher of the Year program, which began in 1957, is to "inspire, rejuvenate and celebrate" the profession, according to the Indiana Department of Education website. Those who earn the designation continue to support the education community. As Indiana's 2017 Teacher of the Year, Nelson will represent Indiana in the National Teacher of the Year competition.
UE receives $113,000 Grant for Recruitment and Retention of Teachers
Posted: September 14, 2017
The University of Evansville has received a $113,551 grant from the Indiana Commission for Higher Education to support programs that recruit teachers in high-need subjects and schools.
"These grants are enhancing our efforts to prepare the next generation of Hoosiers for the jobs of tomorrow," said Indiana Commissioner for Higher Education Teresa Lubbers. "Rewarding and scaling effective programs throughout the state will help attract and retain STEM teachers who will make a difference in high-need areas."
The University of Evansville School of Education has identified recruitment and retention of teachers as a priority and has already implemented new initiatives addressing these areas through the Teaching Aces Program. This STEM grant will allow the School of Education to expand the Teaching Aces program and license additional teachers in the math and science fields for public schools in Indiana. This grant will also offset the costs of teacher preparation for Transition to Teaching students through full tuition scholarships.
Additionally, the grant will enable UE to train current, licensed elementary education teachers and undergraduate elementary education majors at the University of Evansville and enhance their knowledge of STEM education areas leading to more effective instruction in the elementary school classroom.
Finally, this grant will provide funds to develop a formal orientation program for new Transition to Teaching students in the math and science fields as well as a mentoring program for math and science Transition to Teaching students and recent graduates.
"These funds will allow us to positively impact our entire region," said Sharon Gieselmann, associate professor and chair of UE's School of Education. "By increasing the quantity and preparedness of our teachers, we're able to directly impact the quality of education offered in our schools."
UE grad named teacher of the week
Posted: February 2, 2017
Central High School teacher Sasha Huff Hudson, a 2009 graduate of UE's School of Education, was recently named the teacher of the week in the Evansville Courier and Press. Hudson, who teaches both English and Spanish at Central High School, says her favorite part of teaching is helping students learn new information.
In an interview with the Courier and Press, Hudson said, "In Spanish, I love teaching a student something for the first time. It's a great feeling to know that I can take a student who, at the beginning of the year, knows almost no Spanish and by the end of the year, he or she can have a conversation, write paragraphs, and read pages."
This honor exemplifies the collaborative work among the English, creative writing, foreign language, and education departments at the University of Evansville. Working in partnership, faculty members cultivate students' passions and build upon their knowledge to prepare them for successful classroom teaching.
University of Evansville's School of Education Achieved Seven Year Accreditation from the Council for the Accreditation of Education Preparation
Posted: January 12, 2017
The School of Education at the University of Evansville has been granted seven year accreditation by the Council for the Accreditation of Education Preparation (CAEP) with the next site visit in Spring 2023.
After an intense period of self-study which began in 2013, UE hosted a site visit with a CAEP review team in April of 2016. The site visit team reviewed extensive reports and interviewed members of the School of Education team to evaluate and verify the institution's ongoing ability to meet the council's standards for accreditation.
The CAEP standards are as follows:
Content and Pedagogical Knowledge
Clinical Partnerships and Practice
Candidate Quality, Recruitment, and Selectivity
Program Impact
Provider Quality Assurance and Continuous Improvement
"The accrediting team noted that we had strong, sincere relationships with our school partners," said Sharon Gieselmann, chair of the department of education at UE. "We are fortunate to have excellent school partners who mentor UE students during school placements beginning their freshman year. This experience allows students to apply what they are learning in university coursework in a real world classroom setting. This partnership helps us provide quality candidates who are prepared to teach in K-12 schools."
CAEP's mission is to advance excellent educator preparation through evidence-based accreditation that assures quality and supports continuous improvement to strengthen P-12 learning.
"The most important aspect of the accreditation process is continuous improvement," said Tom Kazee, the president of the University of Evansville. "By choosing this higher level of accreditation, we've shown that we're willing to use new measures to enhance the quality of the program which will, in turn, strengthen our schools and our community."
The School of Education at the University of Evansville has been preparing quality teachers for over 160 years with a challenging curriculum in a supportive environment. UE students thrive in small classes with dedicated faculty advisors. 100 percent of the 2015-15 class is working in the field of education or enrolled in graduate school.
UE Meets Teacher Shortage with Reduced Tuition
Posted: September 22, 2016
The University of Evansville has revamped their teacher certification program for returning adults and cut tuition costs by 60 percent for adults with bachelor's degrees who return to college to certify as teachers.
The program, called Transition to Teaching, was developed by the UE School of Education. It was designed to respond to a dramatic increase in the need for teachers, especially in high need areas such as the sciences, foreign languages, and mathematics across the tristate area, reports Sharon Gieselmann, the chair of the department.
"School corporations in the tristate area report a reduction in applications for teaching positions," said Gieselmann. "The University of Evansville desires to produce more quality teacher candidates for schools in the region so corporations can continue to offer excellent educational opportunities for their P-12 students."
The Transition to Teaching program requires 17 credit hours at a steeply discounted rate of $385 per credit hour. It is available for secondary certification in math, life science/biology, chemistry, physics, history, English, visual art, and music.
According to Mary Kessler, dean of the College of Education and Health Sciences, the school is currently pursuing state certification of an elementary education Transition to Teaching Program and hopes to be able to offer it in the spring of 2017. Much of the instruction in the Transition to Teaching Program occurs in the schools through a series of internships and student teaching experiences.
"We recognize the value of classroom experience and mentoring from an effective teacher to help a candidate better develop the skills necessary to provide quality instructional strategies and classroom management."
One of the most attractive features in the UE program, according to Gieselmann, is that it can work with individuals currently teaching with provisional certifications to build internships and student teaching experiences around their existing classroom activities. Additionally, those with a bachelor's degree and the passion to teach or the desire for a career change can enroll in the program and meet requirements to obtain a teaching license.
"This is something that is at the heart of UE's mission of civic engagement," says Michael Austin, executive vice president for academic affairs. "We have local school districts who need teachers desperately, and we have a community full of people with the skills and knowledge to become teachers who lack only the certification. Our goal is to provide a way for people in our community to prepare themselves to meet this need quickly and affordably."
Questions about the University of Evansville Transition to Teaching Program should be directed to Tammy Flanagan, student services specialist in the Center for Adult Education, at tf62@evansville.edu.
School of Education graduate named to 20 Under 40
Posted: September 20, 2016
Caze Elementary School teacher Jeremy Buente, a 2008 graduate of UE's School of Education, has been named to the Evansville Business Journal's 2016 list of 20 Under 40. The magazine stated that all of the professionals in the list "excel at their careers while donating time, effort and talent to the betterment of the Tri-State."
Buente was awarded the 2016 Elementary School Teacher of the Year for Vanderburgh County, sponsored by the Courier and Press and the University of Evansville. In addition, he was named the 2016 Indiana PTA Outstanding Teacher of the Year.
School of Education chair Sharon Gieselmann said that, "Jeremy is a wonderful example of the type of professional educators we develop in the School of Education. He is an outstanding teacher who lives a life which encompasses all aspects of his school and community, while maintaining his focus on his students."
Knoester presents at conference in Beijing
Posted: August 23, 2016
Associate professor of education Matthew Knoester will be presenting a paper on a panel entitled "Global Struggles for Critical Democratic Education" at the XVI World Congress of Comparative Education Societies in Beijing, China, on August 26.
Iber Receives Global Scholars Award
Posted: August 1, 2016
George Iber, associate professor of education, received a UE Global Scholars Award. This summer he spent three weeks in the Merida, Mexico area connecting with the University of Yucatan faculty of English and Spanish at their Center for languages. There, he toured their facilities and learned about their English as a foreign language program (EFL). He will return later in the year to observe their classes and participate more actively.
Knoester and Plikuhn Publish Article in Journal of Literacy Research
Posted: July 13, 2016
Matthew Knoester, assistant professor of education, and Mari Plikuhn, assistant professor of sociology, have had an article published in the Journal of Literary Research. The article, titled "Inquiry into the Independent Reading Development of First-Generation College Graduates with Advanced Degrees," can be found here.
Global Scholars for 2016-17 Announced
Posted: May 31, 2016
The Institute for Global Enterprise has announced the Global Scholars for the 2016-17 academic year. They are: Jeffrey Braun, department chair and professor of physics; George Iber, professor of education; Richard Maass, assistant professor of political science; Valerie Milholland, adjust professor of art; and Gail Vignola, academic director of the writing center.
Each Global Scholar will receive a stipend and travel allowance.
Visit this website to read a brief description of each project.
As Global Scholars, the recipients of this award will engage in scholarship, curriculum development, and activities related to preparing our students and community for global leadership, citizenry, and success.
The Global Scholars program is supported by the John H. Schroeder Global Scholar Endowed Fund and the Lilly Endowment.
Spanish Education Major Receives Outstanding Spanish Student Award
Posted: May 2, 2016
Congratulations to Jennifer Riedford, Spanish Education major, for winning the outstanding Spanish Student Award!
Elementary Education Major receives Center for Career Development Award
Posted: May 2, 2016
Elementary Education Major, Maisie Lee, was one of four student recognized university wide by the Center for Career Development for outstanding work during the 2015-16 academic year as an advocate. The advocates were recommended by their academic dean and provided fundamental career development services for students. In this first year of the program, over 200 students were assisted by this outstanding cadre of young professionals.
Nayden Recognized on Education Honor Wall
Posted: April 27, 2016
Congratulations to Leanne Nayden, who was named to UE's School of Education Honor Wall to recognize her outstanding service and accomplishments in the field of education!
Knoester Presents Papers at American Educational Research Association
Posted: April 14, 2016
University of Evansville assistant professor of Education Matthew Knoester presented two papers on April 11 in Washington, D.C. at the annual meeting of the American Educational Research Association (AERA).
The first paper was titled "Astronomical Inquiries" and was part of a panel entitled "Interdisciplinary School-wide Learning: Practitioner Inquiries into the Impacts of Multiage Themes on Student Learning and School Culture."
The second paper took the form of a poster and was titled "Standardized Testing and School Segregation: Like Tinder for Fire?" It contributed to a session entitled "The Complexity and Multiple Spaces of Social Justice in Action."
Knoester presents two papers at American Educational Research Association
Posted: April 12, 2016
Assistant professor of Education Matthew Knoester presented two papers in Washington, D.C. at the annual meeting of the American Educational Research Association (AERA) on April 11.
The first paper was entitled "Astronomical Inquiries" and was part of a panel entitled "Interdisciplinary School-wide Learning: Practitioner Inquiries into the Impacts of Multiage Themes on Student Learning and School Culture." The second paper took the form of a poster and was entitled "Standardized Testing and School Segregation: Like Tinder for Fire?" It contributed to a session entitled "The Complexity and Multiple Spaces of Social Justice in Action."
School of Education Recognizes Outstanding Future Educators
Posted: April 8, 2016
The School of Education recognized four seniors, class of 2015-2016, with the Indiana Association of Colleges for Teacher Education Outstanding Future Educators Award. These students were recognized at a ceremony in Indianapolis with others from across Indiana. Congratulations to Alexa Rasche, Madison Rasche (special education majors), Tabitha Zimmerman (secondary education major-German), and Jill Caldemeyer Hagman (elementary education).
Dr. McBride Received Chi Omega Professor of the Year
Posted: April 8, 2016
Amy McBride, assistant professor of education, received the Chi Omega Professor of the Year Award for her outstanding work in the classroom and at UE.
Lisa Kretz to deliver research findings of study done with Matthew Knoester
Posted: February 16, 2016
Assistant professor of philosophy Lisa Kretz will attend the International Association of Professional and Practical Ethics Annual Conference this week. She will be sharing research findings from a collaborative research study that she completed with UE assistant professor of education Matthew Knoester.
Teacher Recruitment and Retention focus of new UE program
Posted: February 12, 2016
The University of Evansville School of Education has announced plans for new Teacher Recruitment and Retention Programs, beginning in Fall 2016. The new programs are aimed at increasing the number of students earning a teaching certificates and licenses and increasing retention among new teachers in the schools to help supply the ever-increasing need for effective teachers in K-12 schools.
According to Paul Parkison, chair of UE's School of Education, studies from the American Association of Colleges for Teacher Education and the US Bureau of Labor Statistics report a national trend indicating a dramatic decline in enrollments in teacher preparation programs. This when combined with the projected 17% increase in demand for teachers shows a picture of an emerging crisis in K-12 education.
"The School of Education is committed to its ongoing mission of preparing tomorrow's teachers to be successful in their own classrooms," said Parkison, "and this program identifies several important ways to ensure we continue to do just that."
The program includes plans to recruit high-quality candidates from diverse backgrounds and in high-need academic areas to meet current and future employment and civic needs. The program will employ a multi-strategy approach:
The UE Teaching Fellows Program will identify candidates who want to teach in underrepresented areas. These individuals will be eligible for scholarships and loan forgiveness programs their junior and senior years in order to support tuition costs. The program will provide mentoring and academic support for these individuals to ensure program completion and teacher certification.
The UE Transition to Teaching Program will help individuals who hold degrees in high need content areas (such as STEM) to become classroom teachers. This will be a remarkably affordable way for local professionals interested in pursuing a teaching credential to do so.
Degree Pathway Collaboration with Ivy Tech will allow students with an associate's degree to enroll at UE in order to complete their bachelor's degree and Indiana state teacher licensing in elementary and secondary education.
Novice Teacher Induction and Mentoring Program will improve the performance and retention of new hires to enhance their skills and prevent the loss of new teachers.
"This program will be a great benefit to the community as well as to the University of Evansville," said UE president Thomas A. Kazee. "The fruits of this program will be realized when schools in the region are able to satisfy the increasing demand for high-quality educators."
"The University of Evansville is committed to meeting the needs of K-12 education and meeting the need for placing an effective teacher in every classroom," said Parkison. "Our continued collaboration with our K-12 partners is critical to the success of this effort."
The UE Teacher Recruitment and Retention program is being implemented with recruitment under way for the summer and fall 2016 terms.
University of Evansville Announces Outstanding Senior Awards at 157th Commencement Ceremony
Posted: May 9, 2015
Hlawn K. Zathang, an accounting major from Indianapolis, Indiana, and Nathan Graves, an education major from Renssalaer, Indiana, were named the University of Evansville's Outstanding Seniors during today's Commencement Ceremony at the Ford Center.
The Mabel Dillingham Nenneker and Guthrie May Outstanding Senior Service Awards are the highest honors the University presents to one female and one male senior. They are named for two of the University's most respected alumni, Mabel Dillingham Nenneker and Guthrie May.
Zathang was the recipient of the Mabel Dillingham Nenneker Outstanding Senior Service Award. She graduated with an accounting degree and has earned sufficient credit hours to sit for the Certified Public Accountant exam following graduation.
In 2008, Zathang moved with her family to America from Burma (now Myanmar). Nobody in her family spoke English, so she committed to learn English fast in order to assist her family with the transition. Zathang has also volunteered to assist other refugee families relocate to America. She is one of approximately 10,000 Burmese people now living in south Indianapolis. Through these experiences, Zathang became inspired to give back by helping others. Since her arrival in Evansville, she has volunteered at the Evansville ARC Industries, Little Sisters of the Poor, and Pine Haven Nursing Home.
Zathang is involved with the Burmese American Institute, a not-for-profit organization that helps students and people in the community focusing on college research, tutoring, and childcare development. Zathang helps students with research, tracks cash flow for the Institute's program, calculates staff payroll, organizes participant, staff, and organization partner files, and assists with fiscal reporting.
Overall, Zathang says, "It is obvious that through my four years at the University of Evansville, I have not only grown in an education aspect, but I also discovered what it means to be a good citizen. I also realize the size of my responsibility starting with my family, to the community, and to the world."
The Guthrie May Award was presented to Graves, who was also the ceremony's senior keynote speaker. He graduated with a bachelor of science in special education and elementary education, and will attend Vanderbilt University in the fall to pursue a master's degree for a future in higher education.
Graves helped incoming and potential students as an admission ambassador and orientation leader, and was involved with local schools through practicums and internships. He served as event coordinator for an after school program that finds homes for those whose situations leave them without a place to live.
Graves was inspired to enroll in a social responsibility class to become more culturally competent, and participated in training provided by the Anti-Defamation League. He went on to lead small group discussions on campus in an effort to educate others in diversity and acceptance.
His list of involvements is long, but he says it's not titles, the clubs, or the committees that matter - his participation was always with the goal to understand people better and to help in situations where there was opportunity to make a positive impact on others and help people.
"As I look forward to a career in higher education," Graves says, "I know that each day will provide me with an opportunity to do something meaningful for the rest of my life. It will not be easy, and I may not get a lot of rest at night, but I can be a part - even if it is a small part - of a crucial time in a person's life that can transform the way they choose to see and engage in the world."
Special Presentation on Autism Planned at the University of Evansville
Posted: April 6, 2015
A special presentation on autism, "Rethinking Autism: Wretches & Jabberers," is planned for Wednesday, April 15, at the University of Evansville. The event is scheduled from 4:30-6:00 p.m., in Room 170 (Smythe Lecture Hall) in the Schroeder School of Business Building. The presentation is being hosted by Optimal Rhythms, Inc., and is free and open to the public.
This autism awareness event will feature Tracy Thresher and Larry Bissonnette, stars of the highly acclaimed autism documentary, Wretches & Jabberers, along with their support team Harvey and Pascal. Clips from the documentary will be shown, followed by a question and answer session.
For more information, please call 812-488-2663 or 812-488-2500.
Professor Emeritus Earl M. Tapley Has Died
Posted: March 6, 2015
University of Evansville professor emeritus Earl M. Tapley, psychologist and educator, died on December 23. He was 101. He is survived by his son, Dwight, (Barbara Martin), a physician in South Bend, Indiana, daughters Sharon Goodson of Haymarket, Virginia (Roger Goodson), and Annette Pace of Evansville, Indiana, 11 grandchildren, and 15 great grandchildren. He was preceded in death by his wife of 68 years, Ruby, his son-in-law Elbert Pace, and four brothers and three sisters.
Born in Georgia, the son of a tenant farmer, Dr. Tapley graduated from Vanderbilt University, received his Master of Arts degree at Peabody-Vanderbilt with studies in the Vanderbilt Divinity School, and earned his Ph.D. at the University of Chicago. He was an ordained Methodist minister having served churches in the South and Midwest before becoming a college professor and administrator.
Dr. Tapley was dean, vice president, and interim president of Lee University, and assistant to the president in public relations and head of psychology and the Testing and Counseling Center at the University of Chattanooga. He then accepted a position at the University of Evansville, where he was professor, director of research, dean of the School of Education, and dean of the Graduate School. He served as consultant and accreditation examiner of colleges for a national and the regional accreditation associations. Though he retired in 1979, he remained at UE for seven years as Director of International Studies and Travel.
He and Ruby established a UE scholarship for ministerial students in 1986. Recently, because of the Tapley's generosity to the University, the School of Education Multimedia Center was renamed The Earl M. and Ruby J. Tapley Education Resource and Multimedia Center.
Dr. Tapley was a world traveler, having traveled extensively on every continent except Antarctica, visiting more than a hundred countries.
He moved to Dunedin, Florida in 1986.
His funeral was Friday, January 2 at Palm Harbor United Methodist Church in Palm Harbor, Florida. He was inducted into the School of Education Honor Roll in 2013.
Dr. Tapley was a good friend to the University of Evansville School of Education, and he will be missed.
Article by Drs. Knoester and Parkison to Appear in Journal
Posted: March 5, 2015
An article co-authored by Dr. Matthew Knoester, assistant professor of education, and Dr. Paul Parkison, associate professor of education and School of Education department chair, entitled "Where is Citizenship Education in the Age of Common Core State Standards?" will appear in an upcoming edition of the journal Critical Education. The article shows that educational reforms in recent decades have focused on jobs and the economy to the detriment of serious citizenship education and suggests that political discourse and engagement have suffered as a result.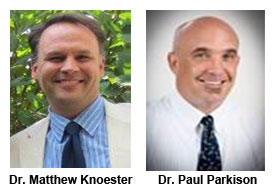 Mary Lombardo-Graves Completes Requirements for EdD in Curriculum and Instruction
Posted: October 29, 2014
Mary Lombardo-Graves, assistant professor of special education, has successfully defended her dissertation, "The Effect of Mentoring Intervention on the Teaching Self-Efficacy of Pre-service Special Education Teacher Candidates". She has completed the requirements for her doctor of education degree in curriculum and instruction specializing in curriculum leadership at Northern Illinois University.
UE Announces 2012-13 Andiron Lectures
Posted: August 9, 2012
The University of Evansville's College of Arts and Sciences is pleased to announce the 2012-13 schedule of Andiron Lectures in the liberal arts and sciences.
Established in 1982, the Andiron Lectures offer stimulating research, commentary, and reflection from many fields of study. Presenters are primarily drawn from the faculty of UE's College of Arts and Sciences but also include faculty members and administrators from across the University campus and contributions from the regional community.
The Andiron Lectures are free and open to the public. Each of the following lectures will begin at 4 p.m. in Eykamp Hall (Room 252) in the Ridgway University Center.
September 5, 2012: "Skipping Beats: The Impact of the Illegal Drug Trade on Colombian Music," presented by Diana Rodríguez Quevedo, assistant professor of Spanish
October 3, 2012: "Communication: It Seems So Easy, So Second Nature…Think Again!," presented by Jack Schriber, supervisor of fine arts with the Evansville Vanderburgh School Corporation, who holds bachelor's and master's degrees from UE
November 7, 2012: "To the Greater Glory of God: Religion and Memorialization in 1920s Scotland," presented by James MacLeod, professor of history
February 6, 2013: "International Struggles for Democratic Education," presented by Matthew Knoester, assistant professor of education
March 13, 2013: "Architectural Styles of Evansville's Riverside Historic District," presented by Matt Rowe, executive director of the Reitz Home Museum
April 3, 2013: "Is Music the Universal Language?," presented by Alfred Savia, music director and conductor of the Evansville Philharmonic Orchestra
The Andiron Lectures are sponsored by the University of Evansville College of Arts and Sciences and supported by a generous gift from Donald B. and Jean Korb.
For additional information, please contact program coordinator M. Christine Mohn at 812-488-2585 or the College of Arts and Sciences at 812-488-2589.
Office Phone:
812-488-2368
Office Fax:
812-488-6998
Office Email:
education@evansville.edu
Office Location:
Room 304, Wallace Graves Hall