UE Announces New Graduate Program in Engineering
Posted: April 5, 2019
The University of Evansville has announced plans to implement a new Masters of Engineering (M.Eng.) graduate program. Students will be able to enroll in the program beginning in the Fall of 2019. The professional degree program will offer three options: Master of Engineering - Electrical Engineering, Master of Engineering - Computer Engineering, and Master of Engineering - Computer Science. This 12-month graduate program is designed for those with a bachelor's degree in engineering who wish to gain advanced knowledge and experience in their field.
The program's one-year time frame is especially beneficial for undergraduate engineering students as they can extend their studies by one more year and obtain both a bachelor's and a M.Eng. degree.
"Earning a Master of Engineering degree enables students to begin their career at an advanced level," explained Ying Shang, UE dean of the College of Engineering and Computer Science. "Most engineers only have a bachelor's degree, so those who have a M.Eng. stand out in the job market and in their work place. In fact, the salary for an engineer with a M.Eng. degree is typically $20,000 higher than for an engineer who just has a bachelor's degree."
The curriculum of all three degree options in the program follow a similar format but differ in specific course requirements and content. Students take advanced courses in their engineering area option and in related fields.
Admission into the Master of Engineering degree program requires an undergraduate degree in electrical engineering, computer engineering, or computer science. The cost of the program is $525 per hour.
For more information, please contact Professor Dick Blandford at db64@evansville.edu.
Tony Richardson receives UE Exemplary Teacher Award
Posted: December 13, 2018
Tony Richardson, associate professor and director of the electrical engineering program at the University of Evansville, received the University's Exemplary Teacher Award during UE's winter commencement exercise on Thursday, December 13.
The Exemplary Teacher Award is given by the University to an exceptional member of the faculty in acknowledgment of his or her teaching excellence.
Richardson became a member of UE's faculty in 2000. His specialty areas are digital signal processing and electronic communication. Richardson has developed courses in his discipline that are required by all of UE's electrical engineering and computer engineering majors. He is highly sought after as a senior project advisor, and he understands the curriculum so well that he advises students with the most challenging schedules. Richardson is extremely popular among students and consistently scores near the top of his department in teaching evaluations.
Richardson earned his PhD in electrical engineering from Duke University, his MS in electrical engineering from Syracuse University, and his BS in electrical engineering from the University of Kentucky.
Senior Computer Engineering Students Present at MIT Conference
Posted: October 9, 2018
University of Evansville computer engineering students Braden Elliot and Kunal Mukherjee recently presented lightning talks about their senior projects at the The 2018 IEEE MIT Undergraduate Research Technology Conference (URTC) held October 5-7, at the Massachusetts Institute of Technology in Cambridge, MA.
Elliot presented "Player 1 Human, Player 2 Machine", a project about training a recurrent neural network through reinforced learning to optimize the output of a positional derivative controller. The network observes nonlinearity in the system which the controller is unable to account for, resulting in a smoother output.
Mukherjee's project "Location Dependent Cryptography" is an investigation into connecting the location of a receiver as part of a packet encryption method by computing a transmission specific key using the time difference of the intended packet reception time. The goal is to provide greater protection and security of intellectual property.
URTC brings together undergraduates around the world to present, discuss, and develop solutions to advance technology for humanity. Elliot and Mukherjee "had the opportunity to interact with undergraduate students and learn about the cutting edge as well as innovative research."
UE Ranked Number 7 Best College in the Midwest by U.S. News & World Report
Posted: September 10, 2018
The University of Evansville has been named seventh best college in the Midwest in U.S. News & World Report's annual Best Colleges rankings. UE has risen two spots in this year's overall ranking, and was again named as one of the top 10 value colleges in the Midwest.
The University was also recognized as one of the Most Innovative Schools in the Midwest for the first time. Top college officials from across the country made nominations for this list, selecting institutions known for making the most innovative improvements in curriculum, faculty, campus life, technology, or facilities.
In May 2018, UE was designated as a Changemaker Campus by Ashoka U for its role as a leader in social innovation and changemaking in higher education. UE is the first Changemaker Campus in Indiana.
The University was listed on several other U.S. News & World Report Best Colleges lists this year. UE's Schroeder School of Business was named the number three best undergraduate business school in the nation among small private colleges, with its accounting and finance programs coming in at number one and number two respectively.
The College of Engineering and Computer Science was named the number 25 best undergraduate engineering school in the nation among small private colleges with no doctorate.
The University was also recognized as the number six Best College for Veterans in the Midwest and a Top Midwest School for International Students and remains a Top 10 Best Value college.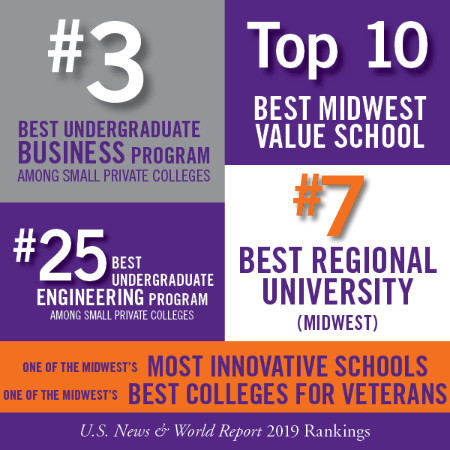 "To be recognized nationally on so many levels speaks volumes about the great programs, great people, and great qualities of this University," said Shane Davidson, vice president for enrollment and marketing at UE. "We are especially proud of making the most innovative list—innovation and changemaking are at the heart of the UE experience."
The U.S. News & World Report rankings are designed to help prospective students and their families evaluate college choices. The Best Colleges rankings are available online at www.usnews.com/colleges and will be published in U.S. News & World Report's Best Colleges 2019 guidebook, on newsstands later this month.
UE Offers Review Course for Fundamentals of Engineering Exam
Posted: August 29, 2018
The University of Evansville College of Engineering and Computer Science has announced dates for the annual review and preparation course for those planning to take the Fundamentals of Engineering Exam.
All classes will be held Thursday evenings beginning at 6:30 p.m. in the Koch Center for Engineering and Science on the UE campus. Classes are divided into relevance per discipline. Fees are adjusted accordingly.
Candidates for civil engineering will attend from September 27-January 24.
Candidates for mechanical engineering and other disciplines will attend from September 27-November 15.
Electrical and computer engineering candidates will attend October 25-November 15.
Registration forms and payment must be returned by 4:00 p.m. on Wednesday, September 26. Contact Kimberly Higgins at kh209@evansville.edu or at 812-488-2651 for more information on registration. Early registration is encouraged as space is limited.
Trockman receives top undergraduate prize in student research competition
Posted: August 28, 2018
Asher Trockman, an undergraduate in computer science at the University of Evansville, received this year's top undergraduate prize in the Student Research Competition at the International Conference on Software Engineering (ICSE) in Gothenburg, Sweden.
Trockman is a 2017 member of Carnegie Mellon's Research Experiences for Undergraduates in Software Engineering (REUSE) program,
The award, part of the ACM Student Research Competition (SRC) sponsored by Microsoft Research, affords undergraduate and graduate students a unique opportunity to present their original research before a panel of judges and experts. Winners of the competition are invited to participate in the ACM Student Research Competition Grand Finals.
The research was conducted while Trockman was a student in the REUSE program during the summer of 2017, along with Shurui Zhou, Christian Kästner, and Bogdan Vasilescu at the Institute for Software Research and the Socio-Technical Research Using Data Excavation Lab (STRUDEL). The resulting paper, "Adding Sparkle to Social Coding: An Empirical Study of Repository Badges in the npm Ecosystem", was published in the technical track at ICSE and was also presented as part of the ICSE Student Research Competition.
The research examined the reliability of GitHub repository badges for inferring various qualities of open source projects.
Fire Fighting Robot Team wins 1st and 3rd at international competition
Posted: April 11, 2018
The University of Evansville competed this past weekend, April 6-9, in the Firefighting Robot International Robot competition at Trinity College in Harford, CT.
Seventy teams from around the world including China, Israel, Indonesia, New Jersey, New York, Pennsylvania (to name a few) competed and were challenged to program a robot to navigate a model home in search of a fire, represented by a burning candle, and then extinguish the fire. The robot was required to watch out for walls, furniture, animals, and other obstacles.
Team Isaiah Frey and Jacob Stratman (both electrical engineering students) placed third with their robot "Spit Fire."
Frey and Stratman competed in the Versa Valve Challenge while at the competition. This challenge required a unique robot to complete two successful runs while using a Versa Valve. They placed first in their division.
UE Mourns the Passing of Dean of Engineering and Computer Science, Philip Gerhart, PhD, PE.
Posted: January 30, 2017
Philip Gerhart, PhD, PE, of Evansville passed away Friday, January 27, at Deaconess Hospital, at the age of 70. He was dean of engineering and computer science and professor of mechanical and civil engineering at the University of Evansville.
Philip was born August 5, 1946, in Kokomo, Indiana, the son of the late Otis Gerhart and Edith Gerhart Marquand.
He earned his BSME degree from Rose-Hulman Institute of Technology in 1968 and his MS and PhD. degrees in mechanical engineering from the University of Illinois at Urbana-Champaign in 1969 and 1971. Before becoming chair of mechanical and civil engineering at the University of Evansville, he was on the mechanical engineering faculty at the University of Akron from 1971 to 1984. He also served as interim vice president of academic affairs at UE from 2001-2002.
Gerhart taught a variety of courses in thermo-fluid sciences. He has consulted widely in the power generation and process industries and has authored or coauthored three books on fluid mechanics and fluid machinery.
Since 1975, he was deeply involved in the development of the American Society of Mechanical Engineers Performance Test Codes. He served as ASME vice president for performance test codes, and was a member and vice-chair of the Committee on Fans, chair of the Committee on Fired Steam Generators, and a member of the Standing Committee on Performance Test Codes.
Gerhart was a Life Fellow of the American Society of Mechanical Engineers. His honors and awards include the Outstanding Teacher Award from the Faculty Senate of the United Methodist Church, the ASME Dedicated Service Award, the ASME Performance Test Codes Gold Medal, ASME Student Section Outstanding Teacher, the Cummins Engine Co. Award, and Hemmingway Gold Medal from Rose-Hulman Institute.
He served in many volunteer leadership roles, including teacher and elder at Northwest Avenue Church of Christ in Tallmadge, Ohio, and Cullen Avenue/Crossroads Christian Church. Gerhart served in the Boy Scouts as scoutmaster, as well as a variety of other roles. He was elected to the Buffalo Trace Council Executive Board in 2005. Eighty-six scouts earned Eagle under his leadership. In 2001, he was awarded the Silver Beaver, recognizing exceptional character for distinguished service. He was an avid reader, and enjoyed spending time with his family and dogs.
He is survived by his beloved wife of 49 years, Mary Lou (Huffer) Gerhart of Evansville; daughter, Ann Bauer (John) of Florissant, Missouri; son, Andy Gerhart (Amy) of Farmington, Michigan; grandchildren, Bryan and Mark Bauer of Florissant, Isabelle, Eli, and Adrianna Gerhart of Farmington; brother-in-law, Dale Huffer (JoAnn); nieces, Suzi Huffer and Karen Roberson.
Funeral services will be held at 1:00 pm, Tuesday, January 31, at Crossroads Christian Church, located at 10800 Lincoln Avenue, Newburgh, Indiana. Pastor Jack Arney and Mark Whited will officiate. Burial will be in Burlington Cemetery, Burlington, Indiana.
Friends may visit from 4:00-8:00 p.m., Monday, January 30, at Boone Funeral Home East Chapel-A Family Tradition Funeral Home, located at 5330 Washington Avenue, Evansville, and again from 11:00 a.m. until time of service at 1:00 p.m., Tuesday at Crossroads Christian Church.
Memorial contributions may be made to University of Evansville College of Engineering and Computer Science in memory of Phil Gerhart, 1800 Lincoln Ave., Evansville, IN 47714.
Condolences may be made to the family online at boonefuneralhome.net.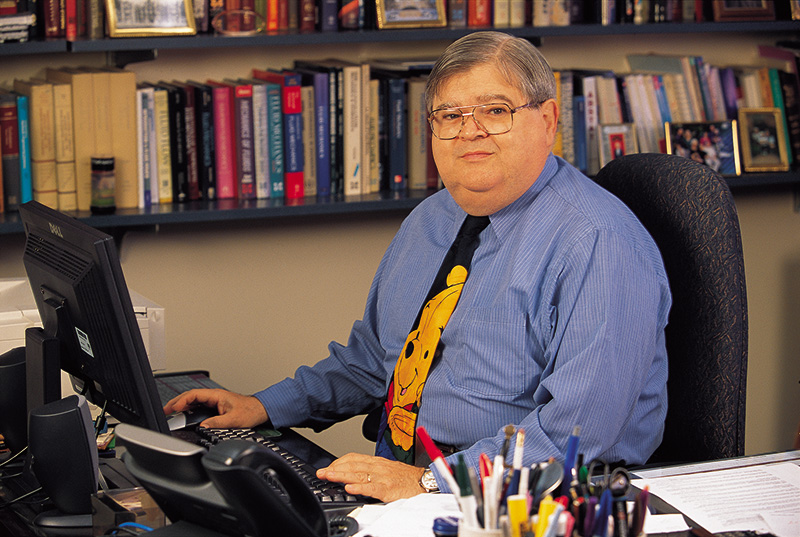 University of Evansville to Launch Software Engineering Program in Fall 2017
Posted: October 31, 2016
The University of Evansville will launch a new software engineering program in Fall 2017. Software systems are at the core of the future economy, and software engineers are needed to build these systems.
Software engineers may develop many types of programs including operating systems, computer games, middleware, business applications, network control systems, and more.
"This is a cutting-edge degree, and software engineers are in high demand," says Don Roberts, associate professor of computer science at UE. "You may immediately think of software engineers as designing apps—like Angry Birds—but they do much more, and the curriculum we've designed will prepare students for a wide range of career options."
Software engineering is a branch of computer science that deals with the design, implementation, and maintenance of complex computer systems (very large programs that cannot be written by one person alone). Software engineering teaches students to work in teams and emphasizes design for reliability and maintenance.
Early, hands-on learning opportunities make the University of Evansville stand apart in many of its programs.
"Students will begin designing and building applications in their first semester," says Roberts. "Students at other universities might not get the opportunity to work on real projects until their junior or senior years."
The College of Engineering and Computer Science at UE was just named the number 22 best undergraduate engineering program among small private colleges by U.S News & World Report. The college also recently received a $1 million gift to purchase new equipment for engineering programs.
To learn more about software engineering at the University of Evansville, please contact the office of admission at 812-488-2468.
UE Team wins 1st Place at Site; Places 10th in ACM Mid-Central Regional Programming Contest
Posted: November 11, 2015
University of Evansville's ACM Programming team of Guilherme Andrade, Evan Higgins, and Kane Catt placed first out of 24 teams at at the University of Louisville site of the Association of Computing Machinery (ACM) Mid-Central Regional Programming Contest, on Saturday, November 7th.
Teams at the Louisville site included University of Kentucky, University of Louisville, Centre College, Morehead State University, Marshall University, Georgetown College, Berea College, IU Southeast, Northern Kentucky University, and Eastern Kentucky University. Additionally, the team placed 10th overall in the entire region which consists of over 155 teams. They finished ahead of many larger schools including nearby rival, Rose-Hulman Institute of Technology.
The ACM Mid-Central Regional Programming Contest consisted of nine questions, ranging from very easy to extremely difficult, that must be solved with computer programs within a five-hour time limit. The UE team, Andrade (junior), Catt (junior), and Higgins (sophomore) Computer Science students, solved seven out of the nine questions. The first place teams of the entire region solved eight out of the nine questions.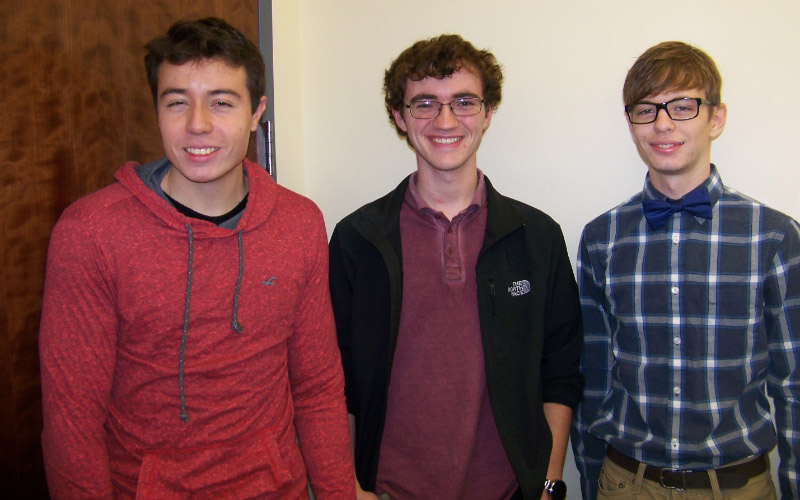 UE Team wins CCSC:MW Conference Student Programming Contest
Posted: October 8, 2015
The University of Evansville team of Kane Catt (CS junior), Evan Higgins (CS sophomore), and Guilherme Andrade (CS exchange student) won first place at the Consortium for Computing Sciences in Colleges (CCSC) Midwest Conference Student Programming Contest held Saturday, October 3, at UE.
The event included a total of 21 teams from around the Midwest region. The Evansville team solved 5 problems (out of a total of 8 problems) despite not submitting their first correct solution until almost 3 hours into the 4-hour contest. Second place went to Benedictine University who solved 4 problems, and third place went to Bradley University II who were the fastest to solve 3 problems.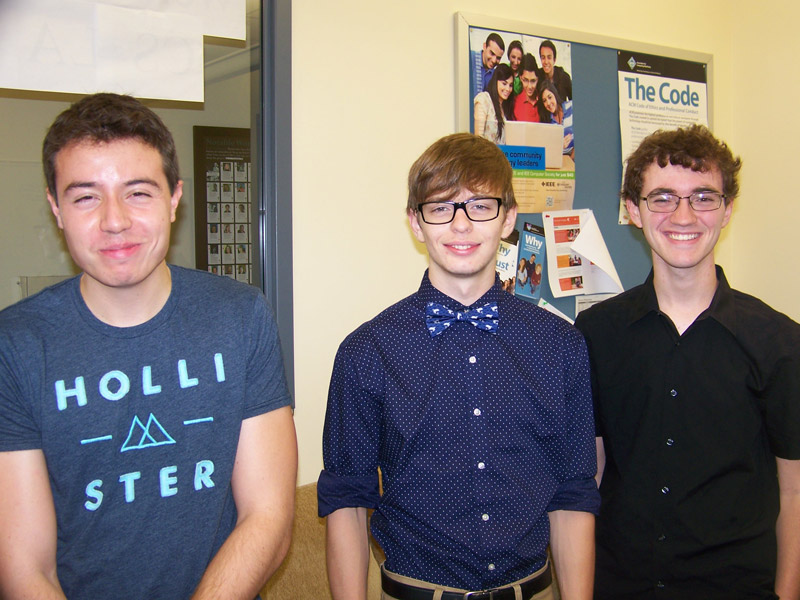 EECS Students Conduct Summer Research
Posted: September 11, 2015
Two students in the Electrical Engineering & Computer Science department, Lily Mast and Daniel Vibbert, spent this summer working on research projects at other universities.
Lily Mast, a senior in the UE Computer Science program, participated in an REU this past summer at Oregon State University from June – August 2015. The project, "New Code Changes that Don't Preserve Code Behavior", had three parts. Lily participated in the third phase which modified the structure of the code that was currently being edited. This portion of the project is like auto-complete for code; at first it will predict the first few words of a "sentence". Continuing the analogy, eventually the code will predict the entire sentence and paragraph. Lily is continuing the research through her senior year.
Daniel Vibbert, a UE Electrical Engineering senior, interned at the Institute of Space Defense Electronics (ISDE) at Vanderbilt University in Nashville, TN this past summer May – August, 2015. He was assigned one large project on radiation effects in the Software Defined Radio (SDR) front end. He tracked variables as the SDR was being radiated and presented his results to the research advisory board. Through his assignment he learned about SDR and the theory behind radio. Daniel designed an experiment to document the radiation effects on the radio.