Fire Fighting Robot Team wins 1st and 3rd at international competition
Posted: April 11, 2018
The University of Evansville competed this past weekend, April 6-9, in the Firefighting Robot International Robot competition at Trinity College in Harford, CT.
Seventy teams from around the world including China, Israel, Indonesia, New Jersey, New York, Pennsylvania (to name a few) competed and were challenged to program a robot to navigate a model home in search of a fire, represented by a burning candle, and then extinguish the fire. The robot was required to watch out for walls, furniture, animals, and other obstacles.
Team Isaiah Frey and Jacob Stratman (both electrical engineering students) placed third with their robot "Spit Fire."
Frey and Stratman competed in the Versa Valve Challenge while at the competition. This challenge required a unique robot to complete two successful runs while using a Versa Valve. They placed first in their division.
UE Ranked Third Best Midwest Value University by U.S. News & World Report, Among Other Honors
Posted: September 12, 2017
Among other honors, the University of Evansville has been named a Best Midwest Value school in the annual Best Colleges rankings by U.S. News & World Report. UE was ranked third, up 10 spots from last year. This ranking is based on the school's academic quality and net cost of attendance for a student receiving the average need-based financial aid.
UE was also a top-ten institution in the region -- ranked ninth among 165 institutions in the Best Regional Universities: Midwest category -- based on measures of academic excellence, faculty resources, student selectivity, and class sizes.
The University was listed in other Best Colleges U.S. News & World Report rankings, as follows:
UE's Schroeder School of Business was ranked as the number four Small Private Business School in the nation, moving up from the number 10 spot in last year's list. Additionally, the Schroeder School of Business is the fastest mover among all business schools, moving up 35 places to number 183 nationally.
In addition, UE was ranked at number 24 on the list of small private universities with the Best Undergraduate Engineering programs accredited by ABET. This ranking was based solely on the judgments of deans and senior faculty at peer institutions. The engineering program ranked 103 overall.
"Ranking as we did in these categories is just one of the many indicators confirming our success in maintaining the highest academic quality at the University of Evansville," said UE President Thomas A. Kazee.
The University of Evansville was also ranked seventh on the Nation's Most Military Friendly Schools list and as a Top Midwest School for International Students.
Additionally, UE was named one of the Best Schools for Study Abroad. To be considered, the study abroad program had to involve substantial academic work - a year or a semester, or an intensive experience equal to a course - and considerable interaction between the student and the culture. College presidents, chief academic officers, deans of students, and deans of admissions from more than 1,500 schools nominated up to 10 institutions with stellar examples of study abroad programs. The colleges and universities that were mentioned most often made the Best School for Study Abroad list.
"Study abroad is engrained in our culture here at the University of Evansville," said Kazee. "From our intensive program at Harlaxton College in Grantham, England, to the many service trips we consistently take to places like Guatemala and China, UE students have ample opportunities to contribute on a global level."
The U.S. News & World Report rankings are designed to help prospective students and their families evaluate college choices. The Best Colleges rankings are available online at www.usnews.com/colleges and will be published in U.S. News & World Report's Best Colleges 2018 guidebook, on newsstands later this month.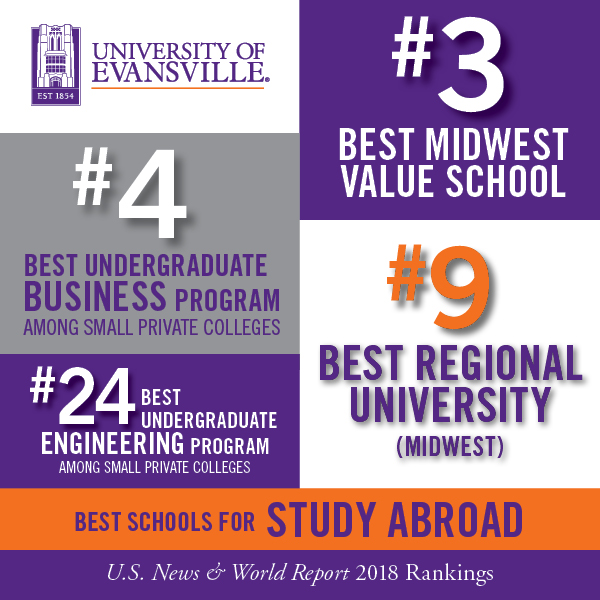 UE Engineering OPTIONS Camps Set for June
Posted: April 3, 2017
The College of Engineering and Computer Science at the University of Evansville has announced the dates for Engineering OPTIONS, its annual engineering summer camps.
The Engineering OPTIONS for Middle School Girls summer career exploration program is a 3 ½ day residential opportunity at UE for middle school girls currently in grades 6, 7, or 8. The program begins on Sunday, June 11, and concludes on Wednesday, June 14.
The Engineering OPTIONS for High School Girls summer career exploration program is a week-long residential opportunity at the University for high school girls currently in grades 9, 10, or 11 who have completed geometry. The program begins on Sunday, June 18, and concludes on Friday, June 23.
Participants in the Engineering OPTIONS programs will gain a better understanding of what types of opportunities are available in fields most closely related to science, technology, engineering, and mathematics (STEM).
For more information and to obtain an application or apply online, see www.evansville.edu/options.
UE Mourns the Passing of Dean of Engineering and Computer Science, Philip Gerhart, PhD, PE.
Posted: January 30, 2017
Philip Gerhart, PhD, PE, of Evansville passed away Friday, January 27, at Deaconess Hospital, at the age of 70. He was dean of engineering and computer science and professor of mechanical and civil engineering at the University of Evansville.
Philip was born August 5, 1946, in Kokomo, Indiana, the son of the late Otis Gerhart and Edith Gerhart Marquand.
He earned his BSME degree from Rose-Hulman Institute of Technology in 1968 and his MS and PhD. degrees in mechanical engineering from the University of Illinois at Urbana-Champaign in 1969 and 1971. Before becoming chair of mechanical and civil engineering at the University of Evansville, he was on the mechanical engineering faculty at the University of Akron from 1971 to 1984. He also served as interim vice president of academic affairs at UE from 2001-2002.
Gerhart taught a variety of courses in thermo-fluid sciences. He has consulted widely in the power generation and process industries and has authored or coauthored three books on fluid mechanics and fluid machinery.
Since 1975, he was deeply involved in the development of the American Society of Mechanical Engineers Performance Test Codes. He served as ASME vice president for performance test codes, and was a member and vice-chair of the Committee on Fans, chair of the Committee on Fired Steam Generators, and a member of the Standing Committee on Performance Test Codes.
Gerhart was a Life Fellow of the American Society of Mechanical Engineers. His honors and awards include the Outstanding Teacher Award from the Faculty Senate of the United Methodist Church, the ASME Dedicated Service Award, the ASME Performance Test Codes Gold Medal, ASME Student Section Outstanding Teacher, the Cummins Engine Co. Award, and Hemmingway Gold Medal from Rose-Hulman Institute.
He served in many volunteer leadership roles, including teacher and elder at Northwest Avenue Church of Christ in Tallmadge, Ohio, and Cullen Avenue/Crossroads Christian Church. Gerhart served in the Boy Scouts as scoutmaster, as well as a variety of other roles. He was elected to the Buffalo Trace Council Executive Board in 2005. Eighty-six scouts earned Eagle under his leadership. In 2001, he was awarded the Silver Beaver, recognizing exceptional character for distinguished service. He was an avid reader, and enjoyed spending time with his family and dogs.
He is survived by his beloved wife of 49 years, Mary Lou (Huffer) Gerhart of Evansville; daughter, Ann Bauer (John) of Florissant, Missouri; son, Andy Gerhart (Amy) of Farmington, Michigan; grandchildren, Bryan and Mark Bauer of Florissant, Isabelle, Eli, and Adrianna Gerhart of Farmington; brother-in-law, Dale Huffer (JoAnn); nieces, Suzi Huffer and Karen Roberson.
Funeral services will be held at 1:00 pm, Tuesday, January 31, at Crossroads Christian Church, located at 10800 Lincoln Avenue, Newburgh, Indiana. Pastor Jack Arney and Mark Whited will officiate. Burial will be in Burlington Cemetery, Burlington, Indiana.
Friends may visit from 4:00-8:00 p.m., Monday, January 30, at Boone Funeral Home East Chapel-A Family Tradition Funeral Home, located at 5330 Washington Avenue, Evansville, and again from 11:00 a.m. until time of service at 1:00 p.m., Tuesday at Crossroads Christian Church.
Memorial contributions may be made to University of Evansville College of Engineering and Computer Science in memory of Phil Gerhart, 1800 Lincoln Ave., Evansville, IN 47714.
Condolences may be made to the family online at boonefuneralhome.net.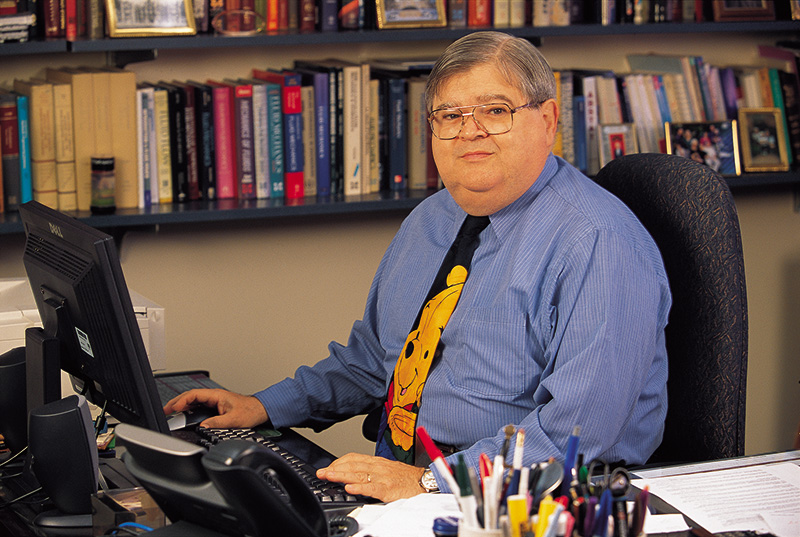 University of Evansville to Launch Software Engineering Program in Fall 2017
Posted: October 31, 2016
The University of Evansville will launch a new software engineering program in Fall 2017. Software systems are at the core of the future economy, and software engineers are needed to build these systems.
Software engineers may develop many types of programs including operating systems, computer games, middleware, business applications, network control systems, and more.
"This is a cutting-edge degree, and software engineers are in high demand," says Don Roberts, associate professor of computer science at UE. "You may immediately think of software engineers as designing apps—like Angry Birds—but they do much more, and the curriculum we've designed will prepare students for a wide range of career options."
Software engineering is a branch of computer science that deals with the design, implementation, and maintenance of complex computer systems (very large programs that cannot be written by one person alone). Software engineering teaches students to work in teams and emphasizes design for reliability and maintenance.
Early, hands-on learning opportunities make the University of Evansville stand apart in many of its programs.
"Students will begin designing and building applications in their first semester," says Roberts. "Students at other universities might not get the opportunity to work on real projects until their junior or senior years."
The College of Engineering and Computer Science at UE was just named the number 22 best undergraduate engineering program among small private colleges by U.S News & World Report. The college also recently received a $1 million gift to purchase new equipment for engineering programs.
To learn more about software engineering at the University of Evansville, please contact the office of admission at 812-488-2468.
UE Recognized a Best Regional University by U.S. News & World Report
Posted: September 13, 2016
The University of Evansville has again been named one of the Best Regional Universities: Midwest in the annual Best Colleges rankings by U.S. News & World Report. UE was eighth in this year's ranking, which is based on measures of academic excellence such as student graduation and retention rates, faculty resources, student selectivity, and class sizes. The list includes approximately 200 schools, and rankings are designed to help prospective students and their families evaluate college choices.
UE was also named on the Best Value – Regional Universities (Midwest) list. This ranking is based on the school's academic quality and the net cost of attendance for a student receiving the average need-based financial aid.
UE was listed in other Best Colleges U.S. News & World Report rankings as well, including: Best Colleges for Veterans, a top 10 Best Undergraduate Business Program among small private colleges, and a Best Undergraduate Engineering Program.
"We are pleased to again be recognized as a Best Value in the Midwest and as one of the Midwest's top universities," said UE president Thomas A. Kazee. "The recognitions in this report reflect our continued commitment to providing students with a high quality, affordable education."
The Best Colleges rankings are available online at www.usnews.com/colleges and will be published in U.S. News & World Report's Best Colleges 2017 guidebook on newsstands later this month.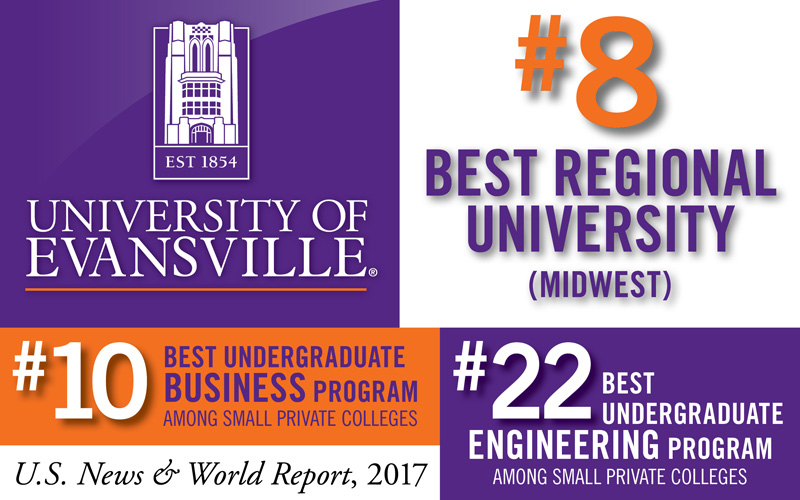 UE Team wins 1st Place at Site; Places 10th in ACM Mid-Central Regional Programming Contest
Posted: November 11, 2015
University of Evansville's ACM Programming team of Guilherme Andrade, Evan Higgins, and Kane Catt placed first out of 24 teams at at the University of Louisville site of the Association of Computing Machinery (ACM) Mid-Central Regional Programming Contest, on Saturday, November 7th.
Teams at the Louisville site included University of Kentucky, University of Louisville, Centre College, Morehead State University, Marshall University, Georgetown College, Berea College, IU Southeast, Northern Kentucky University, and Eastern Kentucky University. Additionally, the team placed 10th overall in the entire region which consists of over 155 teams. They finished ahead of many larger schools including nearby rival, Rose-Hulman Institute of Technology.
The ACM Mid-Central Regional Programming Contest consisted of nine questions, ranging from very easy to extremely difficult, that must be solved with computer programs within a five-hour time limit. The UE team, Andrade (junior), Catt (junior), and Higgins (sophomore) Computer Science students, solved seven out of the nine questions. The first place teams of the entire region solved eight out of the nine questions.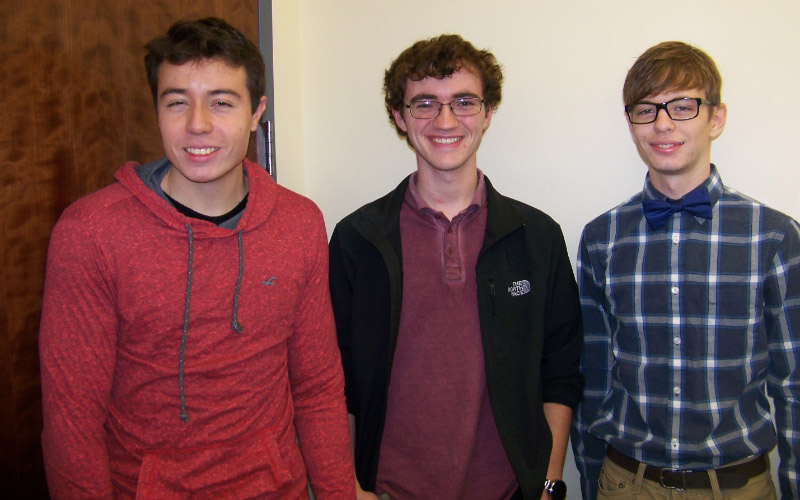 UE Team wins CCSC:MW Conference Student Programming Contest
Posted: October 8, 2015
The University of Evansville team of Kane Catt (CS junior), Evan Higgins (CS sophomore), and Guilherme Andrade (CS exchange student) won first place at the Consortium for Computing Sciences in Colleges (CCSC) Midwest Conference Student Programming Contest held Saturday, October 3, at UE.
The event included a total of 21 teams from around the Midwest region. The Evansville team solved 5 problems (out of a total of 8 problems) despite not submitting their first correct solution until almost 3 hours into the 4-hour contest. Second place went to Benedictine University who solved 4 problems, and third place went to Bradley University II who were the fastest to solve 3 problems.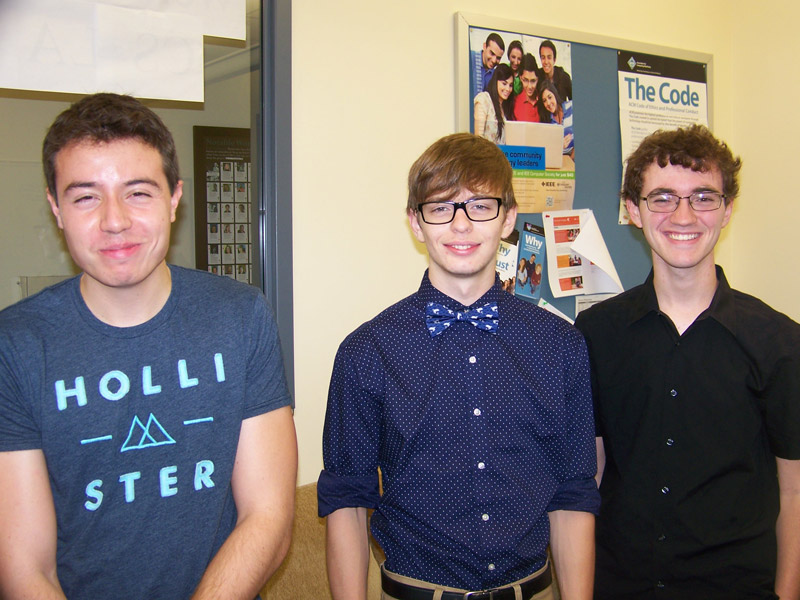 EECS Students Conduct Summer Research
Posted: September 11, 2015
Two students in the Electrical Engineering & Computer Science department, Lily Mast and Daniel Vibbert, spent this summer working on research projects at other universities.
Lily Mast, a senior in the UE Computer Science program, participated in an REU this past summer at Oregon State University from June – August 2015. The project, "New Code Changes that Don't Preserve Code Behavior", had three parts. Lily participated in the third phase which modified the structure of the code that was currently being edited. This portion of the project is like auto-complete for code; at first it will predict the first few words of a "sentence". Continuing the analogy, eventually the code will predict the entire sentence and paragraph. Lily is continuing the research through her senior year.
Daniel Vibbert, a UE Electrical Engineering senior, interned at the Institute of Space Defense Electronics (ISDE) at Vanderbilt University in Nashville, TN this past summer May – August, 2015. He was assigned one large project on radiation effects in the Software Defined Radio (SDR) front end. He tracked variables as the SDR was being radiated and presented his results to the research advisory board. Through his assignment he learned about SDR and the theory behind radio. Daniel designed an experiment to document the radiation effects on the radio.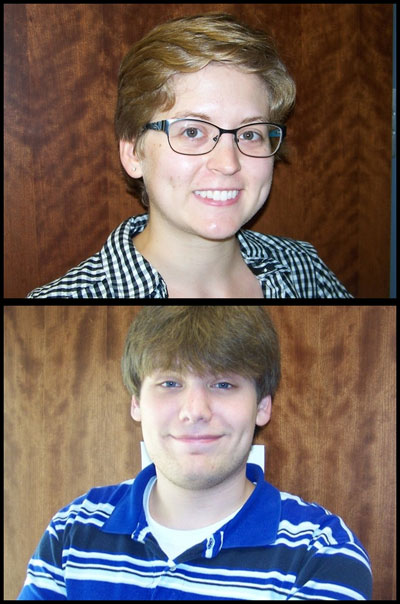 UE Seniors Win Second Place at Annual IEEE Competition
Posted: March 21, 2014
University of Evansville seniors Jake Schwartz and Austin Deuerling won second place at the IEEE (Institute of Electrical and Electronics Engineers) SoutheastCon Regional Competition in Lexington, Kentucky on Saturday March 15. Their robot placed above 42 teams, including such universities as Duke, Virginia Tech and the University of Florida.


Schwartz and Deuerling, both electrical engineering majors, designed their robot to shoot darts in a simulated basketball goal from various distances to emulate the playing and shooting dynamics of basketball on a simulated basketball court.
Winners at the competition were decided by the number of points earned by completing goals and completion time. The highest scoring robots were both fast and precise.
Schwartz is from English, Indiana, and Deuerling is from Wadesville, Indiana.
UE Student Creates "New and Rising" App
Posted: January 21, 2014
A lot of college students spend their long Christmas break relaxing and recharging for the spring semester. Not UE junior Alex Luebbehusen and his brother, Brandon, a high school senior in Ferdinand, Ind. They spent their off time creating two new Windows apps based on what Alex had just learned through a fall electrical engineering class called Small Computer Software.
Alex says he and Brandon created the first app, a fast-paced word game called Party Phrase, in just a few hours to get a feel for getting into the Windows app market.
The second one took a lot more time and work, but it is also getting a lot more notice. Late last week it was noted on the Windows App Store as a "new and rising" travel app. It is called tripp. It's described as "a world travel organizer that enables you to map all the places you have visited. By adding notes, dates, and photos from your trips to the pinned locations, you can recapture the thrill of these unforgettable experiences and easily share them with family and friends—anytime, anywhere."
Both apps are free. "We didn't plan on getting rich off of this," said Luebbehusen. "We wanted to get downloads and get people to use it. We did it for the experience."
Mark Randall is co-instructor for the class that gave Luebbehusen the hands-on experience, and the confidence, to hit the marketplace. "It's really neat to see somebody take something from the class and to turn something out that is being recognized. It's a project-based class that rewards students grade-wise for adding bells and whistles above and beyond their basic assignments."
Luebbehusen added that just the competitiveness of the class members was an incentive to adding more to the projects than required.
As for why they chose the Windows App Store for their work, he says that as a newer market, it is not quite as crowded as others and that makes it easier to get noticed.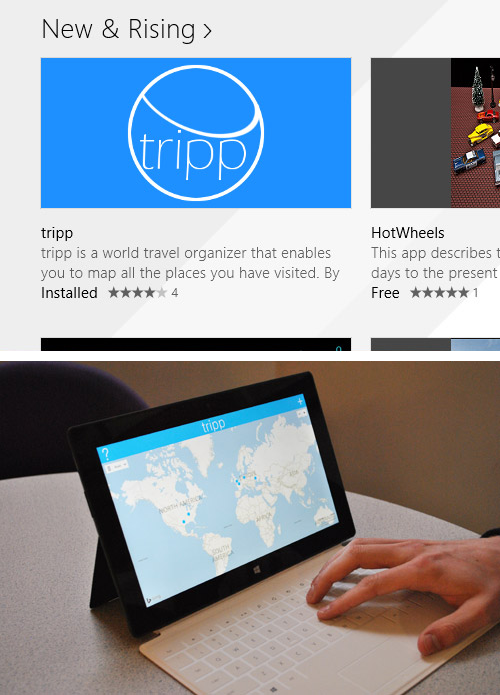 ACM Programming Team Finalists in Code for Good Challenge
Posted: October 8, 2013
The ACM Programming Team of Melanie Conn, Allison Deford, McIntyre Watts, Jonathan Wood (all senior computer science majors), and Aaron Reynolds (junior computer engineering major) were finalists at the Code for Good Challenge sponsored by J.P. Morgan Chase in Columbus, OH, over the October 4-5 weekend. The team had 24 hours to create a healthy lifestyle application for the Goodwill of Columbus organization. In addition to completing a prototype implementation, they had to present and demonstrate their application before a panel of judges who scored their effort on several criteria. They competed against 11 other teams of students from several colleges including Michigan State, Ohio State, Miami of Ohio, and Georgia Tech.
Code for Good Challenge events are sponsored by J.P. Morgan Chase at several locations. Students are organized into teams of 4-6 programmers and are given a challenge to write an application to meet the needs of a local charity organization. At the Columbus event, there were 12 teams divided among two challenges. The UE team's challenge was to write a healthy lifestyle application for the Goodwill of Columbus organization to be used by employees throughout Columbus. The application is to allow employees to connect with one another and challenge each other to complete fitness tasks, as well as allow the company to set daily challenges for all users.
Teams were given 24 hours to design and implement a prototype application. The UE team chose to use Ruby on Rails, a technology that most members had learned in the Software Engineering class, as their implementation platform. Then they presented and demonstrated their application against the other teams doing the same challenge, afterwards being named one of two finalists from the Goodwill challenge to compete for the final prizes against the finalists of the other challenge.
Allie Deford summarized their experiences saying, "The Code for Good Challenge was a great learning experience. As a group, we got to use the skills we've gained in a variety of classes to take an application from idea to a demo in less than a day. It really reminded us how much work goes into developing an application. It also gave us an amazing opportunity to work together as a team. Each of us had different skill sets, which we tried to utilize. It was important that we trusted each member of our team to finish their own tasks to put together a really interesting final product. Finally, when the coding was done, we had to use our communication skills to give both a technical interview and 2 rounds of presentations. But it paid off -- we were in the top 4 teams!"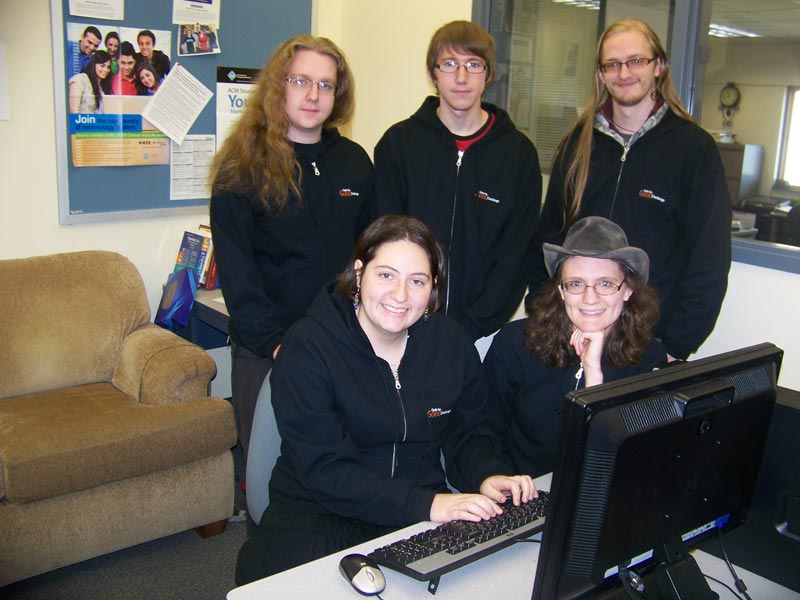 UE Faculty, Program Featured in NerdScholar Article about Diversity in STEM
Posted: June 25, 2013
Deborah Hwang, UE associate professor of computer science, was featured in a recent article on the website NerdScholar -- a financial literacy and consumer advocacy resource for students -- about increasing diversity in the STEM field.
The story also featured UE's OPTIONS summer program for middle and high school girls as an example of how to increase diversity in the engineering and computer science fields, in which women are traditionally underrepresented.
To read the full NerdScholar article, click here.
Past OPTIONS Participant to Serve as Mentor-in-Residence for High School Girls
Posted: May 20, 2013
Kelsey Smith, a 2006 OPTIONS for High School Girls summer camp participant, will serve as mentor-in-residence for girls attending this year's OPTIONS experience, which explores the vast career possibilities in engineering and computer science.
Smith, a resident of Wright-Patterson Air Force Base near Dayton, Ohio, will provide guidance and advice to this year's OPTIONS for High School Girls attendees as well as teaching.
Smith, a Montana native, learned about OPTIONS through the Internet and attended the program before her junior year of high school. She credits the experience for deepening her understanding and interest in the diverse career opportunities in engineering.
"OPTIONS gave me incredible exposure to the different fields of engineering and the roles that women play in them. Being in an all-girls camp gave me the confidence to ask questions and explore more about the 'how,'" Smith said. "There were so many opportunities offered – we were able to visit a wide range of plants and factories, and really see the in-depth functioning of different systems. In addition, I met some amazing women mentors."
Smith graduated from high school in Bigfork, Montana, in 2008. There, she received varsity letters in soccer, track, and cheerleading; held leadership positions as speech and debate team captain, student council vice president, and newspaper editor-in-chief; and played first-chair flute.
Smith graduated from the United States Air Force Academy in 2012, where she majored in behavioral science with minors in Arabic and Spanish. Upon graduation from the Academy, Smith was commissioned as a 2nd Lieutenant in the Air Force. She currently attends the Air Force Institute of Technology and is studying engineering management – human factors engineering. After graduation in 2014, Smith plans to work as a researcher in the Air Force.
Openings are still available in both OPTIONS for High School Girls, June 9-14, and OPTIONS for Middle School Girls, June 16-20. Thanks to the Alcoa Foundation, a limited number of scholarships are available for girls from Vanderburgh and Warrick counties. Attendees are welcome from all states and counties.
For more information, please contact Tina Newman, OPTIONS program coordinator in the University of Evansville's College of Engineering and Computer Science, at 812-488-2651.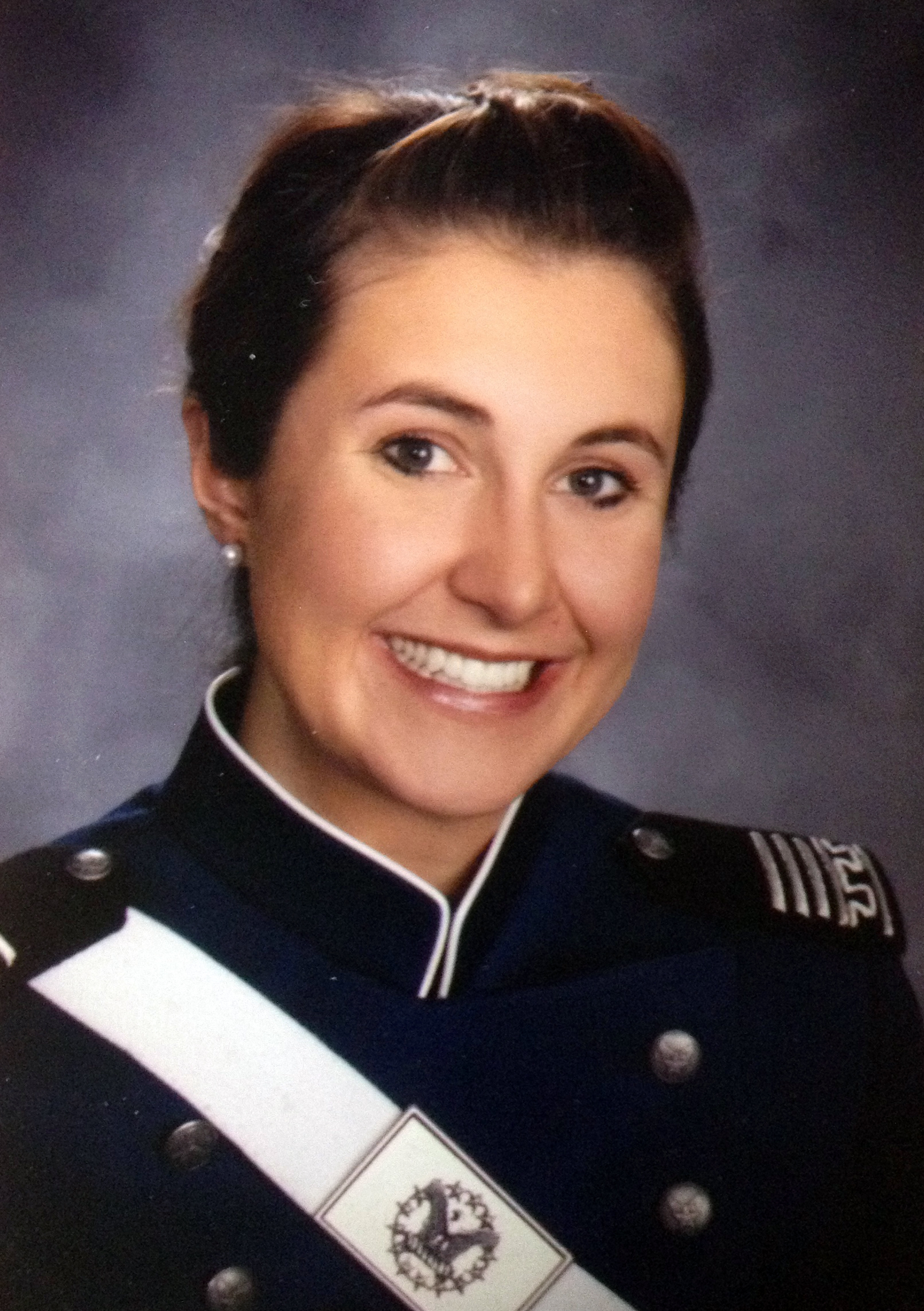 Robert Morse Awarded Prestigious Fulbright Scholarship
Posted: May 15, 2013
Robert Morse, professor of computer science, has been awarded a prestigious Fulbright Scholarship to spend the Spring 2014 semester in Ljubljana, Slovenia.
From February 1 through July 15, 2014, Morse will split his time between teaching and research at the University of Ljubljana. He will teach a graduate-level course on his specialty, computational algebra, and collaborate with local mathematicians on two research projects.
"I'm honored to be selected for the Fulbright and look forward to returning to Slovenia after visiting and presenting my research there in 2012," Morse said. "My activities abroad will enhance my professional growth and challenge me mathematically as I will be providing computational expertise to several mathematicians at the University of Ljubljana in support of their research."
"My work as a Fulbright scholar also will benefit UE's vision and strategic plan by extending the University's global reach and making deeper connections abroad," Morse added, "and it will provide the groundwork for possible future student interaction between the University of Evansville and the University of Ljubljana."
"At the University of Evansville, we're very proud and excited for Dr. Morse," said John Mosbo, senior vice president for academic affairs. "The Fulbright Scholarship is among the most prestigious and competitive in higher education, and Dr. Morse's successful application for the award demonstrates that the University of Evansville's faculty is truly world-class."
Morse came to the University of Evansville in 1998 after a 12-year career designing avionics software for IBM Corporation's Federal Systems Division. He is the co-editor of two books on computational algebra and is author of several peer-reviewed publications in mathematics. Morse holds a PhD and Master of Arts in mathematics from the State University of New York at Binghamton, as well as a Bachelor of Science in computer science from The Pennsylvania State University.
Morse's previous honors include the University of Evansville's Global Scholar Award from the Institute for Global Enterprise, Sadelle and Sydney Berger Award for Scholarly Activity, and Dean's Teaching Award for the College of Engineering and Computer Science. He also has served as a visiting professor at the National University of Ireland in Galway (funded by a Marie Curie Transfer of Knowledge grant from the European Union) and received an Outstanding Technical Achievement Award from IBM Corporation.
The Fulbright Program, founded in 1946 and sponsored by the U.S. Department of State, offers grants for U.S. citizens to study, teach, and conduct research abroad, and for non-U.S. citizens to come to the United States. Each year, the program awards approximately 800 highly competitive, merit-based grants for U.S. scholars and professionals. Past Fulbright Scholars include recipients of 43 Nobel Prizes, 81 Pulitzer Prizes, 28 MacArthur Foundation Awards, and 16 U.S. Presidential Medals of Honor.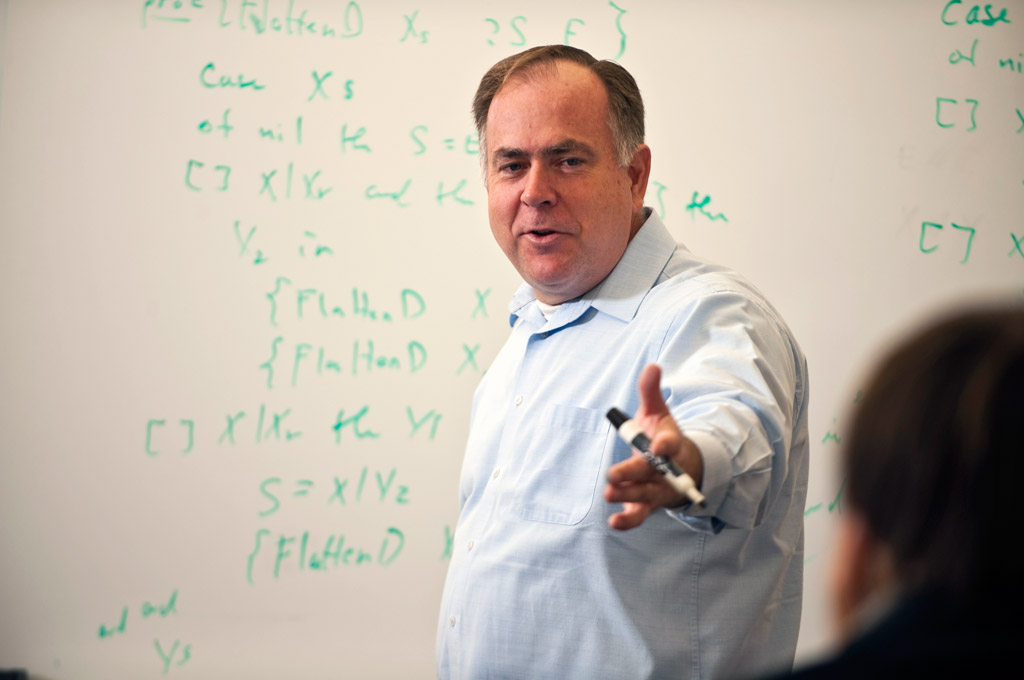 Notable EECS Student Activities
Posted: October 17, 2012
Kendra Norris and Ariel Cockerman are the first all-women team from UE to compete in the fire-fighting robot contest at Trinity College in Connecticut. Both are seniors in electrical engineering. In addition, Norris did an internship at Crane Naval Base this summer, while Cockerman spent the summer working for a local power company.
Kepra McBrayer spent the summer doing a Research Experience for Undergraduates (REU) at the University of Maine in Orono. McBrayer is a senior in electrical engineering on the biomedical option. She is doing a senior project in conjunction with the Biology Department designing a programmable environmental monitor for small animals, and she currently is working with geckos.
McBrayer will graduate in May and will be going on to graduate school in biomedical engineering.
Alexandra Statham spent eight weeks in Japan this summer. She spent the summer studying the Japanese language at Ritsumeikan Asia Pacific University (APU) in Beppu, Oita, which is a city on the southern island of Japan, and traveling independently to Kyoto, Nara, and Tokyo.
Stratham is a senior computer science major with a minor in Japanese. She will be graduating in May and would like to work in Japan some time in the future.
Kyle Singer spent five weeks in Japan and South Korea with a study abroad program sponsored by the University of Evansville. After sightseeing in Japan, he spent a month studying the Korean language and culture at the Ewha Womens University in Seoul. On field trips and on weekends, Singer visited various areas of Seoul, other parts of Korea, and spent his last weekend on vacation with a Korean family.
He is a senior computer science major and will graduate in May, and is planning to teach English in South Korea for a few years before applying to graduate school in computer science.
This past February, Allison DeFord, a computer science sophomore from Lafayette, Indiana, and Deborah Hwang, associate professor of computer science, attended InWIC (Indiana Celebration of Women in Computing) at Canyon Inn, McCormick's Creek State Park, Spencer, Indiana.
InWIC is a small, regional conference for undergraduate and graduate women students in computing and their advisors. The program included two outstanding young women keynote speakers who are doing interesting computing research, talks on cutting-edge technical issues and on social issues of relevance to undergraduate and graduate women in computing, and a poster competition.
(updated October 26, 2012)