Psychotherapy Research Laboratory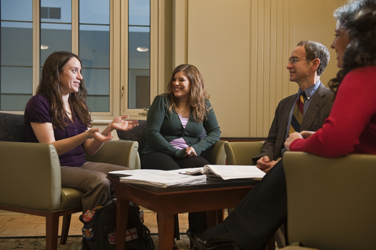 S. Mark Kopta, Ph.D., H.S.P.P. is Professor of the Department of Psychology at the University of Evansville and a clinical psychologist in private psychotherapy practice. Dr. Kopta is a leading expert in psychotherapy and mental health, with numerous publications, including a book, a video, chapters in books, published articles, and scholarly paper presentations. He specializes in researching how adults improve in psychotherapy and the assessment of mental health. His 1986 and 1994 articles on the dosage model are two of the most cited scholarly works in psychotherapy research. His dose-effect model was selected as one of the most influential psychotherapy theories of the 20th Century by the Encyclopedia of Psychotherapy. His research achievements were also noted in the 1988 edition of Encyclopedia Britannica.
With regard to child and adolescent psychiatry, Dr. Kopta coauthored the book, Right Versus Wrong: Raising a Child with a Conscience. The book delineates how children acquire healthy values through conscience development. He has coauthored articles on child/adolescent development and mental health published in psychiatry's most influential journals.
Publications
Bryan, C.J. & Kopta, S.M. (in press). The CelestHealth System: A New Horizon for Mental Health Treatment. Integrating Science and Practice.
Budge, S.L., Owen, J.J., Kopta, S.M., Minami, T., Hanson, M.R., & Hirsch, G. (in press). Differences among trainees in client outcomes associated with the Phase Model of Change. Psychotherapy.
Lutz, W., Lowry, J.L., Kopta, S.M., Einstein, D., & Howard,K.I. (2001). Prediction of dose-response relations based patient characteristics. Journal of Clinical Psychology, 57, 889-900.
Kopta, S.M. (2001). See past the evil monsters of today. Special commentary on the 9/11 tragedy published in the Los Angeles Times, December 24, 2001.
Kopta, S.M. & Lowry, J.L. (2002). The dosage model in psychotherapy. In M. Hersen & W. Sledge (Eds.), Encyclopedia of psychotherapy. New York: Academic Press.
Kopta, S.M., & Lowry, J.L. (2002). Psychometric evaluation of the Behavioral Health Questionnaire-20: A brief instrument for assessing global mental health and the three phases of psychotherapy outcome. Psychotherapy Research, 12, 413-426.
Kopta, S.M. (2003). The dose-effect relationship in psychotherapy: A defining achievement for Dr. Kenneth Howard. Journal of Clinical Psychology, 59, 727-733.
Green, J.L., Lowry, J.L., & Kopta, S.M. (2003). College students versus college counseling center clients: What are the differences? Journal of College Student Psychotherapy, 17, 25-37.