Psychology and neuroscience majors have the opportunity to receive a variety of awards and scholarships recognizing their academic excellence.
Best Thesis Award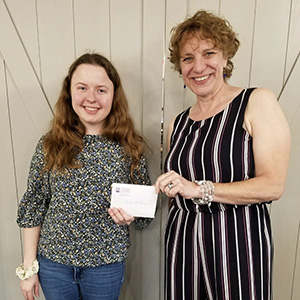 Theses that receive the grade of "A" are read by the entire psychology faculty to determine the Best Thesis of each class. This Best Thesis is bound, indexed, and shelved by our Library. The author receives a small cash prize or honorarium.
Congratulations to 2022 winner Grace McGuire and her thesis, "Sensory Foundation of Problem Behaviors in Children with Autism."
Sampson Psychology Award
Each year students have the opportunity to win a $1,000 scholarship if they meet the following criteria:
Be a Psychology Major
Be a member of Psi Chi
Have a cumulative GPA of at least a "B" in all courses taken
Indication of the best potential for leadership in his/her chosen field
Have junior year status at the time of selection (a rising senior)
Be of good moral character
Sons and daughters of UE faculty and staff will not be excluded from consideration
The selection committee consists of all full-time members of the Psychology Department. Each member votes once with the Chairman of the Department making the decision in case of a tie vote.
The recipient of this scholarship will be announced at the annual Honors Convocation. Recipients can use the funds only for educational expenses at the University during his/her senior year.
The Clarence E. Brooks Scholarship
This scholarship was established to provide financial aid to UE students with high scholastic ability, first, and financial need, secondly. The scholarship is awarded to a freshman or upperclassman who is majoring in psychology during the spring semester with the award applied to tuition in the following academic year.
Mr. and Mrs. Alfred B. Cope Scholarship
This scholarship was established by Mr. and Mrs. Alfred Cope, their daughter, Lela Cope McBride, and a former student, John M. Thole. Mr. Cope was a professor of psychology and education at the University of Evansville in 1921, although then it was known as Evansville College. He was a pioneer in teaching students to read and education children with learning disabilities. Mr. Cope retired in 1952.
The priorities of the scholarship(s) are for students with financial need and scholastic ability and are majoring in psychology or early childhood education. If possible, the scholarship is awarded to students who are interested in helping young people with learning and/or reading disabilities.
Recipients are selected in the spring and the award is presented on Scholarship Day.