UE to Bring Nationally Known Suicide Researcher Craig Bryan to Evansville
Posted: October 20, 2016
Craig Bryan, prominent suicide researcher and leading national expert on military suicide, will be speaking and leading a workshop for clinicians at the University of Evansville on Thursday, November 10. His visit to UE's campus is being hosted by the Office of Veterans Affairs at the University. Bryan is a 2001 graduate of UE.
Bryan researches suicidal behaviors and suicide prevention strategies, and psychological health and resiliency. His techniques have been utilized by the US military. Currently Bryan serves as executive director for the National Center for Veterans Studies.
Highly sought after as a media source, Bryan has been frequently interviewed by such entities as the New York Times, Huffington Post, USA Today, Fox News, CNN, and Frontline.
The schedule of Bryan's visit to UE's campus on November 10 is as follows:
Interventions for Managing Suicide Risk through Crisis Response Planning
8:00-11:00 a.m. in Eykamp Hall, Ridgway University Center
This free workshop led by Bryan for area clinicians will utilize crisis response planning, a technique for managing suicide risk. Clinicians wishing to attend should contact CL29@evansville.edu or 812-488-2141. Deadline to register is November 1. This workshop is being co-sponsored by the VA Evansville Health Care Center, Deaconess Cross Pointe, St. Mary's Behavioral Health, and Brentwood Meadows.
Helping Others Hold On
6:00-7:00 p.m. in Room 170, Schroeder School of Business Building
No reservations are needed to attend this free, public presentation by Bryan on understanding the warning signs of suicide, interventions, and what can be done to help. While this lecture will be of interest to the general public, it will be especially informative for family members and friends of individuals at risk for suicide.
Bryan is a board-certified clinical psychologist in cognitive behavioral psychology, He earned his PsyD and MS degrees in clinical psychology from Baylor University, and his BS degree in psychology from UE.
In 2009, Bryan deployed to Iraq, where he was director of the Traumatic Brain Injury Clinic at the Air Force Theater Hospital. He later separated from Air Force active duty service. Bryan currently manages numerous federally-funded projects in excess of $10 million, which include testing cognitive behavioral treatments for suicidal service members, He is lead risk management consultant for the $25 million STRONG STAR Research Consortium investigating treatments for combat-related PTSD among military personnel.
Bryan is on the board of directors of the American Association for Suicidology. He is a consultant to the Department of Defense for psychological health promotion initiatives and suicide prevention, where he has briefed Congressional leaders on these topics.
He provides training to clinicians and medical professionals about managing suicidal patients. Bryan has written dozens of scientific publications and book chapters, and has authored many books, including Managing Suicide Risk in Primary Care, Cognitive-Behavioral Therapy for Preventing Suicide Attempts: A Guide to Brief Treatments Across Clinical Settings, and The Handbook of Psychosocial Interventions for Veterans and Service Members: A Guide for the Non-Military Mental Health Clinician.
For his contributions to primary care behavioral health and military suicide prevention, Bryan was recognized by the Society for Military Psychology with the Arthur W. Melton Award for Early Career Achievement.
For more information, call 812-488-2141 or e-mail CL29@evansville.edu.
Yazdanparast and Becker present at conference
Posted: August 23, 2016
Atefeh Yazdanparast, assistant professor of marketing, and Lora Becker, associate professor of psychology and neuroscience director, presented their global scholar study at the 2016 Global Marketing Conference at Hong Kong on July 21-24.
Their paper Emotions and cosmetic surgery motivations across cultures: A Neuromarketing investigation was presented in the Neuromarketing Science and Business Association/Global Research and Business Social Platform for Marketing and Management.
The conference boasted a representation of 51 countries.
Yazdanparast and Becker present global scholar study
Posted: August 19, 2016
Atefeh Yazdanparast, assistant professor of marketing, and Lora Becker, associate professor of psychology and neuroscience director, presented their global scholar study at the 2016 Global Marketing Conference at Hong Kong on July 21-24.
Their paper Emotions and cosmetic surgery motivations across cultures: A Neuromarketing investigation was presented in the Neuromarketing Science and Business Association/Global Research and Business Social Platform for Marketing and Management.
The conference boasted a representation of 51 countries.
UE Student Mackenzie Gammans Receives Senior Research Award
Posted: May 9, 2016
Senior sociology and psychology major Mackenzie Gammans was awarded the 2015-16 Hanns G. Pieper Senior Research Award in Sociology and Criminal Justice for her senior research project entitled, "Media and Stigma of Mental Illness."
The honor is awarded annually to the outstanding independent research project conducted, written, and presented by a student majoring in sociology, anthropology, gerontology, and criminal justice.
The award is named for emeritus professor of sociology Hanns Pieper, for his dedication to promoting independent student research in sociology and criminal justice at UE for over two decades.
UE Psychology Club Plans Parenting Panel Discussion on Thursday, November 12
Posted: November 6, 2015
The University of Evansville's Psychology Club will host a panel discussion on "The Psychology of Parenting," on Thursday, Nov 12, 7:00 p.m. in Room 170 (Smythe Lecture Hall) in the Schroeder Family School of Business Building. A panel of psychologists will be discussing parenting techniques and strategies, covering a range of issues parents typically encounter, and offering best-practice approaches. This event is free and open to the public.
UE Receives Ball Brothers Foundation Venture Fund Grant for New Neuromarketing Center
Posted: June 17, 2015
The University of Evansville has been awarded a Ball Brothers Foundation Venture Fund Grant of $22,000 for its newly instituted Neuromarketing Research Center. Through the Neuromarketing Research Center, interdisciplinary student teams serve clients by testing responses to various marketing elements and tactics using leading-edge neuroscience techniques.
"The Neuromarketing Research Center is a great example of the interdisciplinary training that occurs at the University of Evansville," says UE associate professor of psychology Lora Becker.
UE assistant professor of marketing Atefeh Yazdanparast explains that neuromarketing is a relatively new research discipline that combines neuroscience with marketing.
"This emerging field goes beyond traditional tools of research and focuses on consumers' reactions to marketing stimuli. We are proud to equip our students with neuromarketing research techniques, a valuable competitive edge in today's dynamic and highly competitive market."
The Neuromarketing Center is a part of the University's successful GAP program.
"In this program," explains Jill Griffin, executive director of the Institute for Global Enterprise, "undergraduates of all majors obtain real-world experience and build professional confidence while producing real results for actual companies."
UE vice president of marketing Don Jones adds that "students and their business clients will both benefit from the unique insights delivered through this innovative approach. The Neuromarketing Research Center will facilitate the convergence of the latest ideas from neuroscience applied to the most challenging opportunities for business."
The program will also offer opportunities for UE faculty and students to engage in neuromarketing research on a global level. Yazdanparast and Becker will kick off this global research with initial work in Australia and China this year.
The Ball Venture Fund was created in 1999 to enable the Ball Brothers Foundation to take an active role in encouraging and supporting creative efforts at Indiana's independent colleges and universities. The program, administered by the Independent Colleges of Indiana (ICI), provides seed money for innovative start-up programs at ICI member institutions.
The GAP Program is supported by a grant from Lilly Endowment Inc.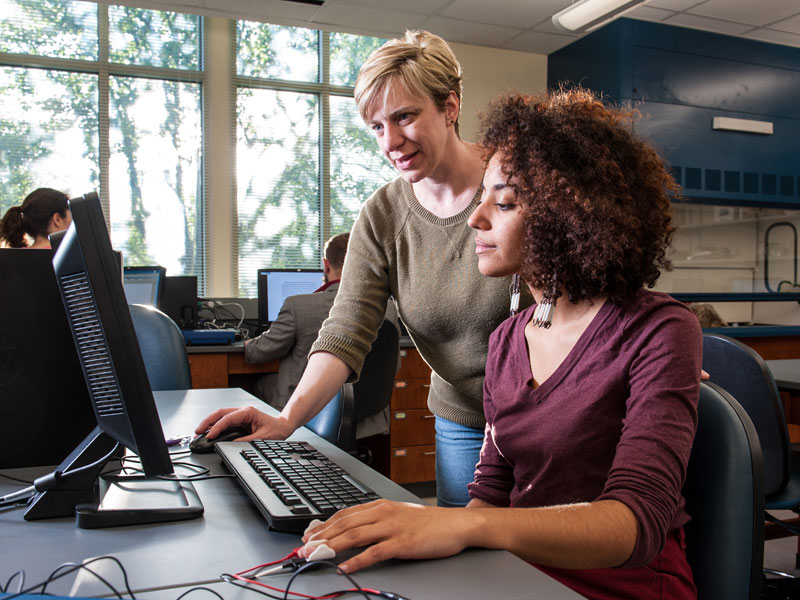 University of Evansville Announces Outstanding Teacher of the Year at 157th Commencement Ceremony
Posted: May 9, 2015
University of Evansville associate psychology professor Margaret Stevenson was named the 2015 Outstanding Teacher at the University during UE's 157th Commencement Exercises May 9.
Stevenson has been a professor at UE since 2008, teaching courses in such areas as social psychology, research methods in psychology, and psychology and the law. She serves as advisor to many psychology majors, advising and directing some in their research projects. Stevenson is a senior thesis mentor for many students, and co-faculty advisor for two UE student groups, Psi Chi and the Psychology Club.
She was honored with the Sydney and Sadelle Berger Award for Research in 2012, and the Association for Psychological Science RISE Research Award in 2011. In 2014, Stevenson was presented with the United Methodist Exemplary Teacher Award by the General Board of Higher Education and Ministry of the United Methodist Church. Stevenson is a past recipient of the American Psychological Association Division 37's Section on Child Maltreatment Early Career Award. She is a member of such professional organizations as the American Psychological Association, Society for the Psychological Study of Social Issues, and Society for Personality and Social Psychology. She serves on the editorial board for the Journal of Forensic Psychology and the International Journal of Psychological Studies.
At UE, Stevenson has been Honors Faculty Scholar in Residence, and has served on the Institutional Diversity Council, Honors Program committee, and General Education Subcommittee She has been the social sciences representative for UE Faculty Senate, as well as corresponding secretary and parliamentarian.
Stevenson earned her Ph.D. and Master of Arts in social psychology from the University of Illinois at Chicago. She received her Bachelor Science degree in psychology and her Bachelor of Science in French from Ohio State University.
U.S. Department of Defense using UE professor's suicide rate system
Posted: February 9, 2015
A new suicide rate system, created by Dr. Mark Kopta, UE professor of psychology, has been picked up by the U.S. Department of Defense. Kopta is founder and executive director of the CelestHealth Solutions Research Group which studies behavioral health as well as outcomes of psychotherapy treatment.
The Behavioral Health Measure-20 questionnaire uses 20 items to "comprehensively" assess mental health including depression, anxiety, eating disorders and bipolar disorder. It also features a "valid and reliable" color-coded suicide risk indicator that Kopta said rates patient risk at four levels — no risk, low, medium and high.
"The reason why they (U.S. Department of Defense) like it is because it's brief, at only 90 seconds ... And something that the military was very attracted to also was it has a suicide monitoring scale," Kopta said.
Click here for more information on this system in an article from the Evansville Courier and Press that features an in-depth interview with Dr. Kopta.
Mock Jurors Needed for University of Evansville Research Project
Posted: January 14, 2015
The University of Evansville's Psychology and Law Research Laboratory is looking for people to play mock jurors in a mock trial, as part of a grant-funded research project. Any U.S. citizen who is 18-years-old or older can participate. Those participating will receive $40 for their time.
The mock trial will last no more than two hours. All participants will read a description of a mock trial and watch video-taped evidence depicting an alleged murder. All participants will then deliberate as a group to attempt to reach a consensual verdict.
Those who would like to participate or who have questions, should contact research laboratory manager Evan McCracken at em157@evansville.edu.
University of Evansville Alumna to be Speaker at UE Crick Lecture
Posted: October 28, 2014
Emily Durbin, associate professor of psychology at Michigan State University and University of Evansville graduate, will return to UE as guest speaker for the November Crick Lecture in Cognitive and Neural Science. The event will be Wednesday, November 12, from 4:00-5:00 p.m., Room 100, Koch Center for Engineering and Science. This event is free and open to the public.
The topic of Durbin's lecture will be her research into the emotional life of children, which she studies in her lab at Michigan State (MSU Child Emotions Lab). Areas studied include temperamental differences in emotional experience and how these are related to the family environment and parents' personality and emotions.
Durbin earned her bachelor's degree from UE and her master's and PhD from State University of New York at Stony Brook.
Professor Kopta and UE Alumni Accomplishments
Posted: September 27, 2013
My CelestHealth Research Group (CHRG) has recently had papers published or in press for publication. Kopta et al (in press) is an especially interesting study. One of our recent graduates Danielle Raymond is a coauthor with counseling center Directors from Johns Hopkins University, Harvard University, and University of Minnesota as well as faculty from Marquette University. This study included a research sample of over 13,000 patients and 400 psychotherapists. Additionally, UE graduate Craig Bryan, who is now a professor at the University of Utah, is first author on another paper (Bryan, Kopta, & Lowes, 2012).
Stulz, N., Lutz, W., Kopta, S.M., Minami, T., & Saunders, S. (in press). The shape of the dose-effect relationship in outpatient psychotherapy: Does treatment duration matter? Journal of Counseling Psychology.
Kopta, S.M., Petrik, M., Saunders, S., Mond, M., Hirsch, G., Kadison, R., and Raymond, D. (in press). The utility of an efficient outcomes assessment system at university counseling centers. Journal of College Student Psychotherapy.
Budge, S.L., Owen, J.J., Kopta, S.M., Minami, T., Hanson, M.R., & Hirsch, G. (2013). Differences among trainees in client outcomes associated with the phase model of change. Psychotherapy, 50, 150-157.
Bryan, C.J., Kopta, S.M., & Lowes, B.D. (2012). The CelestHealth System. Integrating Science and Practice, 2, 7-11.
Professor Maggie Stevenson, Along with UE Alums as Co-authors, Have Published Three New Articles
Posted: September 26, 2013
Assistant Professor of Psychology Maggie Stevenson has recently published three journal articles. One manuscript, titled "Socioeconomic Status Influences Perceptions of Juvenile Offenders Tried in Adult Court" was published in the current issue of Psychology, Crime, and Law (vol. 9) and is co-authored with a UE psychology major alum, Katlyn Farnum (Sorenson), who is currently a doctoral student of psychology at the University of Nebraska, Lincoln.
Another paper, titled "Knowledge of Juvenile Sex Offender Registration Laws Predicts Adolescent Sexual Behavior," was published in The Journal of Child Sexual Abuse (vol. 22). Stevenson published a third journal article in the same journal (vol. 22) titled "Predictors of Public Support for Juvenile Sex Offender Registration: Educated Individuals Recognize the Flaws of Juvenile Registration Policies." This manuscript included three UE psychology major alum co-authors Amy Smith, Ady Sekley, and Katlyn Farnum (Sorenson)