University of Evansville Unveils State-of-the-Art Mental Health and Wellness Clinic
Posted: November 17, 2023
In a landmark dedication ceremony on Friday, the University of Evansville (UE) proudly introduced its cutting-edge Mental Health and Wellness Clinic, solidifying its commitment to addressing critical mental health challenges in the Evansville community. This groundbreaking initiative, developed in collaboration with Easterseals, includes the Emily M. Young Assessment Center, a comprehensive facility equipped to provide advanced therapy and assessment services.
"UE's Mental Health and Wellness Clinic, is a testament to our unwavering commitment to our Evansville community," said Christopher M. Pietruszkiewicz, President of the University of Evansville. "This state-of-the-art facility, along with the Emily M. Young Assessment Center, marks a significant stride towards a brighter and promising future for individuals and families grappling with mental health concerns."
At the heart of the clinic is the Emily M. Young Assessment Center, a specialized facility furnished with cutting-edge equipment and materials essential for sophisticated testing. This includes computers, software, recording devices, white noise machines, and testing kits. The Assessment Center will play a central role in diagnosing and treating mental health conditions by offering a range of assessment measures, including outcome questionnaires, personality testing, psychopathology measures, and cognitive functioning assessments. The center is named in honor of the late Emily Young, the daughter of the Honorable Richard L. and Roseann Young.
Operated by 10-15 students annually from the University of Evansville's Doctor of Psychology clinical degree program, under the supervision of a licensed clinical psychologist, the clinic will provide crucial therapy and assessment services to the Evansville community. The services, offered on a monthly basis, will focus on conditions such as ADHD, depression, bipolar disorder, intellectual functioning, and personality functioning.
"The Emily M. Young Assessment Center serves as an invaluable resource for the Evansville community, addressing the pressing need for comprehensive mental health assessments for both children and adults," noted Pietruszkiewicz. "This educational training clinic will play a pivotal role in not only diagnosing psychological disorders but also in guiding effective treatment, ultimately contributing to the overall mental health and well-being of our community."
Community members interested in giving to the Mental Health and Wellness Clinic can visit www.uealumnionline.com/mentalhealth.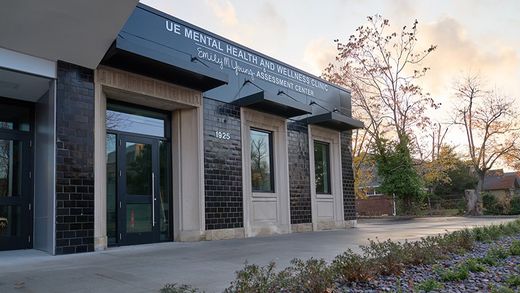 Stevenson published Oxford University Press edited book
Posted: May 20, 2020
Associate Professor of Psychology, Margaret Stevenson, and her colleagues, Bette Bottoms and Kelly Burke, published an Oxford University Press edited volume available for pre-order and in print July 1, 2020: "The Legacy of Racism for Children: Psychology, Law, and Public Policy."
This volume examines issues that arise when minority children's lives are directly or indirectly influenced by law and public policy. Uniquely comprehensive in scope, this trailblazing volume offers cutting-edge chapters on the intersections of race/ethnicity within the context of child maltreatment, child dependency court, custody and adoption, familial incarceration, school discipline and the "school-to-prison pipeline," juvenile justice, police/youth interactions, and jurors' perceptions of child and adolescent victims and defendants. The book also includes chapters focused on troubling situations that are less commonly researched, but growing in importance, including the role of race and racism in child sex trafficking and US immigration law and policy. Thus, individual chapters explore myriad ways in which law and policy shape the lives of marginalized children and adolescents - racial and ethnic minorities - who historically and presently are at heightened risk for experiencing disadvantageous consequences of law and policy. In so doing, The Legacy of Racism for Children can help social scientists to understand and work to prevent the perpetuation of racial discrimination in American laws and public policies.
Dr. Kopta's CelestHealth Research Group Publishes Two Research Studies and Presents Three Papers Regarding Psychotherapy Outcomes
Posted: November 6, 2019
Dr. Mark Kopta, Department of Psychology, and colleagues from other universities have had psychotherapy research studies published in the Journal of Consulting and Clinical Psychology and Journal of College Student Psychotherapy. Also three other studies were recently presented at the American Psychological Association conference in Chicago. Dr. Kopta is Founder and Executive Director of the CelestHealth Research Group.
UE Graduate and Professor Publish Research on Predictors of Teachers' Intentions to Report Suspected Child Abuse
Posted: September 17, 2019
UE graduate Tess Hupe, Class of 2018, and Dr. Margaret Stevenson, UE associate professor of psychology, recently published research in the Journal of Child Custody titled "Teachers' Intentions to Report Suspected Child Abuse: The Influence of Compassion Fatigue." This research was previously awarded an Outstanding Student Paper Award from Division 41 of the American Psychological Association, the American Psychology and Law Society (AP-LS), and was ranked in the top 20 papers presented at the 2018 AP-LS conference.
Their research reflects one of the few studies to explore teachers' and school administrators' (N = 299) knowledge of abuse reporting policy and their self-reported intentions to report hypothetical instances of suspected child abuse – research questions with relevance to policy given that teachers are legally mandated to report suspected child abuse. Moreover, the authors also explored the relationship between compassion fatigue (i.e., job burnout and secondary traumatic stress stemming from vicarious exposure to client trauma) and teachers' attitudes toward reporting suspected child abuse. They found that a significant minority of teachers indicated that they would not report suspected child abuse – a finding that held even after eliminating the 10.3% of teachers who were unaware of policy requiring teachers to report suspected child abuse. Supporting hypotheses, as compassion fatigue increased, negative attitudes toward child abuse reporting significantly increased. Additionally, increased compassion fatigue was significantly associated with increased job efficacy cynicism, psychological detachment from students, and diminished knowledge about reporting child abuse – all factors that statistically explained the relationship between compassion fatigue and negative attitudes toward reporting suspected abuse. As the results of their research suggest, teacher compassion fatigue not only reflects the suffering of teachers, but it can also indirectly contribute to lack of intervention for child victims of abuse, in turn, perpetuating child suffering.
The full paper is available online.
Stevenson and students present research at Midwestern Psychological Association Conference
Posted: April 23, 2019
University of Evansville students Luci Hulsman, Katelyn Parmenter, Lilee Robinson, and Allie Winstead, all majoring in psychology, and UE associate professor of psychology Margaret Stevenson recently attended the Midwestern Psychological Association conference in Chicago.
Stevenson developed and chaired a symposium session titled "Applying Psychological Theory to Legal Decisions."
Within this session, Molly Elfriech (Holly's House forensic interviewer) and Stevenson presented work entitled "Effects of Abuse Prevention Program on Abuse Disclosure and Substantiation," which reflects analysis of over 400 children who received forensic interviews at Holly's House for sexual abuse investigations. Their promising results reveal that children exposed to an abuse prevention program employed throughout Evansville schools are more likely to disclose abuse during forensic interviews, and in turn, their abuse is more likely to be substantiated in court. Winstead and Parmenter co-authored this research presentation.
Winstead presented the results of her senior thesis, titled "Effects of Race on Allocation of Protective Orders," which revealed that Black victims of domestic violence are less likely to receive temporary protective orders than White victims, even after controlling for likely confounds, including offense severity, prior offenses, etc.
Stevenson also presented a talk titled, "Understanding How Jurors Deliberate About a Defendant's Coerced Confession," which was co-authored with several UE alum, including Evan McCracken and Tyler Plogher. They found that a substantial proportion of jurors will discuss a coerced (and false) confession in ways favoring conviction, attributing guilt to a defendant who actually confessed to a crime he did not commit.
Hulsman and Robinson presented a talk titled, "Effects of Physician Gender on Medical Malpractice Case Outcomes." This pilot research revealed tentative, possible evidence of bias against female physicians in medical malpractice law suits – effects they are continuing to explore in subsequent grant-funded research.
Ian Manuel to speak at UE on October 22
Posted: October 5, 2018
Ian Manuel will speak at the University of Evansville on Monday, October 22. The lecture, which is free and open to the public, begins at 7:00 p.m. in Eykamp Hall room 251 within Ridgway University Center. Manuel will be discussing his experience of being sentenced to life imprisonment as a juvenile and his eventual release through the help of his victim turned advocate and the Equal Justice Initiative.
Manuel was 13 years old when he was sentenced to life for shooting Debbie Baigre, a young, white woman. He served 26 years of his sentence, much of it in solitary confinement due to his young age. Baigre became his supporter and friend, advocating for his early release. On November 10, 2016, Manuel was released from prison at the age of 40. His case paved the way for other groundbreaking legislation prohibiting life sentences for juveniles convicted of non-homicide offenses (Graham v. Florida, 2010). All juveniles sentenced to life in prison at that time in the US for non-homicide cases were children of color.
Manuel's remarkable story is included in the bestselling book Just Mercy: A Story of Justice and Redemption, written by Bryan Stevenson, founder of the Equal Justice Initiative.
This event is co-sponsored by the University's Psychology Club, Student Government Association, the Black Student Union, and the Department of Law, Politics, and Society.
Becker elected to Honor Society of Phi Kappa Phi Board of Directors
Posted: August 20, 2018
Lora Becker, professor of psychology at the University of Evansville, was recently elected to serve on the board of directors for The Honor Society of Phi Kappa Phi - the nation's oldest and most selective collegiate honor society for all academic disciplines.
The election took place August 4 during the Society's Biennial Convention in Minneapolis, Minnesota.
In this role, Becker will represent the membership of Phi Kappa Phi while also working to support the mission and goals of the Society. She will serve a two-year term during the 2018-2020 biennium.
Becker has been an active leader of Phi Kappa Phi at the local and national levels since 2014. She has held a number of roles within the University of Evansville chapter of Phi Kappa Phi, including president, a position she assumed in 2015. Becker was also chair of the 2016 Biennial Convention Credentials Committee for Phi Kappa Phi and most recently served as chair of the national Bylaws Committee for the 2016-18 biennium.
Becker received her B.S in biology and psychology from Wright State University. She earned her M.A. in psychobiology and Ph.D. in behavioral neuroscience from State University of New York at Binghamton.
Phi Kappa Phi was founded in 1897. Membership is by invitation only to the top 10 percent of seniors and graduate students and 7.5 percent of juniors. Faculty, professional staff and alumni who have achieved scholarly distinction also qualify. Some of the organization's notable members include former President Jimmy Carter, retired NASA astronaut Wendy Lawrence, novelist John Grisham and YouTube co-founder Chad Hurley. Each year, Phi Kappa Phi awards nearly $1 million to outstanding students and members through graduate fellowships, study abroad grants, member and chapter awards, and grants for local, national and international literacy initiatives. For more information, visit www.phikappaphi.org.
Stevenson co-edits and publishes book on issues facing criminal juries
Posted: August 20, 2018
Maggie Stevenson, University of Evansville associate professor of psychology, and Cynthia Najdowski, assistant professor at the University at Albany, have co-edited and published a book titled Criminal Juries in the 21st Century: Psychological Science and the Law. The book is part of the American Psychology-Law Society Series and was published by Oxford University Press.
This book explores the increasingly wide gulf between criminal trial law, procedures, and policy, and what scientific findings have revealed about the human experience of serving as a juror. It provides a unique view of criminal juries with the goal of increasing awareness of a broad range of current issues in great need of theoretical, empirical, and legal attention. It also identifies how social science research can inform law and policy relevant to improving justice within the jury system.
Stevenson has published over 30 peer-reviewed articles and book chapters related to factors that shape juror decision making and the nature of jury deliberations. She also explores perceptions of marginalized individuals, including children and minorities, who enter the legal system, either as victims or as perpetrators of crime. Her research has received grants and awards from divisions of the American Psychological Association.
Najdowski's research explores how social psychological phenomena shape criminal justice interactions in ways that produce miscarriages of justice for minorities, women, and children. Her work has been recognized with several national grants and awards and published in the top-ranked journals in the field of psychology and law.
Dion interviewed by Courier & Press about 8th District candidates
Posted: February 15, 2018
Robert Dion, chair for law, politics, and society, was interviewed by the Evansville Courier & Press about the sudden exit of two 8th District Democratic congressional candidates this week. You can read the article on the Courier website.
UE Professor Lora Becker Receives University's Eykamp Prize at Commencement
Posted: May 6, 2017
University of Evansville associate professor of psychology and director of the neuroscience program Lora Becker was named the recipient of the 2017 Eykamp Prize during the University's 159th Commencement exercises. Becker is the second recipient of the honor.
The award was established through the generosity the Eykamp family as a way to recognize extraordinary contributions made by UE faculty to the University.
Becker came to the University of Evansville nearly 18 years ago from the State University of New York-Binghamton where she earned a Master of Arts degree in psychology-psychobiology and a PhD in psychology-behavioral neuroscience. She earned a Bachelor of Science dual degree in biology and psychology from Wright State University.
At UE, she has been named a Global Scholar, and she is passionately involved in the GAP Program that focuses on neuromarketing. Becker directed the summer reading program for several years as well as the major discovery program for undeclared students. She is known for reaching across campus to all departments, schools, and colleges to develop curriculum and undergraduate research opportunities.
On presenting Becker with the award, Rita Eykamp noted that Becker "exemplifies the goals of this award and has displayed extraordinary service to UE. She mentors students while taking a genuine personal interest in their success; and she is known for supporting the mission of the University through participation on campus committees and attending campus events."
Becker wins mentor award
Posted: November 16, 2016
Associate professor of psychology Lora Becker has been awarded the Faculty for Undergraduate Neuroscience (FUN) Distinguished Mentor Award for 2016. The award was given at this year's FUN meeting during the 2016 Society for Neuroscience conference in San Diego.
Becker, UE alumnus, and UE students present research at SfN
Posted: November 16, 2016
Associate professor of psychology Lora Becker and B. J. Miller '16 (currently in graduate school at St. Louis College of Pharmacy), Victor Deere '16, Kay Sheets, '17, Nehchal Bedi '17, and Keeton Mays '18 presented "The Addictive Potential of Artificial Sweeteners" at the Society for Neuroscience, which boasted over 30,000 attendees this year. This work was supported by the Department of Psychology and Neuroscience.
UE to Bring Nationally Known Suicide Researcher Craig Bryan to Evansville
Posted: October 20, 2016
Craig Bryan, prominent suicide researcher and leading national expert on military suicide, will be speaking and leading a workshop for clinicians at the University of Evansville on Thursday, November 10. His visit to UE's campus is being hosted by the Office of Veterans Affairs at the University. Bryan is a 2001 graduate of UE.
Bryan researches suicidal behaviors and suicide prevention strategies, and psychological health and resiliency. His techniques have been utilized by the US military. Currently Bryan serves as executive director for the National Center for Veterans Studies.
Highly sought after as a media source, Bryan has been frequently interviewed by such entities as the New York Times, Huffington Post, USA Today, Fox News, CNN, and Frontline.
The schedule of Bryan's visit to UE's campus on November 10 is as follows:
Interventions for Managing Suicide Risk through Crisis Response Planning
8:00-11:00 a.m. in Eykamp Hall, Ridgway University Center
This free workshop led by Bryan for area clinicians will utilize crisis response planning, a technique for managing suicide risk. Clinicians wishing to attend should contact CL29@evansville.edu or 812-488-2141. Deadline to register is November 1. This workshop is being co-sponsored by the VA Evansville Health Care Center, Deaconess Cross Pointe, St. Mary's Behavioral Health, and Brentwood Meadows.
Helping Others Hold On
6:00-7:00 p.m. in Room 170, Schroeder School of Business Building
No reservations are needed to attend this free, public presentation by Bryan on understanding the warning signs of suicide, interventions, and what can be done to help. While this lecture will be of interest to the general public, it will be especially informative for family members and friends of individuals at risk for suicide.
Bryan is a board-certified clinical psychologist in cognitive behavioral psychology, He earned his PsyD and MS degrees in clinical psychology from Baylor University, and his BS degree in psychology from UE.
In 2009, Bryan deployed to Iraq, where he was director of the Traumatic Brain Injury Clinic at the Air Force Theater Hospital. He later separated from Air Force active duty service. Bryan currently manages numerous federally-funded projects in excess of $10 million, which include testing cognitive behavioral treatments for suicidal service members, He is lead risk management consultant for the $25 million STRONG STAR Research Consortium investigating treatments for combat-related PTSD among military personnel.
Bryan is on the board of directors of the American Association for Suicidology. He is a consultant to the Department of Defense for psychological health promotion initiatives and suicide prevention, where he has briefed Congressional leaders on these topics.
He provides training to clinicians and medical professionals about managing suicidal patients. Bryan has written dozens of scientific publications and book chapters, and has authored many books, including Managing Suicide Risk in Primary Care, Cognitive-Behavioral Therapy for Preventing Suicide Attempts: A Guide to Brief Treatments Across Clinical Settings, and The Handbook of Psychosocial Interventions for Veterans and Service Members: A Guide for the Non-Military Mental Health Clinician.
For his contributions to primary care behavioral health and military suicide prevention, Bryan was recognized by the Society for Military Psychology with the Arthur W. Melton Award for Early Career Achievement.
For more information, call 812-488-2141 or e-mail CL29@evansville.edu.
Yazdanparast and Becker present at conference
Posted: August 23, 2016
Atefeh Yazdanparast, assistant professor of marketing, and Lora Becker, associate professor of psychology and neuroscience director, presented their global scholar study at the 2016 Global Marketing Conference at Hong Kong on July 21-24.
Their paper Emotions and cosmetic surgery motivations across cultures: A Neuromarketing investigation was presented in the Neuromarketing Science and Business Association/Global Research and Business Social Platform for Marketing and Management.
The conference boasted a representation of 51 countries.
Yazdanparast and Becker present global scholar study
Posted: August 19, 2016
Atefeh Yazdanparast, assistant professor of marketing, and Lora Becker, associate professor of psychology and neuroscience director, presented their global scholar study at the 2016 Global Marketing Conference at Hong Kong on July 21-24.
Their paper Emotions and cosmetic surgery motivations across cultures: A Neuromarketing investigation was presented in the Neuromarketing Science and Business Association/Global Research and Business Social Platform for Marketing and Management.
The conference boasted a representation of 51 countries.
UE Student Mackenzie Gammans Receives Senior Research Award
Posted: May 9, 2016
Senior sociology and psychology major Mackenzie Gammans was awarded the 2015-16 Hanns G. Pieper Senior Research Award in Sociology and Criminal Justice for her senior research project entitled, "Media and Stigma of Mental Illness."
The honor is awarded annually to the outstanding independent research project conducted, written, and presented by a student majoring in sociology, anthropology, gerontology, and criminal justice.
The award is named for emeritus professor of sociology Hanns Pieper, for his dedication to promoting independent student research in sociology and criminal justice at UE for over two decades.
UE Psychology Club Plans Parenting Panel Discussion on Thursday, November 12
Posted: November 6, 2015
The University of Evansville's Psychology Club will host a panel discussion on "The Psychology of Parenting," on Thursday, Nov 12, 7:00 p.m. in Room 170 (Smythe Lecture Hall) in the Schroeder Family School of Business Building. A panel of psychologists will be discussing parenting techniques and strategies, covering a range of issues parents typically encounter, and offering best-practice approaches. This event is free and open to the public.
UE Receives Ball Brothers Foundation Venture Fund Grant for New Neuromarketing Center
Posted: June 17, 2015
The University of Evansville has been awarded a Ball Brothers Foundation Venture Fund Grant of $22,000 for its newly instituted Neuromarketing Research Center. Through the Neuromarketing Research Center, interdisciplinary student teams serve clients by testing responses to various marketing elements and tactics using leading-edge neuroscience techniques.
"The Neuromarketing Research Center is a great example of the interdisciplinary training that occurs at the University of Evansville," says UE associate professor of psychology Lora Becker.
UE assistant professor of marketing Atefeh Yazdanparast explains that neuromarketing is a relatively new research discipline that combines neuroscience with marketing.
"This emerging field goes beyond traditional tools of research and focuses on consumers' reactions to marketing stimuli. We are proud to equip our students with neuromarketing research techniques, a valuable competitive edge in today's dynamic and highly competitive market."
The Neuromarketing Center is a part of the University's successful GAP program.
"In this program," explains Jill Griffin, executive director of the Institute for Global Enterprise, "undergraduates of all majors obtain real-world experience and build professional confidence while producing real results for actual companies."
UE vice president of marketing Don Jones adds that "students and their business clients will both benefit from the unique insights delivered through this innovative approach. The Neuromarketing Research Center will facilitate the convergence of the latest ideas from neuroscience applied to the most challenging opportunities for business."
The program will also offer opportunities for UE faculty and students to engage in neuromarketing research on a global level. Yazdanparast and Becker will kick off this global research with initial work in Australia and China this year.
The Ball Venture Fund was created in 1999 to enable the Ball Brothers Foundation to take an active role in encouraging and supporting creative efforts at Indiana's independent colleges and universities. The program, administered by the Independent Colleges of Indiana (ICI), provides seed money for innovative start-up programs at ICI member institutions.
The GAP Program is supported by a grant from Lilly Endowment Inc.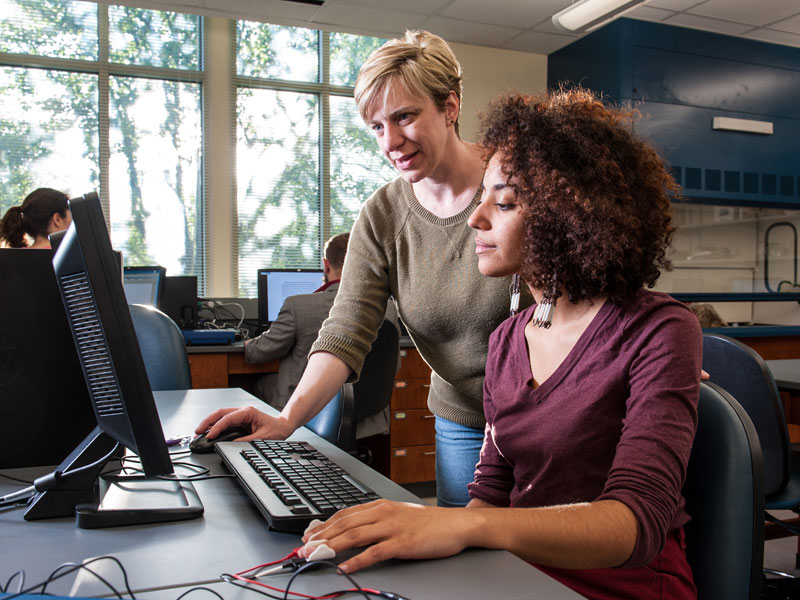 University of Evansville Announces Outstanding Teacher of the Year at 157th Commencement Ceremony
Posted: May 9, 2015
University of Evansville associate psychology professor Margaret Stevenson was named the 2015 Outstanding Teacher at the University during UE's 157th Commencement Exercises May 9.
Stevenson has been a professor at UE since 2008, teaching courses in such areas as social psychology, research methods in psychology, and psychology and the law. She serves as advisor to many psychology majors, advising and directing some in their research projects. Stevenson is a senior thesis mentor for many students, and co-faculty advisor for two UE student groups, Psi Chi and the Psychology Club.
She was honored with the Sydney and Sadelle Berger Award for Research in 2012, and the Association for Psychological Science RISE Research Award in 2011. In 2014, Stevenson was presented with the United Methodist Exemplary Teacher Award by the General Board of Higher Education and Ministry of the United Methodist Church. Stevenson is a past recipient of the American Psychological Association Division 37's Section on Child Maltreatment Early Career Award. She is a member of such professional organizations as the American Psychological Association, Society for the Psychological Study of Social Issues, and Society for Personality and Social Psychology. She serves on the editorial board for the Journal of Forensic Psychology and the International Journal of Psychological Studies.
At UE, Stevenson has been Honors Faculty Scholar in Residence, and has served on the Institutional Diversity Council, Honors Program committee, and General Education Subcommittee She has been the social sciences representative for UE Faculty Senate, as well as corresponding secretary and parliamentarian.
Stevenson earned her Ph.D. and Master of Arts in social psychology from the University of Illinois at Chicago. She received her Bachelor Science degree in psychology and her Bachelor of Science in French from Ohio State University.
U.S. Department of Defense using UE professor's suicide rate system
Posted: February 9, 2015
A new suicide rate system, created by Dr. Mark Kopta, UE professor of psychology, has been picked up by the U.S. Department of Defense. Kopta is founder and executive director of the CelestHealth Solutions Research Group which studies behavioral health as well as outcomes of psychotherapy treatment.
The Behavioral Health Measure-20 questionnaire uses 20 items to "comprehensively" assess mental health including depression, anxiety, eating disorders and bipolar disorder. It also features a "valid and reliable" color-coded suicide risk indicator that Kopta said rates patient risk at four levels — no risk, low, medium and high.
"The reason why they (U.S. Department of Defense) like it is because it's brief, at only 90 seconds ... And something that the military was very attracted to also was it has a suicide monitoring scale," Kopta said.
Click here for more information on this system in an article from the Evansville Courier and Press that features an in-depth interview with Dr. Kopta.
Mock Jurors Needed for University of Evansville Research Project
Posted: January 14, 2015
The University of Evansville's Psychology and Law Research Laboratory is looking for people to play mock jurors in a mock trial, as part of a grant-funded research project. Any U.S. citizen who is 18-years-old or older can participate. Those participating will receive $40 for their time.
The mock trial will last no more than two hours. All participants will read a description of a mock trial and watch video-taped evidence depicting an alleged murder. All participants will then deliberate as a group to attempt to reach a consensual verdict.
Those who would like to participate or who have questions, should contact research laboratory manager Evan McCracken at em157@evansville.edu.
University of Evansville Alumna to be Speaker at UE Crick Lecture
Posted: October 28, 2014
Emily Durbin, associate professor of psychology at Michigan State University and University of Evansville graduate, will return to UE as guest speaker for the November Crick Lecture in Cognitive and Neural Science. The event will be Wednesday, November 12, from 4:00-5:00 p.m., Room 100, Koch Center for Engineering and Science. This event is free and open to the public.
The topic of Durbin's lecture will be her research into the emotional life of children, which she studies in her lab at Michigan State (MSU Child Emotions Lab). Areas studied include temperamental differences in emotional experience and how these are related to the family environment and parents' personality and emotions.
Durbin earned her bachelor's degree from UE and her master's and PhD from State University of New York at Stony Brook.
Professor Kopta and UE Alumni Accomplishments
Posted: September 27, 2013
My CelestHealth Research Group (CHRG) has recently had papers published or in press for publication. Kopta et al (in press) is an especially interesting study. One of our recent graduates Danielle Raymond is a coauthor with counseling center Directors from Johns Hopkins University, Harvard University, and University of Minnesota as well as faculty from Marquette University. This study included a research sample of over 13,000 patients and 400 psychotherapists. Additionally, UE graduate Craig Bryan, who is now a professor at the University of Utah, is first author on another paper (Bryan, Kopta, & Lowes, 2012).
Stulz, N., Lutz, W., Kopta, S.M., Minami, T., & Saunders, S. (in press). The shape of the dose-effect relationship in outpatient psychotherapy: Does treatment duration matter? Journal of Counseling Psychology.
Kopta, S.M., Petrik, M., Saunders, S., Mond, M., Hirsch, G., Kadison, R., and Raymond, D. (in press). The utility of an efficient outcomes assessment system at university counseling centers. Journal of College Student Psychotherapy.
Budge, S.L., Owen, J.J., Kopta, S.M., Minami, T., Hanson, M.R., & Hirsch, G. (2013). Differences among trainees in client outcomes associated with the phase model of change. Psychotherapy, 50, 150-157.
Bryan, C.J., Kopta, S.M., & Lowes, B.D. (2012). The CelestHealth System. Integrating Science and Practice, 2, 7-11.
Professor Maggie Stevenson, Along with UE Alums as Co-authors, Have Published Three New Articles
Posted: September 26, 2013
Assistant Professor of Psychology Maggie Stevenson has recently published three journal articles. One manuscript, titled "Socioeconomic Status Influences Perceptions of Juvenile Offenders Tried in Adult Court" was published in the current issue of Psychology, Crime, and Law (vol. 9) and is co-authored with a UE psychology major alum, Katlyn Farnum (Sorenson), who is currently a doctoral student of psychology at the University of Nebraska, Lincoln.
Another paper, titled "Knowledge of Juvenile Sex Offender Registration Laws Predicts Adolescent Sexual Behavior," was published in The Journal of Child Sexual Abuse (vol. 22). Stevenson published a third journal article in the same journal (vol. 22) titled "Predictors of Public Support for Juvenile Sex Offender Registration: Educated Individuals Recognize the Flaws of Juvenile Registration Policies." This manuscript included three UE psychology major alum co-authors Amy Smith, Ady Sekley, and Katlyn Farnum (Sorenson)
Stevenson, Mohn Named 2012 Berger Award Winners
Posted: August 14, 2012
Margaret C. Stevenson and Mary C. Mohn have been named the winners of the 2012 Sydney and Sadelle Berger Awards, presented each year to members of the University of Evansville faculty who demonstrate exceptional scholarly activity and service.
Stevenson, an assistant professor of psychology, received the award for scholarship, and Mohn, an associate professor of Spanish, earned the award for service. Charlie Berger, a 1969 UE graduate and local attorney with the law firm Berger & Berger, presented both awards today at the University's annual Fall Faculty and Administrators Conference.
Stevenson, the winner of the award for scholarship, is early in her academic career, but has already proven herself a prolific author of journal articles, chapters, and other publications. She has also completed nearly 50 conference presentations, many of them with UE students.
Her research focuses on the intersection of children, psychology, and the law, and she has won awards from several organizations in her field. Most recently, she received the Association for Psychological Science's RISE UP Award for a study on anti-Arab prejudice and stereotypes. The award recognizes outstanding research on socially and economically underrepresented populations.
Stevenson serves as director of UE's Psychology and Law laboratory, and is an academic advisor and senior thesis mentor for psychology majors. She holds a PhD in social psychology from the University of Illinois at Chicago, and she joined the UE faculty in 2008.
Mohn, who won the award for service, has been instrumental in helping the University recruit outstanding students and faculty, and in building connections between UE and the community.
She has served on the University's admissions and standards committee since 2007, chaired the curriculum committee for several years, and has participated in numerous search committees for tenure-track faculty positions in the Department of Foreign Languages. She also serves as a member of UE's assessment committee and chairs the popular Andiron Lecture Series in the liberal arts and sciences.
Mohn received the Dean's Teaching Award for UE's College of Arts and Sciences in 2010, and this past year, she was appointed director of the new general education program. She earned her PhD in Spanish from the University of Kansas and has been with the University of Evansville since 2005.
The Berger Awards are presented annually in memory of Sadelle and Sydney Berger. Sadelle was a UE graduate and lifelong member of the Academy of Arts and Sciences at UE, while Sydney was a well-known local attorney. Both dedicated their lives to public service. The Berger family established the endowment to give recognition to faculty at the University of Evansville.