Graduates will have the background necessary to work with the mentally ill, disabled, or those who abuse alcohol or drugs. Graduates are also qualified for positions in marketing, business management, industry, juvenile justice or prison systems, public relations, and many other fields. A UE psychology degree forms an excellent starting point for advanced studies in medicine, law, education, social work, and psychology.
Faculty are dedicated to the personal and professional success of it students. During their four years at UE, students will have a faculty guide to develop a clear picture of what they hope to accomplish after graduation and the best way to prepare for that goal.
Settings in which Psychologists work:

Alumni Profiles
Diego Villada
Class of 2006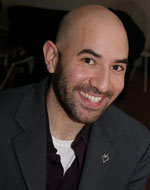 Diego Villada is the Director of Marketing & Communications at 3LD Art & Technology Centre in downtown manhattan. He is a New York City based theatre artist and scholar. His production work and academic research focuses on movement for the stage. Aside from being a theatre director, Diego is also an accomplished fight choreographer. He has taught, performed, directed and/or choreographed on the east coast and around the world with, Hostos Repertory Theatre, Nuyorican Poets Cafe, 3-Legged Dog Media & Theatre Group, Gallery Players, Chautauqua Theater Company, New Prospectives Theatre Company, The Barksdale Theater (Richmond, VA), & The Conciliation Project (Richmond, VA). He teaches Movement at The Lee Strasberg Theatre & Film Institute as well as undergraduate theatre courses for two campuses of the City University of New York. Honors BS from the University of Evansville in both Psychology and Theatre Performance. MFA from Virginia Commonwealth University.
Craig Bryan
Class of 2001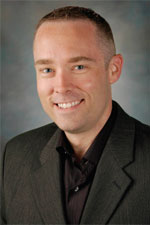 It was during Craig Bryan's senior year at the University of Evansville that he began to fully develop his career path. "Dr. Kopta encouraged me to apply to graduate school and helped me determine which graduate degree to pursue. I'm grateful for his proactive interest and investment in my continuing education. I often say that I learned 'about' psychology at UE, which paved the road for me to learn how to 'do' psychology in graduate school."
After earning a Doctor of Psychology from Baylor University, Craig served as an active duty psychologist in the U.S. Air Force for four years. As the chief of primary care psychology at Kelly Family Medicine Clinic on Lackland Air Force Base, Craig provided consultation regarding psychological and behavioral aspects of health (e.g., depression and anxiety, fibromyalgia, diabetes, chronic pain). He also trained psychologists and social workers to integrate their services into family medicine clinics, served as a suicide prevention program manager, and was a faculty member in the Department of Psychology at Wilford Hall Medical Center. During his military career, Craig deployed to Iraq for six months to assist with Operation Iraqi Freedom, where he ran a traumatic brain injury clinic, responsible for cognitive assessment and treatment for all service members sustaining concussions secondary to battle and non-battle injuries. "Psychologists play a significant role in deployed locations not only for combat stress support but also for neuropsychological screening and dispositional decisions. We use testing to measure attention deficits, memory impairment, and other functional problems associated with mild traumatic brain injuries that do not show up on MRIs or other imaging devices." His innovative work in the area of PTSD prevention while deployed has garnered widespread recognition, and has significantly impacted mental health service delivery within the military.
In his position as assistant professor of research at the University of Texas Health Science Center at San Antonio, Craig focuses on researching suicidal behaviors and treatment outcomes. Currently, he is conducting a clinical trial to test new cognitive-behavioral treatments to reduce suicide attempt rates among military members, as well as identify reliable short-term indicators of suicide risk. His research and work has established him as a leader in understanding military suicide. In collaboration with UE faculty member Mark Kopta, Craig continues to research primary care behavioral health outcomes, which has contributed to improved understanding of the effectiveness of brief behavioral interventions in medical settings.