Undergraduate Research
The Department of Psychology offers students opportunities to work directly with faculty members on a variety of research projects. Research provides you with one means to gain hands-on experience in the field of psychology while building your resume for graduate school of future career. UE psychology students have presented research findings at international conferences and have coauthored papers published in prestigious academic journals. UE supports undergraduate research through the competitive UExplore Undergraduate Research Program offering grants to support projects. The faculty also encourages students to apply for REU positions, which are paid summer research projects at universities around the country.
Internships
The University of Evansville stresses the value of real-world experience in helping students prepare for their future careers and educational goals. The Department of Psychology heartily supports this mission by offering an internship in psychology as an elective course during the senior year. Students are able to experience their career interests first hand, and many students have been able to turn their internship experiences into jobs. While not required for graduation, an internship provides students with a powerful means of setting themselves apart from their competitors. Each student's experience is tailored as much as possible to satisfy his or her future goals. Recent placements have included:
Area businesses and law enforcement and correctional settings
Student Profile
Amy Smith
St. Louis, Missouri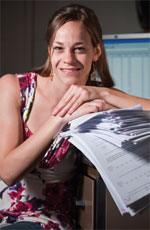 The ability to work closely with psychology faculty members has allowed Amy Smith to fully define her career goals. "When I came to UE, I wasn't certain what I wanted to do with a major in psychology. It's important for students interested in studying psychology to know that each professor in the department is willing to help make every student's experience positive. Even when a student is unsure of his career path, as I was, the professors and advisors are wonderful about giving advice and steering students in the right direction."
Amy made certain to take advantage of opportunities outside the classroom, including studying abroad at Harlaxton College, completing an internship, and participating in undergraduate research. "My research involved juvenile sex offenders and the public's perception of these individuals. With a professor and other students, we published an article in the Behavioral Sciences & the Law journal, and we are working on several other publications. Research has given me an opportunity to attend conferences in the field in Chicago and Vancouver."