UE's Master of Science in Athletic Training Program Announces New Clinical Partner
Posted: August 21, 2019
The University of Evansville's Master of Science in Athletic Training (MSAT) program has added the University of Florida as a new site for immersive clinical education beginning in the fall of 2020.
UE students can already gain clinical experience by working with Northwestern University, Vanderbilt University, Western Kentucky University, F.C. Dallas major league soccer team, as well as local high schools, universities, professional teams, and medical facilities.
Immersive clinical experiences are vital for MSAT students, said Troy Coppus, UE's MSAT program director.
"Our students get to do everything the athletic trainer does," said Coppus. "Working with these high-level athletes, paired with one-on-one attention in the UE classroom, prepares our graduates to step right onto the field after graduation."
All MSAT students participate in an immersive clinical rotation. Classes taken during a student's immersive semester are online, so there are no geographic restrictions on the immersive rotations.
For more information about MSAT at UE, visit the program website or email uemsat@evansville.edu.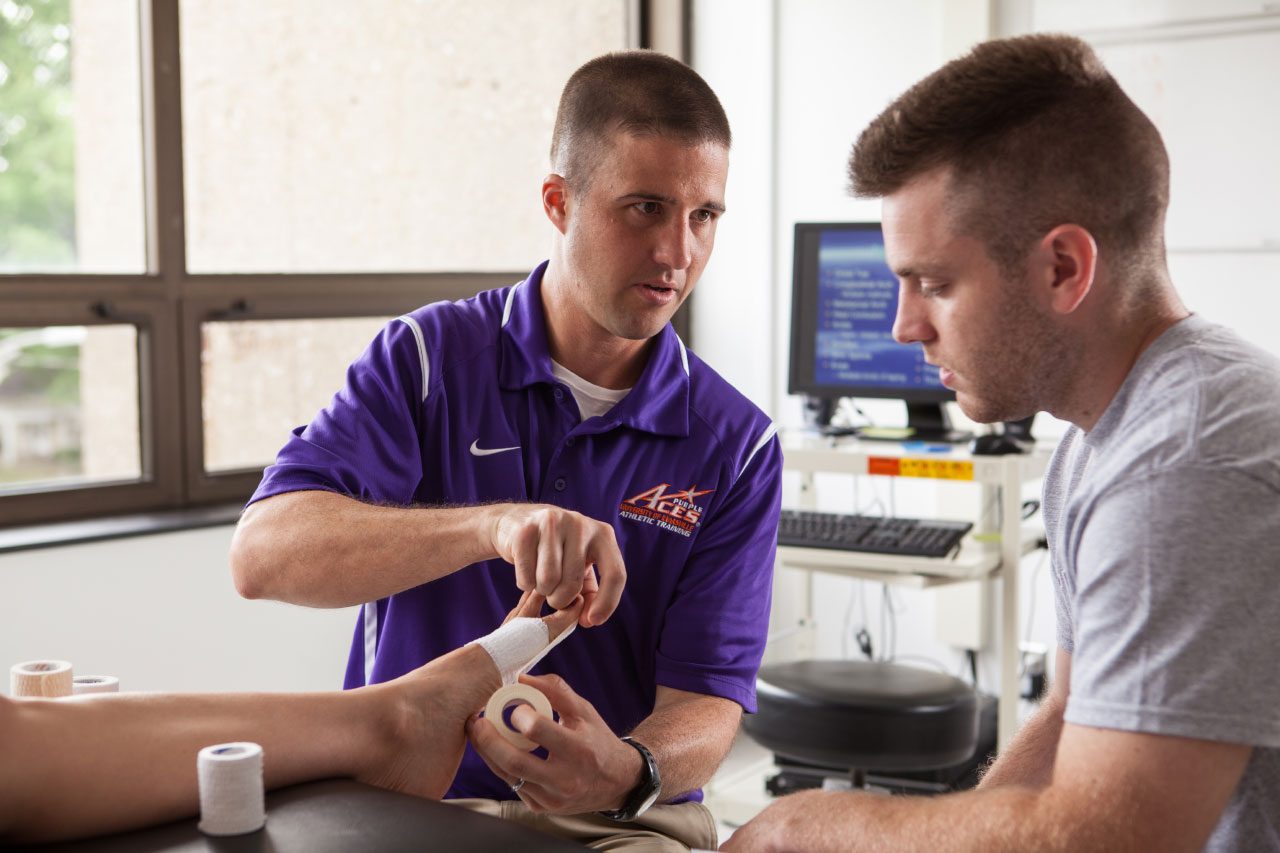 UE MSAT Program Adds New Clinical Immersive Experiences
Posted: August 27, 2018
The University of Evansville's Master of Science in Athletic Training (MSAT) Program has added two new opportunities to the already extensive immersive experiences that it offers its students. Those in the program can now also experience a clinical rotation with Vanderbilt University athletic teams and F. C. Dallas, Major League Soccer team.
Students already have the opportunity to gain clinical experience by working with Western Kentucky University football and Northwestern University football, along with area high schools, universities, professional teams, and medical facilities.
Immersive clinical experiences at institutions like these are invaluable to students, said Kathy Liu, UE's MSAT program director.
"The immersive experience gives students a taste of what it is like to be a practicing, certified, athletic trainer," she explained. "They do everything that an athletic trainer does. They get a feel for these elite settings, and can make great connections that can help them when they are looking for jobs."

All MSAT students participate in an immersive clinical rotation. Classes taken during a student's immersive semester are online. The student does not need to be on campus, so there are no geographic restrictions on the immersive rotations.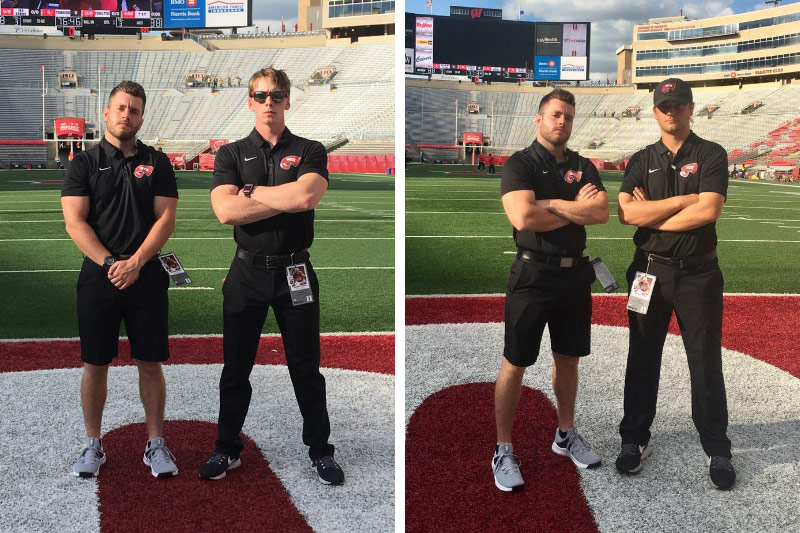 Liu noted that the two new clinical experience partnerships offer unique advantages.
"Vanderbilt is a successful athletic program and gives us another clinical site within a Power Five conference, the SEC. Not only is its football team competing against high-level competition every week, Vanderbilt has many other successful programs, including a baseball team that is consistently one of the nation's best."
Partnering with FC Dallas gives UE's athletic training program something that very few athletic training programs have – a major professional sports in-season clinical site.
"That clinical site is staffed by a UE alumnus, which is advantageous since he understands what kind of education we want to give our students to prepare them for the real world."
UE's MSAT program has been producing successful clinicians for many years and will continue to do so far into the future, said Liu.
"Adding these clinical experiences to an already proven educational model puts our graduates at a significant advantage when looking for employment."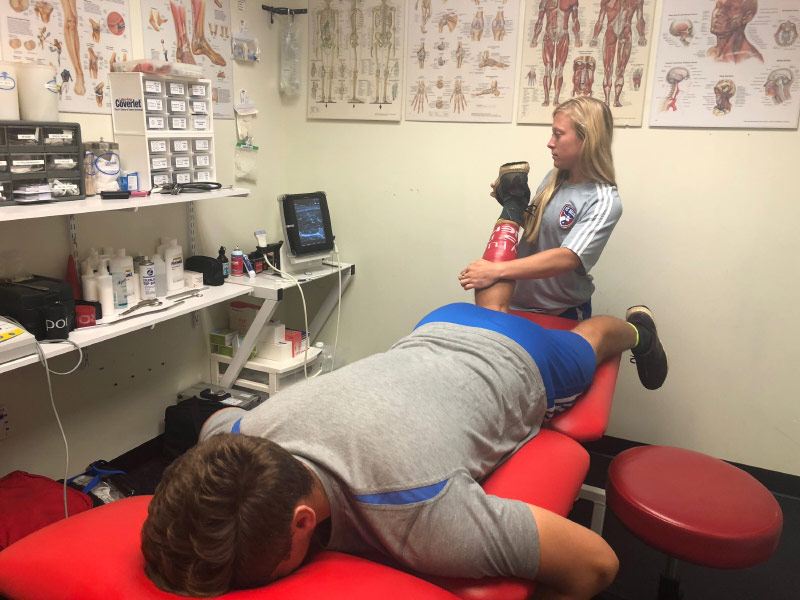 Morgan Perry wins research award at NATA
Posted: July 9, 2018
Morgan Perry, recent 2018 graduate of the Master of Science in Athletic Training (MSAT) at the University of Evansville, won the research presentation award at the National Athletic Trainers' Association (NATA) Convention last week.
Morgan's abstract titled "The Risk of Ankle Sprains Based on Arthrometer Measurements: A Longitudinal Study" was selected by NATA's Research and Education Foundation as one of the top four abstracts submitted by a Masters student for this year's meeting. These four students gave their presentation in a special session at NATA in New Orleans, LA and was judged for scientific content and presentation style. '
Being a finalist was a high distinction in itself, but Morgan represented UE impressively by winning the Master's Research Presentation Award.
Morgan's abstract was a part of her graduate research work co-authored by research advisor Kathy Liu, UE professor and director of Masters of Science in Athletic Training Program; biostatistician William McConnell; and Dr. Geoff Gustavsen and professor Thomas Kaminski (both of the University of Delaware).
Morgan has accepted a job as an athletic training intern at Alabama A&M and will be working with their football and track and field programs.
UE Offers Adult Learners Access to Education with Competitive Pricing and Expanded Program Offerings
Posted: April 2, 2018
The University of Evansville offers competitive pricing for adult learners looking to complete their undergraduate and graduate degrees in a variety of areas. The following programs are available at the listed rates, which represent a significant reduction from traditional program pricing:
Undergraduate Degrees: $315 per credit hour
Organizational Leadership
Registered Nurse to Bachelor of Science in Nursing (RN to BSN)
Transition to Teaching
University Studies
Graduate Degrees: $525 per credit hour
Master of Science in Athletic Training
Master of Public Health
Master of Science in Public Service Administration
Students interested in the University Studies degree program can register now for a May 14 start date. Applications are also open for a May start in the Master of Science in Athletic Training. All other programs listed above will begin in fall 2018.
"At UE, we're committed to providing an affordable, accessible education to directly fill needs in our community" said Sharon Gieselman, chair of UE's department of education. "The transition to teaching program in particular is designed to address the teacher shortage, especially in high need areas."
Jerrilee LaMar, chair of UE's nursing department, says the same of the RN to BSN program. "The program focuses on meeting the needs of the adult learner and the working nurse while opening doors for career advancement opportunities that will positively impact the community," says LaMar.
For the adult learner looking to further their education at the graduate level, UE offers programs in several different subject areas. Some of the programs are available in the evening and in accelerated formats. In addition to those listed above, UE offers a Master of Science in Health Services Administration designed for those who want to assume management positions in public and private health service organizations.
"To successfully serve the adult learners with professional and educational growth, it is important to provide flexible options" said Lindsay Roberts, director of UE's adult education. "To provide the student with the opportunity to directly apply what he or she learns in the classroom to the workplace the next day is extremely valuable."
UE MS in Athletic Training Program Adding Clinical Rotation with Northwestern and Western Kentucky Football Teams
Posted: November 6, 2017
Students in the University of Evansville's Master of Science in Athletic Training Program will soon have clinical rotations with the Division I Football Bowl Subdivision teams at Northwestern University and Western Kentucky University. These full immersive clinical experiences are for second-year students and will begin in the fall of 2018.
The UE MSAT program currently utilizes clinical sites at area high schools, universities, professional teams, and medical facilities.
Students in the program also have opportunities to participate in research conducted in the University's Dunigan Motion Analysis Lab. Students can work with faculty on faculty sponsored research projects or may perform their own projects. Students have presented their research findings at national meetings and in professional journals.
The University of Evansville's Master of Science in Athletic Training Program is one of 50 professional-level master's programs in the country accredited by the Commission on Accreditation of Athletic Training Education (CAATE). UE is one of five institutions in the nation that have concurrently running accredited master's and a bachelor's Athletic Training Programs.
High Schoolers Can Earn College Credit Through UE's Online Health Sciences Certificate
Posted: October 23, 2017
High school juniors and seniors interested in a career in the health professions may earn college credit through the University of Evansville's Health Sciences Certificate program. This online program provides exposure to a variety of health science disciplines giving participants a head start on their future health-related careers.
The Health Sciences Certificate provides required credits for the following University of Evansville majors:
Athletic Training
Clinical Laboratory Science
Exercise and Sport Science
Nursing
Public Health
Additionally, the certificate provides prerequisite course work for the following programs: Physical Therapist Assistant, Physical Therapy, and Physician Assistant Science.
"This certificate provides students with a competitive advantage as they begin their college careers," said Mary Kessler, dean of the College of Education and Health Science at UE. "Courses can be taken to meet a student's personal needs and schedule for a fraction of the cost."
The program provides up to 13 hours of college credit. The certificate includes five core courses and one elective, all taught online for $125 per credit hour, plus a semester-based registration and technology fee of $85.
The Health Sciences Certificate program is limited to high school juniors and seniors. Courses are offered online each fall and spring semester in eight- or 16-week offerings.
More information and online registration can be found at www.evansville.edu/healthcertificate.
UE's Professional Athletic Training Program Earns Five Year Accreditation
Posted: May 2, 2017
The University of Evansville's Professional Athletic Training Program has been granted five-year accreditation by the Commission on Accreditation of Athletic Training Education (CAATE) with the next comprehensive review occurring during the 2021-22 academic year.
UE hosted a site visit with a CAATE review team in January 2017 after an intense period of self-study, which began in the fall of 2015, and a self-study application that was submitted June 1, 2016. The site visit team reviewed extensive reports and interviewed members of the athletic training team to evaluate and verify the institution's ongoing ability to meet the standards for accreditation.
The athletic training program is now one of only five schools in the country that has an accredited program at both the master's level and bachelor's level, giving students options for pursuing their athletic training degrees.
The athletic training program utilizes three universities and colleges, three out-patient rehabilitation clinics, and eleven high schools to provide their students with clinical placements within the Evansville area.
Kathy Liu, PhD, ATC, program director, states, "We are very proud of our programs here at UE. With a successful undergraduate program and a growing graduate program, gaining this accreditation will allow us to provide additional opportunities for students deciding on their career aspirations."
"We recognize the faculty, staff, and administrators at the University of Evansville for their commitment to the advancement of education in athletic training, as well as the dedication to the preparation of qualified athletic training professionals," said a representative from CAATE.
The University of Evansville is the smallest Division I CAATE-accredited school in the country. Athletic training students are challenged with rigorous course work and hands-on experiences, such as their involvement with UE's Division I athletic programs, from their first week on campus. University of Evansville athletic training students have the flexibility to explore many branches of study and develop diverse skill sets through the athletic training, physical therapist assistant, pre-physician assistant, pre-med and Doctor of Physical Therapy-combination degree programs.
UE Athletic Training Grads Presents AED to Tecumseh High School
Posted: October 24, 2014
The University of Evansville student athletic trainers of the class of 2014 presented an Automated External Defibrillator, or AED, to the Tecumseh High School athletic trainers at the school's football game on Friday, October 17.
According to the American Red Cross, "Sudden cardiac arrest is one of the leading causes of death in the U.S. Over 350,000 people will suffer from sudden cardiac arrest this year. It can happen to anyone, anytime, anywhere and at any age. An AED is the only effective treatment for restoring a regular heart rhythm during a sudden cardiac arrest. The average response time in the U.S. for first responders once 911 is called is eight to 12 minutes. For each minute defibrillation is delayed, the chance of survival is reduced approximately 10 percent".
The University of Evansville graduates began raising funds in the spring to help purchase an AED for local high school athletic trainers. As part of the National Athletic Trainers' Association Safe Schools Program, the goal is for all high school athletic trainers to have access to this important device.
"Tecumseh is just the first to receive an AED, as the University hopes to become a central hub that area high schools can rely on for services, information, and products to become a Safe Sport School", says Jeff Tilly, athletic training program director at UE.
UE athletic training graduates who presented the award included Katrina Kain, Sophia Pollalis, Catlin Harty, and Brittany Sheffield. Haley Campbell also participated in the project.
"Tecumseh High School would like to thank the students for raising the funds to purchase the AED and for picking Tecumseh as the recipient. It will travel with the athletic trainers to events making the events safer for all who attend", says Principal Josh Susott,
Also accepting the award for Tecumseh High School were athletic trainers Tim Nurrenbern and Sue Laughbaum.
Nurrenbern and Laughbaum noted that the UE class of 2014 should be congratulated for having a perfect pass rate on the Athletic Training Certification Exam. The class is 12 for 12 this year, which is a great accomplishment that speaks highly of the program and of the students in the program.
Office Phone
812-488-2358

Office Email
jt3@evansville.edu

Office Location
Room 224, Wallace Graves Hall