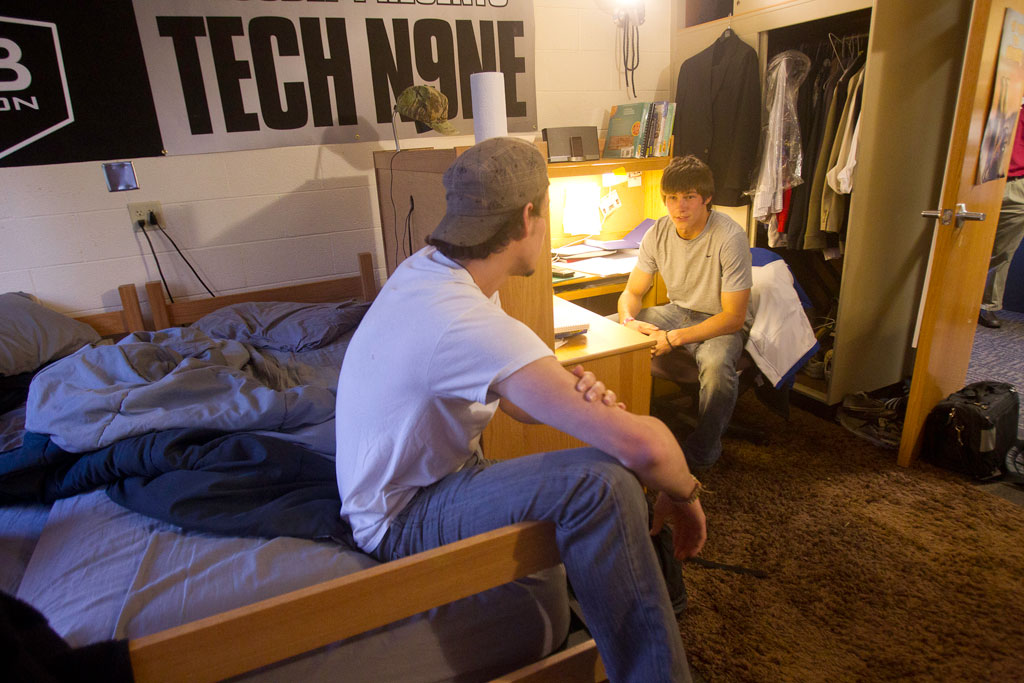 Located on the east end of campus along Weinbach Avenue, Hale Residence Hall is a coed building of approximately 180 students.
History: Hale Hall was named for UE's 18th president, Lincoln B. Hale, opened in 1966, and was renovated in the summer of 2007.
Distinctive Community Features: Hale Hall is our value-priced residence hall for freshmen who are on a serious budget. There are approximately 50 double occupancy bed-spaces available. Single rooms are generally not available in this building.
Features: The hall features a full kitchen with an adjacent TV lounge, as well as a large recreation room with comfortable seating, a television, billiards, and ping-pong. Each upper hallway has a study room with a computer. The first floor has a computer lounge with a network printer. There is also an outdoor basketball and sand volleyball court.
First Floor – Single Gender Floor
Second Floor – Coed by side of Hallway or single gender
Quick Facts
Address: 451 S. Weinbach Ave.
Room dimensions: 12'x15'x7' (some variation)
Study facilities: At least one study room per floor
Bathroom facilities:

First Floor: One large bathroom per 25 residents
All other Floors: Two large bathrooms per 55 residents

Laundry facilities: 5 washers, 6 dryers
Air conditioning: Yes
Carpeting: Yes
Furniture: Furniture includes two beds, four stackable dresser units, two desks with lighted carrels, and two Trey desk chairs. The furniture is movable and can be arranged to preference. Two built-in closets with overhead cabinets provide ample storage.
Lofts: All beds designed to be lofted as an option. All lofting equipment is located within student rooms. Rented, purchased, or personally constructed lofts not allowed.
Smoking: All residential buildings are tobacco-free (smoking and vaping prohibited).
Fire suppression: Sprinkler system for student rooms and common areas.
Accessibility in Hale
Accessible parking spaces in the adjacent parking lot
Main and side entrance accessible by ramp
All first floor common areas are accessible including the lobby, computer / printing center, kitchen, laundry, and community room
An accessible first floor residential floor includes:
Room number signs throughout the hall have braille
See photos in Residence Hall Accessibility Features
Office Phone
812-488-2956

Office Email
residencelife@evansville.edu

Office Location
Student Life Center, Second Floor, Ridgway University Center