Applications for the 2023 Summer Housing are now being accepted.
The University of Evansville offers summer housing for current UE students who will be taking classes, working, or conducting research in Evansville over the summer.
New Hall will be available for summer housing. New Hall can house students in 4-person or 6 person pods. 4-person pods provide single bedrooms while 6-person pods provide 3 shared bedrooms. Both pod styles have 2 bathrooms per pod unit. While there is a small kitchenette in each pod for light microwave cooking, New Hall offers students a full kitchen and laundry on the first floor. The building is equipped with an elevator and is located centrally on campus.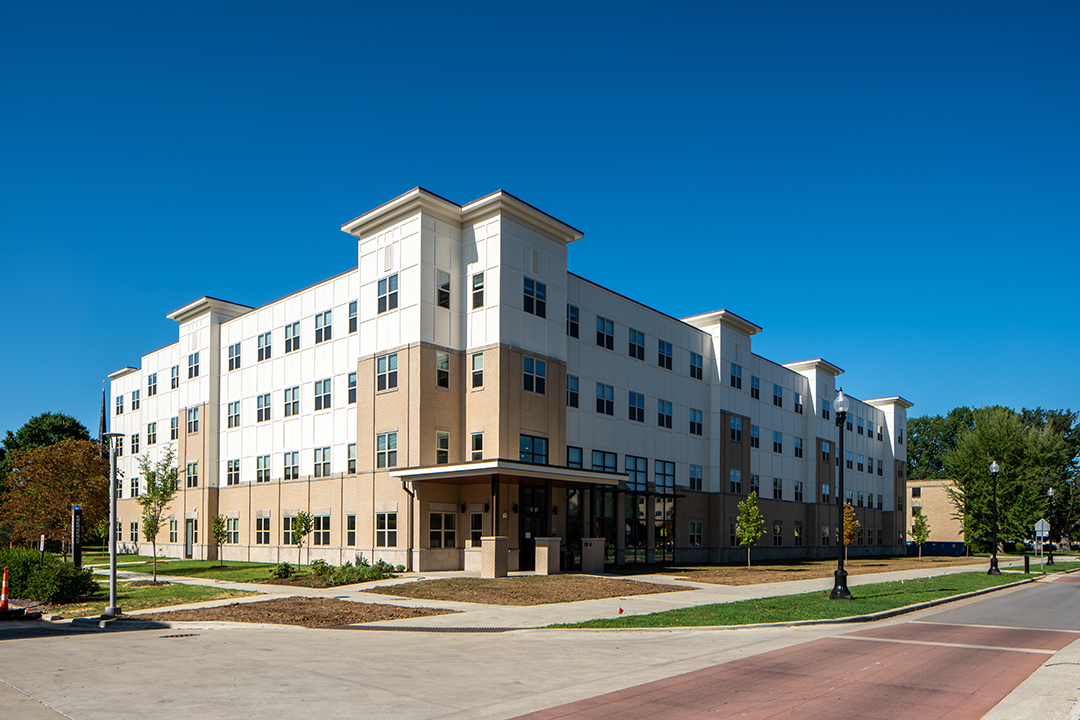 2023 Dates and Rates
UE Summer housing will be available from May 6, 2023 – August 19, 2023. The nightly rate per resident in summer housing is $30/night for a 4-Person pod and $28/night for a 6-Person pod.
Moving into Summer Housing. University of Evansville students who currently live on campus will remain in their spring semester housing for up to two weeks after the residential facilities close for the spring semester. This allows staff to time for cleaning and preparation of the summer facilities. Some students, based on their spring housing assignment may need to move to summer housing earlier. Students who do not live on campus in the spring semester can move in starting May 13, 2023.
Moving out of Summer Housing. Residents in Summer Housing will transition to a temporary or permanent fall assignment the first week of August. The specific date and location will be determined based on cleaning needs and move-in schedules.
Residents must check out with a residence life staff member when leaving their spring and summer residences. This check-out appointment must be made 48 hours in advance. Individuals that do not schedule a check-out appointment may be charged an improper checkout fee.
Policies and Procedures
As a condition of this contract, the resident agrees to be aware of and abide by all rules of conduct as outlined in the Student Handbook. The resident also agrees to maintain a proper standard of behavior and not disrupt the residential community. Violations of the terms of this contract or of any of the rules and regulations outlined in the Student Handbook will be normally handled through the campus judicial system. However, the University reserves the right to treat such violations as a breach of contract. Further, residents dismissed from University housing or from the University for academic or disciplinary reasons are not entitled to a refund. For further explanation of University policies and procedures, please refer to the Student Handbook and/or housing regulations as outlined on the Residence Life website.
Liability for Loss of or Damage to Personal Property
The University of Evansville and the Office of Residence Life assume no responsibility for theft, damage or loss of money, valuables, food stuffs or personal belongings of any student or guest. No personal property insurance is available through the University. Students should check with their families to determine the extent of coverage, if any, under existing insurance policies or purchase independent personal property insurance.
Contract Cancellation
Contracts can be cancelled without penalty by the 1st day of each summer term for that session to reside locally with parents, legal guardians or immediate family, transferring, withdrawing, or cancellation of that session's classes. Cancellation requests made after these deadlines can result in a $200 cancellation fee.
Requests not falling in the above categories are typically not granted. Requests to move off campus to live with friends or move into an apartment are not sufficient reasons to cancel a UE housing contract. Entering into any other housing agreement or lease with a private landlord will have no effect upon the conditions of your contract with the University of Evansville.
Office Phone
812-488-2956

Office Email
residencelife@evansville.edu

Office Location
Student Life Center, Second Floor, Ridgway University Center