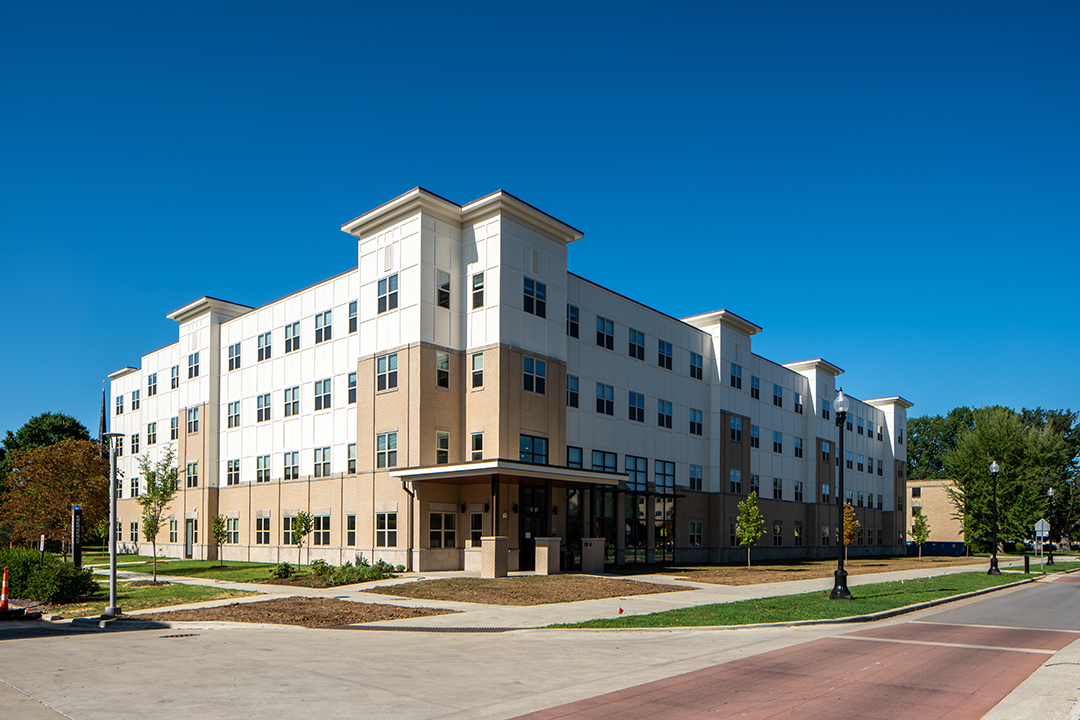 Opened in 2022, the New Residence Hall offers four levels of pod-style housing. This layout features enhanced technology, a higher degree of privacy, and spaces to gather and socialize.
The newest residence hall on UE's campus is located on Walnut Street between Ridgway University Center and Moore Hall. It can house up to 293 first and second-year students across a mixture of four and six-person pod structures. There are also a few single-person pods throughout residence hall.
The New Residence Hall is divided into two coed wings: Brentano Wing and Morton Wing, to honor the former residence halls that once stood in the same place.
The first floor features a spacious lobby with plenty of seating and study spots. Residents can also use the kitchen complete with modern appliances and equipment. You can also find the mail room and the laundry room on the first floor, but each level includes a study room.
Six-person pods consist of three double bedrooms with two bathrooms and a separate vanity/sink area. These are primarily for first-year students. Four-person pods contain four single bedrooms with two bathrooms. These pods are typically for second-year students.
All pods feature a shared living room and kitchenette, which includes a sink and refrigerator. They are also furnished with beds, desks, couch(es), and coffee table(s). Four-person deluxe corner pods are furnished with a kitchen table and four chairs, as they have a separate living area in the corner.
Distinctive Community Themes: With this being a new building, students living here will be instrumental in developing this hall's distinctive living themes and traditions!
Quick Facts
Address: 1761 E Walnut Street
Room dimensions: With so many floorplans, check out our New Hall Measurements Guide
Study facilities: One study room per floor
Bathroom facilities:

First Floor: A guest bathroom off the lobby and semi-private bathrooms in each pod.
All other Floors: Semi-private bathrooms in each pod plus two full private bathrooms for floor residents and guests.

Laundry facilities: 11 washers, 12 dryers
Air conditioning: Yes
Carpeting: Bedrooms are carpeted, common areas have wood vinyl plank flooring.
Furniture: See our New Hall Measurements Guide
Lofts: All beds designed to be lofted as an option. All lofting equipment is located within student rooms. Rented, purchased, or personally constructed lofts not allowed.
Smoking: All residential buildings are tobacco-free (smoking and vaping prohibited).
Fire suppression: Sprinkler system for student rooms and common areas
Accessibility
Accessible parking spaces in the adjacent parking lot
Entrances and all common areas are accessible.
Multiple pods have enhanced accessibility.
Room number signs throughout the hall have braille
Office Phone
812-488-2956

Office Email
residencelife@evansville.edu

Office Location
Student Life Center, Second Floor, Ridgway University Center