Jen Turpen Alumni Profile
Bachelor of Science in Psychology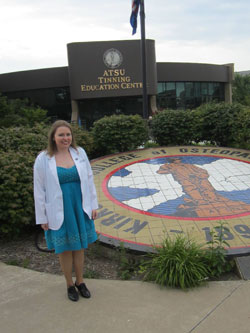 A 2010 UE graduate, Jeni Turpen (Petty) received her Master of Arts in Biomedical Sciences from Midwestern University in Glendale, Arizona, in May 2013 and her Doctorate of Osteopathic Medicine from A.T. Still University's Kirksville College of Osteopathic Medicine in Kirksville, Missouri in May 2018.
Jen believes that the Honors Program enhances the quality education that UE provides and the professionalism that it fosters in its students. "Thanks to the education and experiences that UE and the Honors Program provided, I was selected to complete a year-long fellowship in medical education at ATSU-KCOM. This will definitely help me in the future as I intend to help train the next generation of physicians."
During her time at UE, Jen enjoyed many aspects of the Honors Program. "My favorite part was getting to know the people involved in the Honors Program. I've made lifelong friends from this program - some of whom I lived next door to in Powell Hall. I also appreciated the fact that professors at UE would challenge the honors students to do better. I had a few professors who would push me to do more than what other students were required to do, because they knew I could. They fostered a sense of confidence and instilled a desire for continual pursuit of knowledge which has undoubtedly helped me along my career path."
She continues, "In addition, as a member of the Honors Program, I received funding to present research at two conferences while at UE. A fellow honors student, Rochelle Healy, and I did research on anger and anxiety in live action role playing. We presented our findings to both the Mid-America Undergraduate Psychology Research Conference and the Butler Undergraduate Research Conference." Jen has continued to pursue research opportunities and recently published an article in the Medical Science Educator entitled "Performance Assessment in Medical School Curricula: An Innovative Method of Evaluating Sonographic Skills Using Ultrasound Practical Examinations".
Regarding her future plans, Jen is looking forward to completing her residency at Deaconess Hospital in Evansville, Indiana in 2021. She then plans to work as a family practice physician partnering with her patients to help them live healthy happy lives.
Office Phone
812-488-2612

Office Email
jw504@evansville.edu

Office Location
Room 238, Koch Center for Engineering Science