The Jazz Studies Certificate is a 12-credit-hour program that includes the performance of jazz and in-depth courses exploring and analyzing its history, theory, and skills. This certificate is open to any UE student (major or non-major) who has completed the prerequisite courses and has also received permission from the instructors.
Music majors may elect to obtain the certificate in order to become a more-qualified teacher or performer in jazz, while non-majors may enroll in order to maintain their music studies beyond high school. Admission is gained through a successful in-person audition and interview with the appropriate faculty.
The curriculum includes courses in arranging, improvisation, history, and theory in addition to at least three semesters of performance experience.
Jazz Studies Certificate Required Courses (12 credit hours)
MUS 158: Jazz History (3 credit hours)
MUS 243: Jazz Theory (2 credit hours)
MUS 343: Jazz Arranging (2 credit hours)
MUS 245: Jazz Improvisation (2 credit hours)
MUS 113-413-01: Jazz Band (3 semesters for a total of 3 credit hours)
MUS 113-413-02: Chamber Jazz (3 semesters for a total of 3 credit hours)
"I hope you consider continuing your interest in jazz at the University of Evansville and become a part of our ensembles and academic courses. The Jazz Studies Certificate can serve as a tangible validation of your interest and achievement in this area.

We have two big bands that perform jazz, swing, be-bop, fusion and neoclassical jazz in concerts both on and off campus and tours, most recently at the Elmhurst Jazz Festival. I hope to meet you when you attend an upcoming Open House, or set an audition. For additional information, please contact the Music Conservatory at 800-423-8633, ext. 2742 or fill in the online form."

Dr. Timothy Zifer, Director of Jazz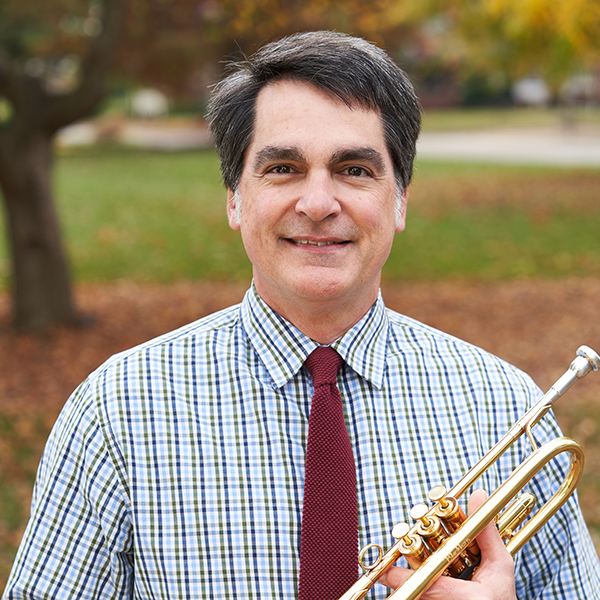 Timothy Zifer, DMA
Emeritus Professor of Music, Adjunct Instructor of Music

Room 144, Krannert Hall of Art and Music
812-488-2878
tz3@evansville.edu
Zifer's Full Biography

Music Management Jazz Studies Trumpet
Music Management
Jazz Studies
Winds/Percussion
Office Phone
812-488-2754

Office Email
music@evansville.edu

Office Location
Room 133, Krannert Hall of Art and Music