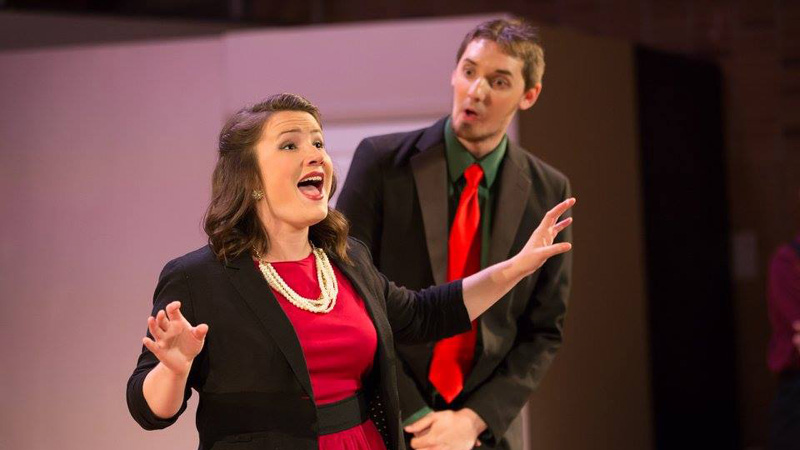 The commitment to excellence in performance is a long-standing tradition at the University of Evansville. The Bachelor of Music in Performance degree is accredited by the National Association of Schools of Music (NASM). The most music-intensive degree offered, it places added emphasis in applied music, ensemble experience, theory, history, pedagogy and literature.
Music Performance
Prepares students for careers as performing musicians, studio teachers, professional accompanists and careers as pre-college and university faculty
Performing Musicians
Play in professional orchestras throughout the US
Serve in US military bands and ensembles
Work as studio musicians in the recording industry
Perform in productions of opera companies, musical theatre shows, and other established ensembles
UE Graduates
Pursue master's and doctoral degrees at prestigious institutions
Teach at the pre-college and college levels
Hold sacred music positions
Perform in band, orchestral, opera, and musical theatre venues
The University of Evansville Difference
Because the UE Music Conservatory is entirely comprised of undergraduates, students from their first year through their senior year are continuously involved in a wide range of performing experiences often delegated to graduate students at larger institutions.
Opportunities to participate in various events such as in master classes, weekly studio classes, weekly student recitals, a concerto competition and ensemble and required degree recitals
120 music majors and the setting of a small, closely-knit undergraduate-only liberal arts institution means the benefit of close personal contact with professors and companionship and support of classmates both within the conservatory and throughout the campus
While the Music Conservatory is recognized for its outstanding artist-faculty, priority is always given to teaching and mentoring the musical development of its students.
Performance majors are often given opportunities to perform side-by-side with their teachers - an opportunity not available at larger institutions
Through solo recitals, master class participation, opera roles, and leadership in chamber music and large ensembles, performance majors gain practical experience for future careers
Enrollment is intentionally small and selective (6:1 ratio in the Music Conservatory) to guarantee every student mentoring relationships with our faculty.
Students seeking admission to the performance degree are admitted conditionally pending successful completion of comprehensive juries at the end of the freshman and sophomore years.
Each student is assigned a performance degree advisor and is frequently monitored for successful progress toward goals and expectations.
With a schedule of over 90 concerts with guest artists, faculty and student performers, performance majors are afforded frequent opportunities to experience excellent models of what is expected of them as performers.
In addition, our students have the opportunity to hear their own teachers perform as principal players or soloists with the Evansville Philharmonic Orchestra, a metropolitan-sized professional symphony
Our most highly-qualified students may be called upon to perform on EPO concerts when extra players are needed or to perform as vocal soloists with the EPO Chorus
Off-campus performance opportunities such as summer workshops, festivals, and professional operatic roles (cover and principal) are facilitated by faculty who network with other professionals in the field
Suzuki Pedagogy and Jazz Studies Certificates
Opportunity for a 12-hour program of intensive Suzuki Talent Education Method training and supervised teaching experience
Opportunity for a 12-hour intensive program in Jazz Studies that includes theory, literature, improvisation and performance
String Fellowship Program
In cooperation with the Evansville Philharmonic Orchestra, a few of the most exceptional string students may audition to be designated Evansville Philharmonic String Fellowship students and perform as contract players with the Evansville Philharmonic Orchestra
Salary earned as an EPO String Fellow is paid directly to the student is in addition to any financial aid granted by the University
Office Phone
812-488-2754

Office Email
music@evansville.edu

Office Location
Room 133, Krannert Hall of Art and Music