Angela Park
Thursday, March 21, 2013 | 7:30 p.m. | Wheeler Concert Hall
Admission: $15, Students $5, UE Students free
Masterclass: Friday, March 22, 2013 | 9:00 - 11:00 a.m. | Wheeler Concert Hall
Program
Chopin: Barcarolle, Op. 60
Beethoven: Sonata in C Major, Op. 53, Waldstein
Liszt: Années de pèlerinage Bk. I, Suisse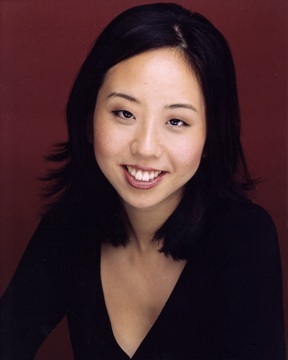 Pianist Angela Park has established herself as one of Canada's leading young musicians. Equally accomplished in both solo and chamber music experience, Angela's versatility has led to continued success in performances across Canada, as well as in parts of the United States, Europe, Japan and Mexico.
Born in London, Ontario, Angela began her musical studies at the age of three. With the guidance of James Anagnoson, she went on to become the youngest Gold Medal winner of the Western Ontario Conservatory of Music, as well as consistent recipient of numerous awards and prizes at the Ontario Provincial Festivals, Canadian National Music Festival, and the Canadian Music Competitions.
In recent years, Angela has achieved further success at the international level, winning the grand prize at the 2001 Grace Welsh Prize for Piano in Chicago, and fifth prize at the 2003 World Piano Competition in Cincinnati. In 2006 Angela was the only Canadian representative and semifinalist prizewinner at the prestigious Honens International Piano Competition in Calgary, and in 2007 she was a medalist at the Maria Canals International Competition in Barcelona.
Angela has performed as soloist with Orchestra London Canada, Sinfonia Toronto, Canadian Sinfonietta, UWO Symphony Orchestra, University of Toronto Symphony Orchestra, and the Northern Lights Festival Orchestra in Mexico, under the direction of conductors such as Raffi Armenian and Yannick Nézet-Séguin. Solo and chamber music appearances include performances for the Steinway Society of Chicago, Montreal Pro Musica Series, Winnipeg Virtuosi, Glenn Gould Studio's OnStage and Music Around Us, Rome's Festival of the Nations, Debut Atlantic Tour and numerous others. Her live performances have been recorded and broadcast on CBC National Radio and on National Public Radio in the United States.
Angela has had the privilege of collaborating with internationally distinguished artists, including violist Rivka Golani, violinists Scott St. John and Erika Raum, flautist Susan Hoeppner, and the string members of the Gryphon Trio. She is a founding member of Made In Canada, an award-winning ensemble that received the CBC Galaxie Rising Stars Award in 2006, and was recently included in Chatelaine's 2008 anniversary list of "80 amazing Canadian women to watch".
Angela's musical and academic education includes violin performance at the national level for ten years and studies in Biology at the University of Western Ontario. After studying with William Aide at the University of Toronto, Angela earned her Master of Music Degree in Performance with highest honours in 2003. In 2004 Angela received an Ontario Arts Council Chalmers Professional Development Grant, allowing for studies in New York with Jacob Lateiner. Angela completed the Doctor of Musical Arts Degree in Performance at the Université de Montréal, where her studies were directed by Paul Stewart. She is currently Visiting Assistant Professor (Collaborative Piano-Woodwinds) at Indiana University's Jacobs School of Music.
Past Artists in the UE Piano Series:
Araine Alexander Liao
Alessandra Ammara
Kevin Ayesh
Hsia Jung Chang
Frederic Chiu
Nino Cocchiarella
Kenneth Drake
Johan Fröst
Peter Gach
Matthew Gianforte
Gila Goldstein
Margaret Halbig
Marc-André Hamelin
Corey Hamm
Alan Hersh
Ian Hominick
Milica Jelaca Jovanovic
Ray Kilburn
Natasha Kislenko
Junghwa Lee
Jonathan Mann
Spencer Myer
Robert Nicholls
Craig Nies
Awadagin Pratt
Allen Reiser
Andrew Russo
Karen Shaw
Abbey Simon
Philip Thomson
Duo Turgeon
Mayron Tsong
William Westney
Patti Wolf
Roger Wright
Office Phone
812-488-2754

Office Email
music@evansville.edu

Office Location
Room 133, Krannert Hall of Art and Music