Mission Of The Physical Therapy Program
The mission of the University of Evansville Physical Therapy Program is to provide doctoral level education to prepare students for autonomous and ethical physical therapy practice.
Philosophy of the Physical Therapy Program
The curriculum promotes the values of the University and the core values of the American Physical Therapy Association. The program emphasizes contemporary didactic and clinical practice experiences that model and reinforce professional excellence. These experiences expose students to the diverse and culturally sensitive nature of health care. In order to prepare graduates to be effective practitioners who are committed to lifelong learning, the curriculum stresses the importance of making practice decisions based on current best evidence.
The educational process is guided by physical therapy faculty members who emphasize a student-centered learning approach to enhance student success. Faculty members are committed to excellence in teaching and engage in professional writing, research, and other scholarly activities that contribute to the knowledge base of rehabilitation science.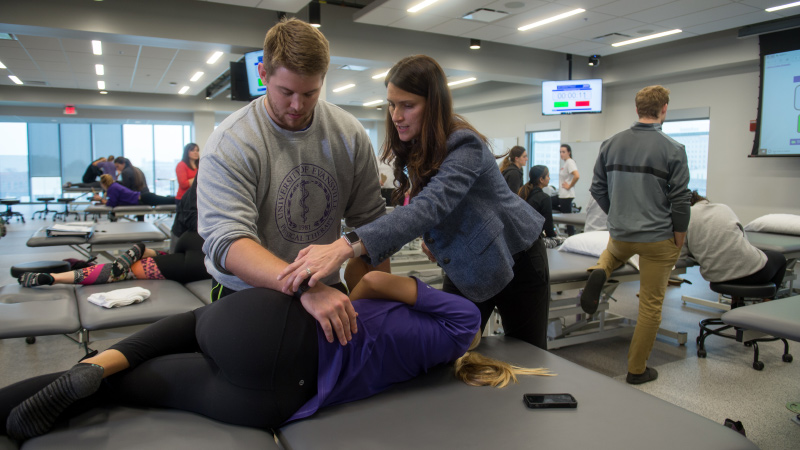 Education
Undergraduate education, didactic professional education, and clinical education are the three critical components that prepare students to engage in the contemporary practice of physical therapy. The experiences inherent in these three elements are mutually supportive, with each component enriching and reinforcing the others. In accordance with the University mission, the professional phase of physical therapy education seeks to assist students in the realization of their full potential. The core values of the profession are presented in the first course within the professional phase. These values are reinforced and nurtured throughout the curriculum through didactic, clinical and service learning experiences.
The professional curriculum includes both didactic and clinical components. The didactic component (including classroom, laboratory, and self-directed activities) ensures that students have the necessary knowledge base to competently and compassionately care for patients/clients. Skills acquired during completion of prerequisites are reinforced and further developed, including self-directed learning, critical thinking, and reflective inquiry.
Clinical education experiences provide students opportunities to apply and refine acquired didactic knowledge, psychomotor skills and professional behaviors to assess and treat patients/clients in a supervised environment. Exposure to diverse patient populations and settings allows students to assimilate concepts related to human anatomy, physiology, behavior, perceptions, and culture. The value of clinical education in facilitating the process of professional maturation, skills refinement and critical thinking is beyond measure. Clinical courses allow students opportunities and experiences that cannot be replicated in the classroom setting.
A key focus of all elements within professional education is interaction among students, between students and faculty, and among students, faculty and the external community. For interaction to be an effective educational tool, foundational skills in communication must be in place. Undergraduate course work prepares students to optimally engage in and benefit from the interactive and collaborative experiences available during the professional phase of physical therapy education. Faculty members partner with students to achieve the goals of individual students, the program, and the profession.
Office Phone:
812-488-1209
Office Email:
pt@evansville.edu
Office Location:
Stone Family Center for Health Sciences, 515 Bob Jones Way, Room 3001, Evansville, IN 47708