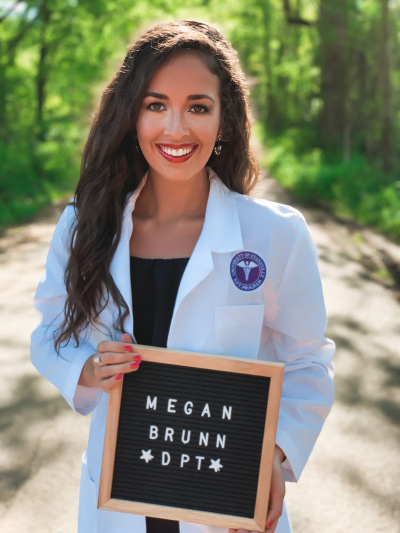 Megan Brunn
Graduate Entry - Class of 2020
Throughout my time in the DPT program. the faculty and staff were always cheering me on. Their support kept me motivated towards achieving the ultimate goal of becoming a physical therapist. The professors have so much knowledge and expertise, but still care about you as an individual. Your classmates will also be your biggest support system!
Graduate admission is open to interested individuals who are not Direct Entry students or are applying as an undergraduate from another institution.
The DPT application cycle each year is July 1 through October 1. Applications for entry Summer 2024 will be accepted beginning July 1, 2023.
All applications to the Doctor of Physical Therapy program at University of Evansville must be made through the Physical Therapy Centralized Application Service (PTCAS).
Additional information can be found on the PTCAS website. If you have questions regarding admissions, please contact Jennifer Simon, program administrator, at js698@evansville.edu.
Application and Admission Requirements
Admission into the Doctor of Physical Therapy (DPT) Program is selective. Admission decisions are made based on evaluation of cumulative GPA, prerequisite science and stats GPA, professional recommendations, written application assessment, personal interview, physical therapy observations, knowledge of the profession, and an on-campus writing assessment. Applicants will be ranked by total points achieved for academics, application assessment and interview.
Graduate admission for the DPT Program has several admissions requirements.
Office Phone
812-488-1209

Office Email
pt@evansville.edu

Office Location
Stone Family Center for Health Sciences, 515 Bob Jones Way, Room 3001, Evansville, IN 47708