Neurologic Residency Program Curriculum
Program Year
The Residency Program is approximately 12 months in length, beginning in mid-August and concluding the following year in mid-August.
Rotations
The residency program consists of rotations to 3 different practice settings. The residency begins with a 9-week rotation in acute care, followed by a 24-week rotation in inpatient rehabilitation, and concludes with a 20-week rotation in outpatient rehabilitation. This is subject to change. Travel is minimal with all clinical sites located within a few miles of each other.
A Typical Week
The residency program entails ~30 hours of direct patient care each week with a focus on the evaluation and treatment of neurologic diagnoses as outlined in the Neurologic Description of Residency Practice. A minimum of 4 of these hours each week are patient-centered mentored treatment time in which the resident will collaborate with an expert faculty mentor to facilitate professional growth and skill development. The remaining ~10 hours are split between didactic work, various research opportunities, community service and teaching. Hours will often exceed this minimum and should be expected.
Didactic Work
The St. Vincent Evansville & University of Evansville Neurologic Residency Program has partnered with the Institute for Knowledge Translation (iKT) for the didactic portion of the curriculum. The format of delivery is a hybrid model with a mix of pre-recorded educational modules, online mentoring, in-person weekend workshops in Indianapolis, and online journal clubs. The resident will be responsible for all associated tuition and travel expenses. The content is delivered by experts across the nation in the field of neurologic physical therapy with a differentiating focus on knowledge translation, measurement, leadership development, integration of research, statistics and clinical inquiry. iKT shares our mission in fostering the development of an advanced clinician who will be prepared to lead as a "change agent" upon residency completion.
Teaching Expectation
The resident will serve as a lab instructor/lecturer to Doctoral Physical Therapy students at the University of Evansville in the basic and advanced neurologic rehabilitation courses.
Community Service
The resident will serve as a mentor and weekly clinical supervisor to the pro bono student-led community-based exercise program "ACErcise". This program targets survivors of neurologic events or individuals living with neurologic conditions in an effort to promote socialization, optimal health and overall wellness in a structured and supervised environment.
Research Opportunities
The resident will be expected to participate in one of the research studies currently underway at the University of Evansville. Once the resident identifies a project of interest and specific research-related goals, he/she will be asked to develop a specific plan regarding his/her participation in the project. The remainder of the residency year will be spent fulfilling the responsibilities as clearly identified in the project plan. The resident will be expected to submit an abstract for presentation at a local or national conference.
Salary and Benefits
The resident position is salaried and competitive at 80% of an experience-matched non-resident physical therapist. We offer a comprehensive benefits package. A small stipend will be offered for the adjunct faculty position at the University of Evansville.
Neurologic Residency Topics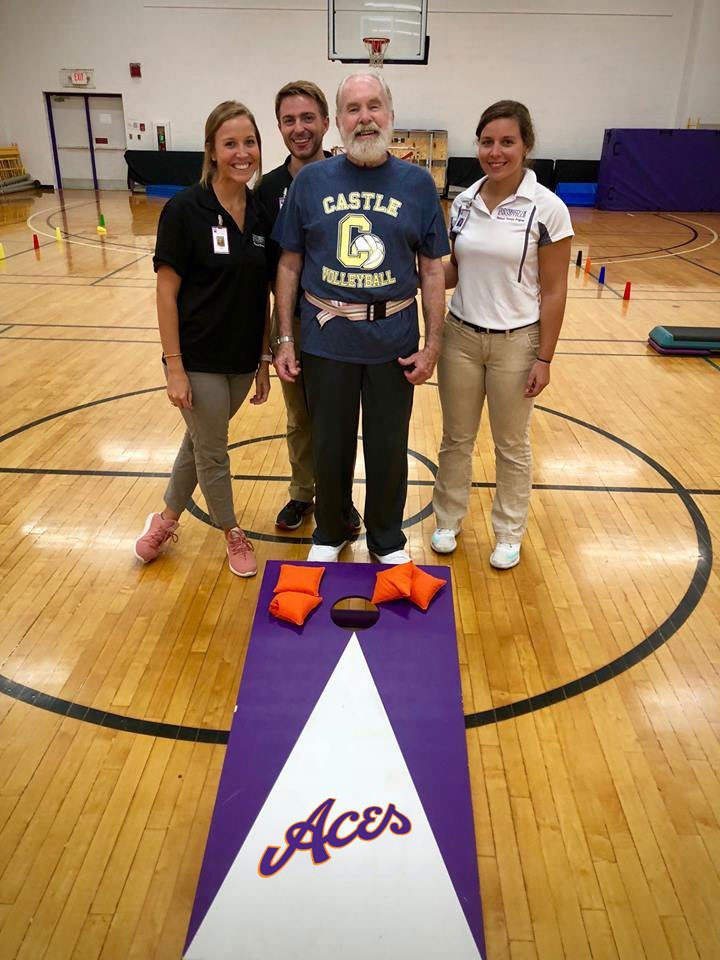 Sample Fall Schedule*
Patient care = 36 hours
Sample Weekly Schedule
Mon
Tue
Wed
Thu
Fri
Weekend
7:00 a.m.
Patient Care
Patient Care
8:00 a.m.
Patient Care
Patient Care
Patient Care
In-person training at Rehabilitation Hospital of Indiana (Indianapolis)

4 weekends total throughout
9:00 a.m.
10:00 a.m.
11:00 a.m.
Lunch
12:00 a.m.
Lunch
Lunch
Lunch
ACErcise meeting
Lunch
1:00 p.m.
Mentored patient care
Patient Care
Patient Care
Online didactic work and research
Mentored patient care
2:00 p.m.
3:00 p.m.
Patient Care
Patient Care
4:00 p.m.
Lab assistant PT670
ACErcise community wellness**
5:00 p.m.
6:00 p.m.
7:00 p.m.
Online group mentoring/journal club
* Subject to change to best meet resident and facility needs.
** Runs according to the University of Evansville calendar.
Office Phone:
812-488-1209
Office Email:
pt@evansville.edu
Office Location:
Stone Family Center for Health Sciences, 515 Bob Jones Way, Room 3001, Evansville, IN 47708